Finding Hope When Bipolar Feels Hopeless During the Holidays
It's the holidays. Some people love them, some people hate them, but as a general rule, it's tougher for people with undertreated mental illness than for others. For people battling with the symptoms of bipolar disorder, holidays and hope may be the last thing on their mind.
But, believe it or not, while the rest of the world glistens and twinkles, you too can find things to be hopeful about and things to feel grateful for, even if you happen to be in a black pit bipolar-wise.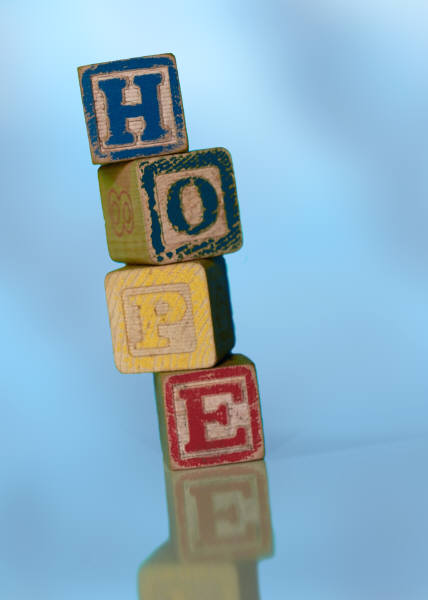 The Holidays
The holidays are tough. People are happy. Happy. Annoyingly happy. Happy about vacations, happy about family time, happy about gifts and trees and lights and the smiles of children.
Gack.
It's not that I don't appreciate other's experience of happiness but during the holidays it's everywhere, all the time, and if your struggle is simply getting out of bed in the morning, all that darn happiness seems to just rub lemon juice into the wounds of bipolar.
Finding Hope in the Hopeless
But OK, let's just step back a minute. You might not feel hopeful or happy about gifts or trees or baubles or bells but there still are things to feel hopeful about.
New treatments – I harp on this one a lot, but even if you're at the very bottom of a treatment hole, there is always the hope of new bipolar treatments. We see new treatments every year and one of these treatments may be exactly right for you.
You survived – yes, you survived another year and that's a major point of hope. The disease didn't win for a whole year. You got to see another year of your children's lives. You got another year with your family. You stood up against the demon of bipolar and won – for a whole other year.
There's something to like – I would argue that everyone has some part of the holidays they like. Ice skating outside, holiday lights, gingerbread houses, shortbread cookies, gift wrapping or something else; there is something out there for everyone. Focus on that, look forward to that, instead of all the parts you don't like.
Use the holiday – use the holiday to relax, spend time with yourself and get better. Say "no" to holiday parties and gatherings and rest and recuperate and prepare for the New Year. When the holidays are used in this way they can actually make you feel better and not worse.
I'm going to be writing more about dealing with the holidays, but for now, just try to remember that they don't have to be negative. You can use the holidays to your advantage and you can view them through your lens rather than through the lens of society or your family. You have things to be grateful for and you have things to look forward to regardless as to whether they meet the expectations of others.
You can find Natasha Tracy on Facebook or GooglePlus or @Natasha_Tracy on Twitter.
APA Reference
Tracy, N. (2012, December 11). Finding Hope When Bipolar Feels Hopeless During the Holidays, HealthyPlace. Retrieved on 2023, September 30 from https://www.healthyplace.com/blogs/breakingbipolar/2012/12/hope-bipolar-feels-hopeless-holidays
Author: Natasha Tracy
Finally Natasha I'm grateful I found your wonderful blog to express my feelings and symptoms ...
Thank you for helping me feel less alienated.
I hold you in high respect,think you sound not only just an advocate for BP but a kind warm individual.
You've helped so many ppl,me included
Happy Christmas,hope you get some well earned Natasha Chill time.
Yours in Cyberspace,Sandra.
There is no right or wrong here....
Example as I've said lost both parents at Christmas time so...
My sister ( her & her husband,only family in the city)
Knowing last 4 Christmases been as mess,Ivey cried not been able to
Enjoy my food ( well,just acting as so many of us do)
I told her I'm very stressed out,overtired,very depressed.
So she came over after work we did the gift exchange thing...
We did it 2 days early cos she wanted/ I wanted to see @ others reaction to the gifts......Success!
She knows hugging is bad right now,I burst into tears...
I spent the d with my cat,& catching up on well needed sleep.
It's so silent in my loft,don't even smell turkey.....I do miss that,too.
But until I get a better grip on my moods,were ( my Dr & I)
Still working on it....I don't want to upset my sister.
Finally,I find I generally write better than speak,so I composed a letter for her to read in a quiet moment when she can take it all in....took 45 mins to
write...but it was basically about out relationship & my illness how one effects the other,it's personal...so I'd like to leave it @ that.
Happy Christmas hope others find joy....Sandra
I suffer from Bipolar disorder and was misdiagnosed until the age of 38 (3 years ago). Sometimes I get so mad at all the un-needed suffering and loss of everything I worked my whole life for. It got so bad I had to get ECT's...but they worked although I lost alot of memory.
Leave a reply