How to Help Someone with a Mental Illness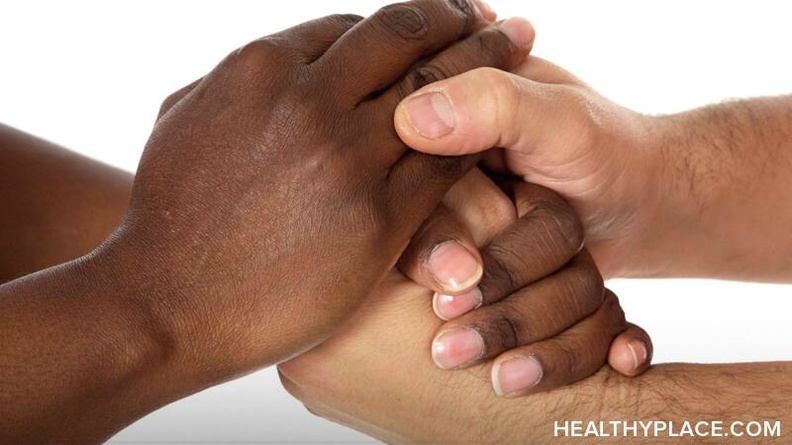 I talk to many people who want to help a person with a mental illness. Often the people they want to help are loved ones who have just been diagnosed with a mental illness and those who want to help feel powerless.
The "helpers" have a hard job, but let me just say, we love you for it.
Be a Powerhouse of Support for Someone With Mental Illness
Let's just start by recognizing that mental illness is a real illness and you can't fix it any more than you can fix cancer. I appreciate that you want to take the pain away, but please understand, you can't. You need to accept that.
That being said, you can have an extremely important role in helping us get better. Support and love are the best things in the world.
When someone is diagnosed they may feel defective, unlovable and like they will be abandoned. If you can stand by the person with love and support and with a reminder that you're not going anywhere, that is a magnificent gift.
Supporting a Sick Person is Hard
It's really tough to weather the storms of a mental illness. It's tough for the person with the illness and it's tough for those around them. We know it's hard. That's why it's such an amazing gift to try to help.
What You Can Do to Support Someone with a Mental Illness
Tell them you love them, support them and won't leave them.
Tell them that they are not broken and they are the person they have always been, but they just have an illness
Learn about their illness. The amount of information available out there on any illness is daunting. If you can fill in some of the blanks and do some of the work, particularly in the beginning, that's a great help. Plus it will give you insight into what they're going through.
Help them get treatment. Drive them to appointments. Make sure they have their medications. Make sure they are talking to their doctor or therapist.
Check in. Make sure they are doing OK. Make sure they are following the treatment plan.
Offer to take care of a chore. Offer to make dinner. Offer to vacuum. The smallest thing is wonderful.
Ask the person what they need. We're all different and what works for us is different so the person with a mental illness can tell you best what they need.
What You Need to Do for You
Remember, get help for yourself. It's hard to be there for a sick person. It can be really hard on you. Get your own support. It's OK to say you need help too.
Make sure you create some boundaries. If you do everything on the list you will fall over of exhaustion. Pick reasonable things you can do. No one can do it all.
Your Support is a Gift
Whatever you do, know that your support is a gift. We might not be able to tell you at this moment. We might be too wrapped up in our illness to tell you how wonderful you are. Other people would run, but you didn't. Your support doesn't have to be perfect to be amazing.
You can find Natasha Tracy on Facebook or GooglePlus or @Natasha_Tracy on Twitter or at the Bipolar Burble, her blog.
APA Reference
Tracy, N. (2011, March 28). How to Help Someone with a Mental Illness, HealthyPlace. Retrieved on 2019, August 25 from https://www.healthyplace.com/blogs/breakingbipolar/2011/03/how-to-help-someone-with-a-mental-illness
Author: Natasha Tracy
Hi Melissa,

I'm not sure if you're suggesting that your niece has a mental illness, but I wouldn't jump to that conclusion. A change in behavior like that can be brought on by many things. If you find that you're hitting a wall with her, I recommend family therapy. Most issues can be worked out that way.

- Natasha Tracy
Ask him to ask his psychiatrist if transmagnetic cranial stimulation could help him.
Leave a reply