Have a Mental Illness? Go to Jail
Recently I spent the night in the psychiatric emergency room. While I was there, the police brought a suicidal drunk woman in. Short version: she created a huge disruption, refused treatment, tried to leave and was eventually arrested for public intoxication.
Mental illness, especially when combined with a substance abuse disorder, is an easy way to wind up in jail.The prevalence of mental illness in the criminal justice system
According to PsychiatryOnline.org, 6 to 15 percent of people in city and county jails and 10 to 15 percent of people in state prisons have a severe mental illness. These individuals generally have an acute and chronic mental illness and are poor functioning. The report blames "deinstitutionalization, more rigid criteria for civil commitment, lack of adequate community support for persons with mental illness, mentally ill offenders' difficulty gaining access to community treatment, and the attitudes of police officers and society."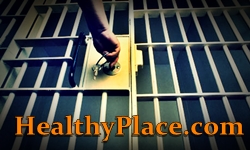 In 2005, PBS's FRONTLINE aired an episode about this phenomenon, "The New Asylums". According to this episode, almost 1 out of 4 inmates has a mental illness. That's not factoring in borderline personality disorder (BPD), depression and anti-social disorder. Factor in a dual diagnosis (mental illness and a substance abuse disorder), and the National Alliance on Mental Illness (NAMI) estimates well over 50 percent of inmates meet this criteria.
Location matters
I'm fortunate: I don't have a criminal record largely due to my location. Most of the crimes I've committed--usually intimidation--were a result of my mental illness. I've gone to the hospital instead of jail.
Why? Probably location. Indianapolis has a Crisis Intervention Training (CIT) program, which provides training to police officers on how to deal with individuals with severe mental illness. There are hospitals that accept indigent patients in psychiatric crisis.
According to a joint report by NAMI and Public Citizen's Health Reserach Group, 29 percent of the nation's jails routinely hold people with a severe mental illness with no charges against them. In other words, nearly one-third of the country's jails are makeshift psychiatric wards--psychiatric patients--without criminal charges--are being held in jail to wait for an inpatient bed.
It varies by state, with Kentucky being the worst. There, according to NAMI, 81 percent of the county jails hold psychiatric patients with no criminal charges. It also varies by county. Montana's Flathead County holds the record for housing the most people in this category; only the county jail--not the local for-profit psychiatric hospital or the local general hospital--accepts emergency psychiatric admissions.
Why this is unacceptable
It all comes down to "Is money worth more than human life?" While we as a society often say no, our actions indicate that yes, it is.
When institutions began to close, many of the patients had nowhere to go. They went to the streets. There, they didn't receive treatment, and their conduct often resulted in arrest. Since the promised community-based treatment never materialized, the only place for them to go was jail. In jail, there was hope for treatment. Fast-forward to today, and in many places, such as my beloved Indianapolis, the county jail is the leading provider of mental health treatment.
Jail is not conducive to therapy. For example, in Montana's Flathead County, individuals with severe mental illness are placed in the "soft cell". This barren, padded cell has a grate in the floor for a toilet, and meals are served through a slot in the door. That's not going to help the person feel better. A look at the jail's case history confirms this.
But treatment costs money, and this is the era of no new taxes. Studies show that while most people want there to be a good mental health system, support diminishes once they realize it will mean higher taxes or higher insurance premiums. The treatment of and sometimes the very life of a psychiatric patient therefore goes to the lowest bidder.
Mental illness is not a problem that will go away, regardless of how much we want to sweep it under the rug. It will continue to plague our society. The question is "Will we be a just and humane society which takes care of our most vulnerable, or will we continue to use jails as psychiatric wards?"
APA Reference
Oberg, B. (2011, August 9). Have a Mental Illness? Go to Jail, HealthyPlace. Retrieved on 2019, September 18 from https://www.healthyplace.com/blogs/borderline/2011/08/have-a-mental-illness-go-to-jail
Author: Becky Oberg
I wish I knew the answer. Other than raising awareness, I don't know what to do. As I'm fond of saying, "This needs to be solved by minds wiser than mine." At one point in time I would've recommended lobbying one's Congressman or state representative, but I'm rapidly losing faith in American democracy by the stunts currently going on in D.C. I'd recommend trying to raise awareness through the media--nothing brings change like bad publicity. But I really don't know how to change things. How do you make people willing to pay higher taxes or premiums in order for there to be an adequate safety net available?

Maybe the best way to change the reality is to change hearts, one at a time, by being open about what really happens.
I empathise with you, and send you my best intentions.

I have a dear friend , who is currently in prison. She suffers constantly with her illness, with substance abuse, and with a seeming lack of understanding for her needs in Scotland, where she lives.

I love my girl friend dearly. When she has difficulty with her enotions or rage, i try to understand her experience, & model how I might handle the same.
I have difficulties of my own. I'm an extra sensitive person, much given to anxiety and mood swings. But I live in hope that love and understanding are the keys to walking this path beside her. &, hopefully, easing the way for others to grow & learn with us.

I'll keep you and your daughter in my thoughts. Every little resource that brings hope is a step forward, in my experience.
Leave a reply