When a Person with BPD is Missing: An All-Too-Common Nightmare
Sometimes borderline personality disorder (BPD) can make us do extremely stupid things. A case in point happened after a heated argument with my mother. I stormed out of the house into a below-freezing night, with only one spare set of clothes (khaki pants and a short-sleeved T-shirt), very little money, and no plan. My mother's anger quickly turned into fear and when I returned the next day, I learned she'd considered filing a missing persons report.While a psychotic disorder is often a major factor in the disappearance of a person with mental illness, BPD can also be a cause. Risky behavior based on clouded judgment, as well as stress-related dissociation, are two of the symptoms of BPD.
But why is not always as important as what to do. What are the options for the loved ones of the missing person?
Missing adults with mental illness and the law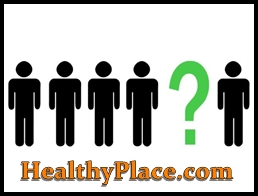 According to Let's Bring Them Home, the nation's leading organization dedicated to finding missing adults, Kristen's Law allows the U.S. Attorney General to give grants to public and non-profit organizations dedicated to finding missing adults. As the major recipient of this grant money, LBTH provides resources to family members, assists law enforcement and family members in finding missing adults, maintains a national information database, reports statistics, helps with public notification and offers training to law enforcement. All services are free.
In addition to this, according to the Federal Bureau of Investigation, "A person of any age who is missing and who is under proven physical/mental disability or is senile, thereby subjecting that person or others to personal and immediate danger" meets the criteria to be placed in the National Crime Information Center database. Basically, this means that any law enforcement officer in the country can look up the missing persons report. This can result in your loved one being taken to the hospital instead of jail if they have an encounter with the police--which is extremely likely for a person with severe mental illness who is off his/her medication.
How do I file a missing person report?
Indianapolis-based private detective Thomas Lauth specializes in finding missing persons [click here for one harrowing example]. According to his web site, the first step is to contact the police in the place the person is missing from. This can be done in person or over the phone. If the police take a report, they will give you a case number. Use this for status updates and to communicate with any outside help. Usually the missing person must have been gone for more than 24 hours.
It is important to tell the police that this is not normal behavior for your loved one. Ask to file an "at-risk" missing person's report, and tell them that your loved one meets the criteria to be placed in the NICIC database. Be sure to have documentation of his/her mental illness.
If you wish, you can hire a private investigator. This is probably an excellent idea. As Lauth's web site explains, "A private investigator that works exclusively on missing adults, runaway teens and abducted children has much more time to dedicate toward the case. County, city and state police agencies as well as the Federal Bureau of Investigations (FBI) have enormous caseloads while manpower and resources are spread thin. A private investigator answers to the parents of a runaway or abducted child, or whoever retains his services. Law enforcement agencies many times cannot pursue every avenue available to locate a missing loved one."
What missing person information is needed?
According to Lauth, vital information about the missing person includes:
the full legal name of the missing person, and any nicknames
Social Security number
NCIC number
date of birth and age of person
location the person is missing from
date the person disappeared
last known location of the person
circumstances of disappearance
sex
height
weight
race
complexion
hair color
eye color
type of glasses or contacts the person wears
identifying marks or characteristics
jewelry
what he/she was wearing at the time of the disappearance
A recent picture of the person is helpful.
APA Reference
Oberg, B. (2011, June 15). When a Person with BPD is Missing: An All-Too-Common Nightmare, HealthyPlace. Retrieved on 2023, November 29 from https://www.healthyplace.com/blogs/borderline/2011/06/an-all-too-common-nightmare-when-a-person-with-bpd-is-missing
Author: Becky Oberg
It's the best time to make a few plans for the longer term and it is
time to be happy. I have learn this post and if I
could I wish to suggest you few attention-grabbing issues or advice.
Maybe you can write next articles relating
to this article. I desire to read more issues about it!
Leave a reply