Ending a Relationship: How Do You Know When Enough Is Enough?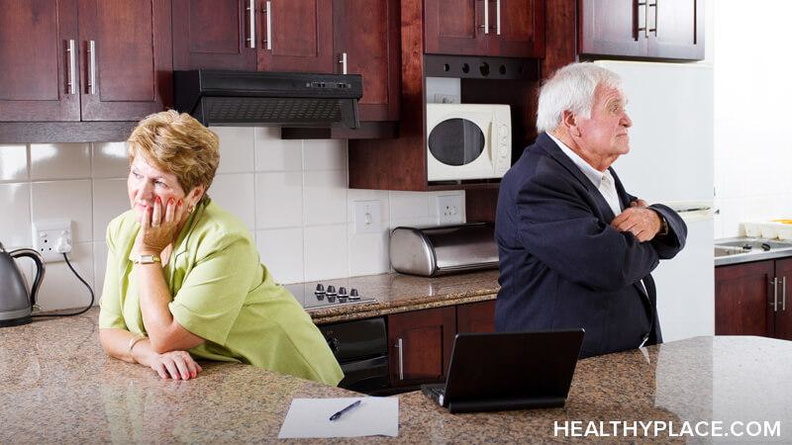 When deciding on ending a relationship, the first question we ask ourselves is: How do I know when enough is enough? Someone very special and beautiful asked me that question this week.
In our culture, we are faced with all kinds of messages about relationships: see the good in people, relationships take work, rise above, and don't have too many expectations. Then, don't put up with anyone's disrespect, take care of yourself, set limits, leave abuse. These messages convolute all our decisions on how to set boundaries in relationships or know when it is right for us to leave them. We don't know who to blame, us or them. Add to it worry and fear about being alone, or being abandoned, or about other people judging you, and it becomes a maze to wade through.
Unconditional Love and Ending a Relationship
Problems in significant relationships effect our anxiety and depression more than any other factor in our life because our relationships and their success define us. These are huge decisions. The heaviness of making the right one, can be immobilizing. One can either open to reconnecting, nor can they step away to relieve themselves. Above all, they lose all trust in themselves, staying in misery and passing it back and forth between them.
We think we are supposed to have unconditional love for our partners and mistake this for having an unconditional relationship. Relationships have conditions! All relationship arrangements are negotiable, and there is usually aspects that for one or both partners that are not negotiable.
It is not easy to chose to leave a relationship and I do not have a prescription answer. Sometimes, it is best and other times it is not, and these both can depend. One thing I do understand is that if you make a decision, you make that your decision. Whichever you decide, you live that decision with your best self. Look deep inside you, beyond all fear and all guilt and there you'll find the answer. Ask your higher self what is the best for everyone involved. Step back from the situation and see yourself and your partner from a distance. This intention and perspective can help you get clarity.
The Ending a Relationship Decision
There is no right decision. Decisions are like everything else, relative. It doesn't matter if it is "right" or not, you make a decision and then make it right for you.
You might decide to postpone your decision to end a relationship, but even that is a decision to be lived instead of lamented. Don't beat yourself up for "not deciding," postpone consciously. But before making a decision about whether to stay in or leave a relationship, think about this:
Know you are exactly where you are supposed to be. You are perfect and awesome.
There is nothing to be afraid of, you cannot chose wrong.
Get people that love you around you.
Find your worth and know who you are and your purpose.
Then, and only then, the preferable choice will be as clear as day.
How have you decided to stay in or leave a relationship? Let my friend know how you did it. Comment below!
I blog here: Heal Now and Forever Be In Peace
share here: Twitter@JodiAman, Google+
inspire here: Facebook: Heal Now and Forever Be in Peace
APA Reference
Lobozzo, J. (2012, July 18). Ending a Relationship: How Do You Know When Enough Is Enough?, HealthyPlace. Retrieved on 2021, January 24 from https://www.healthyplace.com/blogs/anxiety-schmanxiety/2012/07/how-do-you-know-when-enough-is-enough
Author: Jodi Lobozzo Aman, LCSW-R
[...] My article on HealthyPlace.com from yesterday about deciding to leave relationships How Do You Know Enough Is Enough? [...]
I loved this article! Thank you Jodi <3
All the reasons you gave that made me want to stay are true: fear of loneliness, fear of change, fear of people's judgement. I can also add fear of failure. The longer we stay, the harder it is to take the decision to leave. The hardest question I am asked is: why now? why all that wasn't a problem before? why did you wait that long? If you waited 20 years, then you can stay some more. Why now? because now enough is enough. You are right. I think we have a certain capacity of adaptation and patience, but it has limits, and it's limits don't depend only on us, but on others depending on us like children.
The hardest part is taking the decision. Once that is done, the rest will get easier as long as we believe we've done what is right. I totally agree with you that any decision we take is the right one as long as we stick to it.
What helps in taking the decision to leave when there is no more hope of making the relationship successful is to find love whether it is in friendship, in a new relationship, a new job we love, anything, any new purpose or passion. It is also when we have a certain responsibility towards others happiness and safety. Children depend on us to keep them safe.
I thought this was brilliant: "We think we are supposed to have unconditional love for our partners and mistake this for having an unconditional relationship. Relationships have conditions!"
I have had two divorces, both very different. In the first, I was physically and verbally abused. Fortunately, I had access to a therapist at work (for free!) and found the strength to leave. I shudder when I think about what might have happened. After that I remained single for ten years, with lots of therapy, and my relationships became progressively healthier.
With my second husband, it took a long time to get to that decision, and we were separated for a while before I decided to get a divorce. With each step, I waited until it felt exactly right. It was hard because we were good friends, but it was the right thing to do. Our divorce, when I felt ready, was done with love and respect for our 12 years together. People tried to rush me through the decision, but I feel as though we ended it in a beautiful way that left no hard feelings.
I had to make this exact decision in November last year.
I decided, (after breaking my leg in the August and spending all day everyday at home getting depressed) that I wasnt where I wanted to be in my life. I split with my girlfriend of two years which came as a big surprise to her and broke her heart. and despite being really upset myself and doubting my decision on numerous occasions I reasoned that overall to avoid me hurting her in the long run she should be shot of me. I stand by that decision. I did not wish to marry her and although that was the only difference (she still loves me and I her) it meant that I was being stuck in a relationship where I didnt feel comfortable. this would have led to me doing increasingly horrible things to distract myself so to be fair to her I ended it there and then.
I still maintain it wwas the right decision. and as for the point about making the decision right for you afterwards? im still working on that. my depression spiralled and has gotten very much worse, with thanks to a very unhelpful relationship in the middle. I have my good days. I have a lot of days I dont even want to move. I havent missed a days work through this yet (despite sometimes not being here mentally even if I am physically) and I have begun to write poetry which is a totally new thing for me.
Thanks you for this question. I wouldnt normally comment on this kind of thing. indeed I dont even read the blog, I was linked here through a friend on google+
J
Thank you to whom ever asked you this question, and thank you Jodi for taking the time to consider this question and to answer with such grace, love, and insight. I really appriciate your posts.
Leave a reply