Ending a Relationship: How Do You Know When Enough Is Enough?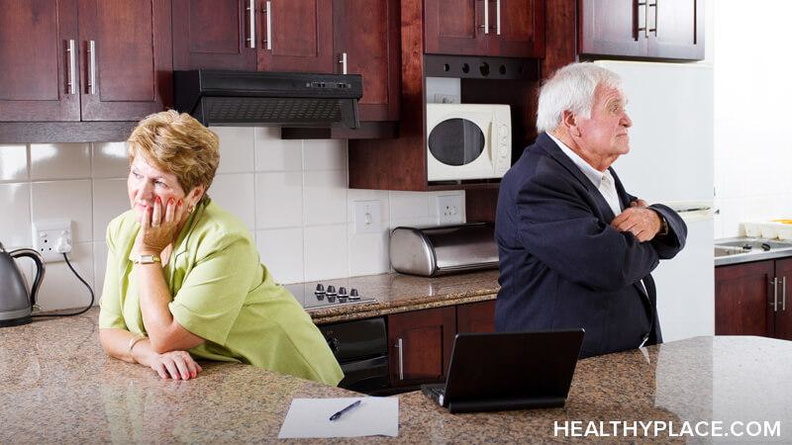 When deciding on ending a relationship, the first question we ask ourselves is: How do I know when enough is enough? Someone very special and beautiful asked me that question this week.
In our culture, we are faced with all kinds of messages about relationships: see the good in people, relationships take work, rise above, and don't have too many expectations. Then, don't put up with anyone's disrespect, take care of yourself, set limits, leave abuse. These messages convolute all our decisions on how to set boundaries in relationships or know when it is right for us to leave them. We don't know who to blame, us or them. Add to it worry and fear about being alone, or being abandoned, or about other people judging you, and it becomes a maze to wade through.
Unconditional Love and Ending a Relationship
Problems in significant relationships effect our anxiety and depression more than any other factor in our life because our relationships and their success define us. These are huge decisions. The heaviness of making the right one, can be immobilizing. One can either open to reconnecting, nor can they step away to relieve themselves. Above all, they lose all trust in themselves, staying in misery and passing it back and forth between them.
We think we are supposed to have unconditional love for our partners and mistake this for having an unconditional relationship. Relationships have conditions! All relationship arrangements are negotiable, and there is usually aspects that for one or both partners that are not negotiable.
It is not easy to chose to leave a relationship and I do not have a prescription answer. Sometimes, it is best and other times it is not, and these both can depend. One thing I do understand is that if you make a decision, you make that your decision. Whichever you decide, you live that decision with your best self. Look deep inside you, beyond all fear and all guilt and there you'll find the answer. Ask your higher self what is the best for everyone involved. Step back from the situation and see yourself and your partner from a distance. This intention and perspective can help you get clarity.
The Ending a Relationship Decision
There is no right decision. Decisions are like everything else, relative. It doesn't matter if it is "right" or not, you make a decision and then make it right for you.
You might decide to postpone your decision to end a relationship, but even that is a decision to be lived instead of lamented. Don't beat yourself up for "not deciding," postpone consciously. But before making a decision about whether to stay in or leave a relationship, think about this:
Know you are exactly where you are supposed to be. You are perfect and awesome.
There is nothing to be afraid of, you cannot chose wrong.
Get people that love you around you.
Find your worth and know who you are and your purpose.
Then, and only then, the preferable choice will be as clear as day.
How have you decided to stay in or leave a relationship? Let my friend know how you did it. Comment below!
I blog here: Heal Now and Forever Be In Peace
share here: Twitter@JodiAman, Google+
inspire here: Facebook: Heal Now and Forever Be in Peace
APA Reference
Lobozzo, J. (2012, July 18). Ending a Relationship: How Do You Know When Enough Is Enough?, HealthyPlace. Retrieved on 2021, January 24 from https://www.healthyplace.com/blogs/anxiety-schmanxiety/2012/07/how-do-you-know-when-enough-is-enough
Author: Jodi Lobozzo Aman, LCSW-R
Hi, I am in this situation for past 1 year but trouble started when my husband cme back from US. I married my husband 7 years ago, we had love marriage college tym love and had daughter who is 3 yrs old, last to last my husband moved to US and I left my job and moved along with him. I stayed for around year and cme back to join new job for our daughter future and finiacial security. I met this old colleague of mine in this new company ( he worked with me in old company and we were good friends), he helped me a lot in new company to settle and I came close to him, we got involved physically, although I didn't wanted to but it just happened over a course of time, we travelled for work together and cme very close. My husband returned after 6 months when I joined job and I am not able to accept him physically, he doesn't know anything about my new relationship but he is frustrated bcoz I am not allowing him to get physical wid me. it's been more than a year since I had sex wid my husband. That colleague John whom I am close to, he is divorcee and we are lyk one body n soul. If I talk about my earlier relationship with my husband he was more into his friends and we had not very good s c relationship, we use to ha e sex once in a week just for sake of having and I never enjoyed much sex with him. But with John it's lyk my body is made for him. It's lyk we both are for each other. I don't know how to tell truth to my husband bcoz I have a daughter too and family too. Emotionally I am ok but I am somehow not able to come out of my earlier Lyf. I so want to move ahead with John and tke my daughter but I always have the guilt feeling that my husband has not done anything bad to me, he indeed supported me to do job continue my career though for financial security but still he trusted me. I have my entire family here, my daughter is all gelled up wid good and parents and everything. I tried but I fee lyk it be sex against my wish or soul. But soul or inner consiocous doesn't allow me to leave him and doesn't allow me to have sex wid him. I am keeping him in dark , he has the right to live his Lyf but I am not able to tell him the truth or take any decision. Please help. All my friends say I should leave John and go back to my Lyf normally but I am not able to do it. He has changed my life, he has taught me what's Lyf l, what's enjoyement. I don't know what to do.
I need help. Ive been with my boyfriend for 2 1/2 years. We have an 18 month old daughter, and he is the only dad my 7 year old has ever really had. We have had our share of misc. Issues ranging from financial to communication. For a while now i feel i have disconnected from him emotionally. I still love him so much. I work full time ad have very minimal help with the house and kids. He tends to spend very little time with our children also. I feel this is a lot of the reason I have disconnected. I finally broke down and told him how I feel about a week ago. We decided to work on things the best we can. We have both given up a lot for our family and each other, and we love each other and our kids. For the past 4 days I have had THE WORST anxiety. Just knowing Im coming home sends me over the edge. My heart is pounding my stomach is in knots and I feel like Im losing it. Im scared to leave him, not due to abuse, but for our children and my fear of being alone and also fear of hurting him. What do I do?! I feel so lost. I cant handle the anxiety. Its driving me crazy. Please help.
I am really confuse. My husband and I have always been on a rollercoaster. We married 6 years ago but when we first married he said we had to stay with his family for a year so we can save and then move out. That year didn't go so good and we separated after a while of dealing with issues. Year after year he has promised we would be together and live in our own place. A year ago he begged me to move in with his family for a couple of months while their lease was up and then we would leave. Well this never happened lease ended but we stayed. I had accepted his offer but said I wouldn't stay there long and now I am reaching the year. I have dealt with anxiety all my life and I have always been able to control it on my own. Recently my anxiety is so high that I can't control it anymore and I know it is because of the place we are in I can't sleep I constantly feel like I cant breathe like my heart is raising or like I need to run. I feel really bad and it is now affecting my health. We live in a four bedroom house and when I moved in it was just my husband and I our two daughters his two sisters and his parents. That is already a lot of people. My daughters have to sleep in a foldable bed next to our bed because the other rooms are taken and our room is too small for two beds. Now the house has more people in it. It is me my husband my two daughters his parents his two sisters and one sister decided to get pregnant now we have a baby in the house she is getting married in august and my husbands dad told her and her boyfriend they could live there so now we are adding her soon to be husband plus two of his kids that he occasionally has. I really cannot take this anymore but I also wouldn't want to leave my husband but it is already putting my health at risk. I have gotten to the point of begging my husband to just let me out to rent an apartment but he says no to everything I ask for and I feel like it just has to be his way even if this means putting my anxiety at its worst. He makes good money and I make good money so he has no real reason to want to stay other than to help his parents but this is already enough for me. We fight a lot now too but I feel like a lot of our problems would go away if we would just get away from that place. I have been thinking and researching a lot of apartments to just get out with my daughters and I feel so confuse. I don't know if it is ok for me to leave. I know my husband won't follow as he has said he will not leave but this would also mean a separation once again and I feel like the issue always goes back to him not wanting to leave his parents. Please help any advice
My ex left me because we argue a lot lately and he says he doesn't believe in happy ever afters. I am pregnant with his child and we raised my other child together since he as 3 weeks old. So it's so hard to lose this guy. I am in serious love with him and want us to be a family-not a BROKEN family. I would do anything to have his heart back
I am currently in a relationship going on 1 yr. We both have children from separate relationships.
I don't want to screw up children but I know I can not stay in this any longer.
There is verbal and mental abuse to me. I deal with it because I don't want the kids to be messed up from women in and out of their lives.
My kids will be fine. They are very close to me. I know my son sees an issue but my daughter is too young to realize.
How do I walk away from this and not sneak out?
I have nothing good to show for the past year. I lost friends and my family has been pushed away because of his control.
I try to stick up for myself but then everything gets switched around on me, like I'm not thinking straight. I feel confused and then I stay.
I question myself. I was never like this. I was never a weak person. Should I just pack up and leave, only leaving a note? He doesn't understand.... He has taken over MY home. He will Not leave. My only option is for me to go. Ugh!! I have lost everything... I don't care about starting from nothing but I don't know how to get out of this.
Hi,
I am in a relationship with a girl in philippines and we are staying together since 2 years. She is 22 year old and i am 30... We live together. Actually she has difficult life coz she supports her family (mother, her 3 siblings and her 2 kids) but her income is not enough. Her father left and went to other place, doesnt support them and is jobless. Yes she is a single mother. In the begining of our relationship just 6 months after we were together i found out that she slept with other guy for money. I saw her email and pictures posing in the bed and she confessed that she slept for money and cried and said me she did it to support her family.. then i realized that i should support her coz i thought she loves me and she really did it for money.. Then i started to support her family.. She was working as some promo girl and her salary was not good. so i asked her to join call center but she said she cannot pass in call center interview. I encouraged and supported her firmly and forced her to apply in call center. I said her i will completely support her family coz she will have to leave her old job. She failed in couple of places but i kept on encouraging her, supporting her and her family.. Finally she started to work in call center. I was so proud of her.. I even threw a party for her. Then I rented a house for her family.. I used to pay rent, electric and food.. I get so broke time to time coz i had to support 7 persons but i still supported them.. Then i decided to bring her family with me so that i wont be paying for 2 appartments.. then we all started to live together.. but soon i was very irritated coz it was too noisy with 5 kids at home but i somehow managed to stay together for 1 years and offcourse i was paying everything.. ya she also used to spend for their school and other expenses... Then one day i found out she was chatting with other guy on the facebook and was planning to meet him, this guy also slept with her before we were in relation.. When i asked her to block the guy she refused and shouted on me. we fought that night and finally she blocked him. once she was sick i just came home after 28 hours duty and took her to hospital, then she confessed me that she fell in love with a new guy from her work (call center) and she said but the guy was gay.. I asked her what if he was straight then she just replied nothing would happen it was just a crush...actually i already knew something was wrong in our relation coz she was not giving me what gf should give to her boyfriend like love, romance, care.. When i wanted to love her she used to say she was getting old and has no interest in love making, she is tired, she is sleepy blah blah excuses... I was so frustrated she wouldn't make love with me for weeks even we are healthy and young.. Then I decide to move from that house coz i wasn't happy there and she never made me feel special.. Then once i saw in her phone that she texted her friend saying in our relationship we have no love.. I was shattered to know that she doesn't feel love with me. By the way i am sure i treated her like a queen. I gave her everything she ever wanted. I did everything the husband does. I always made her feel like i just fell in love with her. But i dont know whats missing. Y she cant understand my love for her. Then i decided to make her believe that i was having affair with other girl coz she was not treating me good.. then when she believed (which was a lie) she cried alot and then i said her everything in my heart and then she started to treat me like a boyfriend... After staying together with her family for 1 year i decided to move to new appartment in good place that will be near from my work and noise free coz i need to study alot. But i still brought her with me to our new appartment after 1 year of staying with her family.. Then we moved to new appartment. A still support her family but half of their expense s coz she also gives her all salary to her family.. I pay for her transport, food, clothes, everything. I cut my expenses like i spend around 50% of my salary in her and sometimes all of my salary.. Its been 2 years i only bought about 4 clothes for me but i bought around 30-40 dresses for her, sandals , bags... now again she is starting to treat me bad.. its our 3rd month in new appartment and i dont feel like she loves me at all... she is always busy over facebook and internet... and u would be shocked to know that she blocked me in her facebook. when i asked her y? she said i am spying on her.. She even asked her friends to block me in their facebook about 5-6 months back.. Her phone is locked coz she dont want me to go through her phone... I gave her the phone 1 years back as a gift.. I also gifted her ipad when i went back to my country. Now a days its so difficult to stay with her in our new appartment... her job is night shift in call center and my job is usually day shift. so i am almost alwas alone at night except for saturday and sunday... So, we are able to genuinely spend time together on weekend only.. I get back home at 5pm in the evening while she is sleeping, then she wakes up at around 9pm and goes to work. that how our days passes. we only speak when she wakes up and get ready for the work.. its ok to me coz of her night shift duty... but even on weekend when we can actually spend time together, she doesnt come home early.. she stays with her friends, or sleep at her friends place ( thats what she says), then she visit her siblings and come back home at night like 8-10 pm then she use internet, facebook, instagram and then suddenly she sleeps... Sometimes when i try to cuddle her she pushes my hand like she is irritated. when i ask her for love making she says i am sick and i am not normal person and i am sex addict.. sometimes we do make love but its like she is dummy.. she doesnt even move... she never sits on my lap, she never kisses me, she doesn't try to be romantic. She always try her best to not make love with me... Its been like 4-5 months she never said she wants to make love. I feel like she refrains from making love with me.. whenever it comes to love making before she used to say she was getting old and has no interest in it. now a days she says "we love eachother doesn't mean we have to make love". whenever i ask for it she gets mad or says "no". Now a days we make love like once or twice a month and even in so long time she does not feel excited and acts like dummy. We have gym, swimming pool, badminton court in our condominium but she doesnt do anything except internet... when i ask her like , "honey lets go to mall" walk around, she says what we do in the mall? i reply: just walk walk, she says she doesnt want to walk around.. but she goes to mall with her friends.. sometimes i ask her to go to IMAX to watch movies but she doesnt want to go.. but she watches movies in her friend house. She always downloads movies her usb for her friends and watch with them but we never watched movies together.. Sometimes when i ask her "honey do u want to make love" she replies "no comment".. I dont know what that means.. common 15-20 days without love making in same bed and still "no comment". What does it mean???..... By the way when i am at my work and she is at home, she watches porn movies on internet many times.. Once i asked her, you r watching porn when i am not here, but u dont want to make love y? then she said its just she watched and there is nothing about desire to have sex. 1 year back she used to ask me for it.. she use to text me saying she was horny and wants me to come home early... she used to cuddle with me, play with my body but suddenly everything changed... I have done nothing to hurt her.. i love her so much but i cant take the pain and frustration.. I asked her to leave me and go but she doesn't leave me also.. I am so disturbed by her.. I asked her to treat me good or leave me.. she does neither... I cook food for her everyday.. I pay for everything. Whenever she feels bored or sad i take her out for dinner. some times i take her out of city. I cant see her sad but i am getting very sad. I dont know what to do? I said everything to her coz i know problem can be solved only by conversation. But, she dont like to even talk about problems.. I also asked her what is it that i dont have or she doesnt like about me, she doesnt reply... Most of the time she says its not necessary to have sex in a relationship, sex is not important if u love someone and u should learn to live without sex...................... I feel like she is has feeling for someone.. i asked her but she said she doesn't have time to fall in love with others.. Please give me some answers.... I need to make decision.... I am soooo disturbed emotionally, physically, financially and sexually... I dont want to leave her coz i know she will have hard time if i leave her.. and if i leave her she will beg to come back into my life.. but i know if i leave her i am not going to let her come into my life again.. But i just dont want her to have hard times.. i also love her family especially her son and daughter...
Hi, I'm M
Ive been in a relationship with an older man for about 3 years now- it feels more like a really long marriage. Small issues have been building up and are officially taking over.. We started out as friends and then started dating, I'd just moved to the states and I had no family or other friends here, he quickly became my friend and partner. Early on i noticed that he was still in contact with a number of his exes, it didnt bother me unless he initiated contact with them. When we finally started dating i fell for him- like really really fell for him. During the beginning stages he'd accused me of cheating repeatedly - and all that did was make me want to isolate myself from all men in a bid to save my relationship. I was too tired to really focus on myself - all i was doing was making sure all his issues were taken care of- so that I wasn't like all his other exes. I'd also been pushing for us to move in together- my intentions were good but when i think about it now- i feel like i was just a means to an end. He calls me up one day and says that we should move in together- i should find a place and we should move immediately- i found out later that he was moving to get away from a quite recent ex. We moved and everything was going well i was still being accused of cheating -and for the first time in a long time I fought back and I told him off. I wasn't planning on having this arguement every single time i got a phone call. he said he wouldnt bother me about it ever again. He stopped talking about it and life continued. flash forward to 2015- his ex wife's father passed away - and he decided to go to the funeral (I know it sounds ludicrous- but for me - I wouldnt go to any event related to an ex- especially something as private as a funeral); i started thinking to myself after that - that he really didnt want to have her out of his life. He enjoyed having that connection with someone who hurt him so much. When he came back he seemed different, he was more into being with me and I couldnt figure out why- despite asking. Things were okay for a while, and I started hanging out with people from work- (i work 12 hour shifts with 90% male colleagues and they're a fun close knit group.) When one of them left they had a farewell party for him- and I was invited. I decided to go on my own and hours before I left for the party he picked a fight with me. i couldnt understand why, but i decided to go out anyway. I got back home later that night and he picks another fight with me. I let it slide and continued with the rest of my week. Two days later he picks another fight with me. I get so infuriated and I call him later that night and ask why he keeps picking with me. he tells me that he doesnt know if he wants to get married again, if he wants to have children , that he thinks im going to leave like all his exes, and also that he misses the attention from women in his age group- and that he doesn't want that to end. I decided to end it on that day- If id never forced that out of him he would have never told me anything. there were tonnes more fights about the same thing - he was a lot more passive aggresive - testing me and expecting me to cave in and be the woman I used to be. Threatening our relationship... (I even got text messages saying i should move out and be with my new boyfriend); through all of this i never cheated on him. All throughout he never blamed himself it was always my fault or the fact that one of my friends from work told me to do it and i was listening to her instead of him (the person i have history with. I told him i made the decision for myself by myself and noone forced me to do it). I realise now that everything he's doing now is to pacify me- to make me change my mind and continue living with him. I can't do that- I feel like im being bulldozed into staying with him and Im not going to sit down and be complacent anymore. Reading your article and all the posts was amazing because i really needed a boost- and hearing what everyone else is going through made me feel like I wasn't alone. Im looking forward to starting over, by myself- I lost 3 years being with him - making sure he was fine and I realize now that I WILL NOT REPLACE his mother, the only CONTROL he can have over me is the only CONTROL I decide to give him and I wont be doing that. Stay Strong, have good friends who can just listen and not judge you, dont be afraid of starting over and dont be afraid of being alone. - M
Im torn, Im confused, I ughhh!!! Two and a half weeks ago I spent New Years Eve with my ex boyfriend. We broke up eight months before and I missed him terribly in the time apart. We texted and talked a few times, and he lied to me, about having a girlfriend when I was going to take a live in care job near him. He had two girlfriends, since we broke up, I went on seven dates, but no boyfriends, so I was all excited when he drove two and a half hours to pick me up on New Years Eve. He was like Yeah whatever when I was loving and excited to see him. I spent two and a half days at his parents house in separate bedrooms and we couldnt even sit next to each other, it was like I was 16. On New Years he introduced me as his girlfriend while drinking, smoking pot, and having a good time, and I was there putting up with the behavior. He drove me back and was smoking pot and drinking out of a flask he acted like he didnt want to be here, well I live alone, have a cat, at least we could be alone. I love him, but it hurts we have texted some, talked very little and last night he said it hurts to talk to me, hear from me, read my letters. He wants me to move to be with him, and to do that I must get a job. I live two and a half hours away and have spent the last two and a half weeks looking for work near him, Due to money Iam unable to get a car and be there everyday as I drive a 19 yr old car thats falling apart. Do I let go or keep him in my heart???
Hi I'm Zee
Im in a relationship with my partner of 8 years soon to be 9 we have 5 children and another on the way he is my first for everything but he has a past that he carry's with him every year I've heard it so many times that I just don't know if he could ever move on I even seen him sleep in between and his ex and his sister while I was 3 months pregnant with our first child and that hurt me big time I was young when I met him but ever since then I have never been able to trust him I know I did something wrong which was just stare at his brother and his cousin and I told him the truth that his brother was good looking at that time but I'm over being like that now I don't look at another male anymore but I'm just so angry that I'm always the 1 thats trying to make difference with our relationship I'm at the pointe I just wanna give up but I love him so much that if I leave it will hurt my children as well as they will be separated I don't want my children to have that kind of life thats how their father grew up so I don't know what to do I constantly get mad at him cause he seems to wanna spend time with everyone else but his family anybody asks him to drink with them and he does not only that he wants to bring us into a world that I will never support which is he wants to join a gang but I won't support it 1 bit cause that's not the life I want my children to grow up around but I just want advice on whether I should stay in this relationship or not
Im in a situation that i dont know what to do at this point anymore im 27 and my bf is 26 we been with each other for 6 years, we are in a long distance relationship i see him every weekend when we see each other or talk on the phone we are fine but whenever something is bothering me it can be a small issue for example he gets really disrespectful he will call me names, hang up on me, tell me im annoying the list goes on! Like i don't get it whenever he had to tell me things i didn't give him any disrespect i would be more reasonable and talk it out not like him. There are things that i would bring up about marriage and i would tease him he would get upset too and he feels im pressuring him which im not, we also talked about sex we only had it one time that was it when we see each other he doesn't even attempt to have sex we just have oral, he says he doesn't want to have sex in the car.... and i also talk about moving in with each other he said he isnt financial ready and i respect him and his decisions but all these things we discuss he gets annoyed by it and doesn't wanna hear it all the time and he gets really mean and im getting fed up by it....
Please help!!!!! I have been in relationship with my husband for almost 8 years.he has been in and out of jail alot.he does drugs pills.he stays angry all and constantly complains.we have 4 kids that drive him crazy.he also says I drive him crazy and constantly saying he can't stand me but yet will kill if I leave him.our kids are crazy about him.I can't get job cause of no sitter for mornings so financially I could not make it.that's why I stay.I mean I do love him but don't want the drugs and drama.he also drinks beer,like. 4 almost every day then starts nodding out.please help....
Hi,
How to recover her to get back to me?
Well, the case is quite special. Last two months, my girlfriend went to Cambodia with her friends for vacation trip. I keep in touch with her every day in phone. After that, the second day at Cambodia. She started to not feeling well, maybe she is having period and so on but she told me that she gets a very weird yet scary feeling inside her mind. Starting I am not really concern until it goes worst, she is a very tough girl who does not afraid of anything, but this time, she feels fears, she worried that she can't feel herself and decided to back early from Cambodia.
We tried many ways to make her feel better, but she is getting worst. Example like, she looks to a person/friend/family, and she feels that person weird and will suddenly bring her to another mind of thinking. It is quite complicated for me and I was suggested to look for doctors. But I could not figure out which doctor for her to visit. She told me that she can't feel me and she is not feeling well in her heart all the time, sometimes she can't feel herself and she knows that.
Then, I hope you all could find a way for her to solve her problems. Lastly, I would also suspect she might be having 'derealization'. But somehow, until now she is not fully recovered yet.
And recently, she decided to have temporary break up with me just because she don't want to hide her feelings and she don't want me to hurt for so deep, when she is having this problem, she do tell me that if anything happened to her, remember that her heart is actually still loving me. I am so sad of her incident seriously. :'(
She feels bad that she don't have feelings to me in a sudden, she don't want me to feel suffer so she leaves me and asked for temporary break and be friend. I can't accept the fact. We didn do anything wrong,
before her incident gone worse, she told me before that she will not leaves me unless i betrayed her, i will be her only one and the last one. But then, when she got this suspected dp that she can't really feel anyone, she told me before that, no matter what happened to her or gone worse, please remember that she will always love me in her heart. :'(
Now she feels like she wanna get out of her weird life, find some peace life and be her self back since she can't find back her self. But why she have to leaves or sacrifice me? Why have to purposely to have temporary break and be friend at first? i could not accept it at all.
Last two/three weeks we have quarrel a while, because i wanna try to get her back but still useless, she said please give her time and space, don't force her anymore.
Well in terms of giving her time and space, I have a lot of comments, some would say give her time and space by not contacting her until she feel misses me or needs me and then she will find me back. Some would say I must keep on contact with her to let her know that I will always support her and be by her side all the time but I worried that this will make her even worst.
After she requested for temporary break, we have badminton(Sports) session every Wednesday if either one of us free, but that day i was trying to ask about her and wanna have a talk with her one on one, but she was like afraid of me. Until her friend accompany, only she willing to talk with me with friend's accompany outside. She told me she not feeling well when she sees me and she don't know why, she feels so guilty and so afraid of me, and recently she deleted our facebook relationship status, sweet photos of us, instagram photos, and wechat moments. I don't really understand why she wanted to delete all these sweet memories. I am numb and i am trying to keep hold on my nerves for being patient and patient. Well, this is a tough task for me as i have to be tough enough to support her.
But, everything seems getting worst and worst for my GF after of one month break.
I thought of giving her time and space, and it see if she will be feeling better. But end up she feeling not even feeling better because she found out that I have contacted her aunt and parents to get to know about her. She feels that i still could not let go of her temporary and even not feeling well to me. I am feeling numbed and betrayed as i am trying to give her some time and space and at the same time get to know her through her families, but end up failed to do so and even getting worst.
Last night, I was thinking to break up with her for permanently, no more three months because I think that break up with her permanently will make her feel better and let her feel that i let go of her completely. Now our temporary break had passed by 1 month, 2 months to go. She said she even not feeling well on me and her close friend advise me to give her more space or else she will not only leaves me, she leaves everyone also. Nowadays we don't know what is she think, whether she is suffering or lying on us, nobody knows. What my friend advise is let her feel comfortable and better before she is getting worst and ignoring us.
Now I am completely LOST, DEPRESSED, CONFUSED of her weird reaction. She is completely different. I can see she wants a restart on her life. Recently i asked her why 1 month had passed, but still purposely go to my wechat profile, fb profile, instagram profile to delete all the comments, unlike, and untagged everything relating to both of us? She said it is hard to communicate and to tell me because i will be emotionally unstable and immature, she is sorry to hurt that and she don't want to drag anymore as she is still suffering whenever i said that we have two more months break, should not have delete all our memories since it is great memories. I don't understand why she still can be happy to post all her latest photo (she is on vacation) while normally if we break up, she should be sad instead of happy.
What i wanted to know is, what is the actual reason that causes her to become like this so differently in a sudden? is it an anxiety or panic attacks? i just need an answer. Will she have the feeling back and comes back to me after some time and space or after she recovered? Just want to know about this. Hope that you all which have similar situation can give me a help on it. :(
Regards,
Alfred Tan
Hi,
This is a family matter please help me if my decision right or wrong.
a short narrative for your info.
My mother was so upset because of the text i send to my father phone and they arguing each other. yes i admit im wrong but i felt all the time my decision is not good to them the worse even in front of my daughter im still wrong in making decision. One day my mom was so upset they arguing each my sister and my brothers even my sister in abroad also upset to me. only my lil brother and father understand it because i made wrong from the past then all the decision is wrong. they not even know how depress i am and even guilt ever pressure what im going to do just let them be happy to me. during the conversation everyone is shouting yealing even mad all of them talking talking to me...they call me but i decided not to talk and go inside to talk. i rather choose to be alone because im afraid what they are going to me guilt because of me they are mad or even shouting each other that why i let my self to be silent. But this make me feel better but the question if my decision is right choose to be silent than to have conversation with them?
Hello my name is Val.,
Please don't judge me..,but I've been in a relationship with my bf for 2years goin on 3years I live him so much n care for him so much he means everything to me we have 2beautiful kids together ..,well come to find out he has a very bad drug addiction and I tried helping him stay off the streets and to stay drug free but nothing seems to work I try so hard not to break down but Hus addiction really hurts me so bad I want to end my relationship with him because as all he does is lie to me all the time n leaves me and our kids all the time to go out into the streets he says he's goin to stop using drugs and stay clean/drug free and that he's gonna change but he doesn't nothing ever changes.. he's been telling me that for the past year now I just can't go on with him anymore but then again I live him so much and want him to change and I want to stay with him for our kids but I can't keep putting myself through all this pain... HELP ME WHAT DO I DO...?!!
We all see a trinkle of ourselves in all the posts here. In my own case, I know the right thing to do is to leave him, after 3years of serial cheating, including with the married housemaid. With escalated physical and verbal abuse, joblessless, my 7year old from a previous marriage is a constant jealousy point. I fear that a divorce would get messy and he would become vindictive. My have a baby together n I also fear he would find a way to take her away from me.
Hi,
I'm a 33yr old mother of 4 kids. I've been in a 11 year relationship with my youngest son's father. Been trying to leave him for the past 3yrs. It was a physical and verbally abusive relationship for 9yrs. He has stopped physically but he still does it verbally. Its got to the point that I'm feel like I am not able to do anything. I feel he is embarrassed of us. He doesn't take me or the kids no where. He compares to his friends wives. He be little's me in public. I want to get out so bad. I live in a city where I don't have no family. MY friends that I had were are no longer friends. He makes sure no one likes me. When the neighbors he calls me names. I feel this relationship turned me to a bitter miserable women. I cant even hold a job with out getting emotional. I know I'm not an ugly woman. But that how he makes me feel. The place that we stay at is under my name. basically everything is under my name. I want him out but when he does leave he only leaves for 3 hours come drunk banging on my windows and doors. I still let him because the neighbors are looking. I am embarrass for me and my kids. I want to call the cops but I don't have the courage. I'm not working right now I also say how I am I going to pay the bill. PLEASE can someone guide me or give me advice to better my self and get the courage to leave this person I feel like am stuck with. Thank for whom ever took there time to read my comment.
I recently called a day to my 4 year relationship and I feel so awful about it. Everyday I wake up feeling worse. Is that normal? He was my everything but he let me down so many times. I moved to another city for him and we were both getting on great. He was living 2 lives. His family hated me for no apparent reason. He lied to them about me and he left me last year because of them. We fought so hard to get back to where we were and then his family said us or her again. He didn't know who to choose. I didn't want him to have to choose. I just wanted him to be happy. They caused me so much pain and he never got them told. He wants me back, he says things will be different. Someone please help me :-(
I broke up with my boyfriend of 10 months two months ago. He was much younger than me, we loved each other al of, but there was something in me that didn't trust him. He was secretive with his phone and it started to make me crazy, from there I was suspicious about everything he did. But that's not why I broke up with him.
I broke up with him because I started to hate myself in that situation. I became so worried about everything he said and did, I felt awful and couldn't sleep most of the time. I didn't ever find the smoking gun but I was always looking for it. And I realized that it made me feel out of control, anxious and crazy.
When I broke up with him I was sleep deprived and volatile, because again I suspected he was being shady- though I really didn't have proof, just a gut feeling.
I have spent sleepless nights feeling guilty over breaking up with him. I miss him. I love him. But I love myself more. I couldn't go on like that, it was embarrassing and horrible. I still don't know why I couldn't shake my suspicions, but it wasn't fair that I had them all the time, so I let him go. It hurts like hell. I hope I did the right thing.
Hi,
This article helped me out a lot. I feel that I have relationship anxiety because I have continued with an unhealthy relationship for over 2 years off and on. I am a single female involved with a married man. This relationship is very toxic to me. In beginning, I wasn't thinking and just looking for fun. Honestly, didn't know what I was getting myself into. I have tried to end this several times and somehow I allow to be pulled back in by his shenanigans and lies. And my feelings of wanting to be with someone. Its totally not his fault, I know I am to blame as well. But I want to officially end it once and for all. But my anxiety makes me feel awful about it. My anxiety is starting to make me hate myself and him. How do I get over this feeling of anxiety and hopelessness for me? Are there any other measures I can put in place to move on and be peaceful with the decision and myself?
I Just made the liberating decision to end a 4 year relationship. I had been married for 31 years that ended due to betrayal. Before the divorce was final I met the woman I wished that I would have been with my whole life, and believed I would marry and be with the rest of my life. She made me believe that she was thinking and believing the same thing. She was separated from her husband at the time we met, and waited a little over 2 years to actually file for divorce that took over a year to be final. While I was led to believe we were going to be together and we made plans, I should have paid attention to the little things that were obvious signs this may not turn out like I had anticipated. Too long of story but what I want to say is, first of all don't ever even be friends with someone who is contemplating a divorce or even in the middle of a divorce if you are the least bit attracted to them. The Chemistry and attraction between us was unbelievable, but we believed we could do this the right way and not date, just be friends until we were free to date and maybe Marry. I ended up with a very broken heart where she chose to have Male friends (women didn't like her, her words) and particularly one who she spends allot of time with talking texting etc. They are just friends. Right!
After living 4 years with folded arms so to speak waiting on the one I wanted to spend the rest of my life with and going through a whole lot of frustration, worry, confusion wondering what really was going on at times only to be relieved by her words, I made the decision tonight to end it. I didn't want to believe it but her friendship with her new best friend revealed to me today he took my place in her life. I know this will be very difficult, lonely, and incredibly painful for me, and I know she will come back trying to fix us (again) but I've made up my mind. Finally! Friends and family have seen this toxic relationship and tried to warn me but I was blinded. I'm madly in Love with this woman but that will change in time allowing me to move on. The hard part is living right now. Grieving something like this has to be one of the most painful experiences I know how to describe. This has jaded me, I will have a hard time ever trusting a woman again. My gender has the reputation for cheating, I'm here to tell you the good book in Proverbs says '' A good woman is hard to find ''. It is TRUE!! In spite of this truth and Pain, I will be whole and healed and I'm excited about the future... in between the valleys of this crazy roller coaster ride. I would say to all, Keep the Faith. This too shall Pass and don't date anyone who is dealing with relationship issues of any kind. That single someone is out there. WAIT!
I have been in a relationship for almost 4 years. The first year was perfect. The second year is when I started to see his true colors. He was drinking a lot more. Now, he drinks until he blacks out. I noticed that he is not really into me anymore but he says things to keep me holding on. I just found out that he is involved with someone at work. This explains why he can't really help out with bills. I don't know why I hold on, but after reading those messages in his phone, I think that it is best to just call it quits. I work, go to school, and I just got a promotion. I think that I can do alright by myself. It is just the fear of starting over.
I truly believe that it might be time to end my almost 10 year relationship with my fiancé. We have had some major issues within the last 2-3 years that I have brought to his attention and he claims that he wants to fix the relationship and rebuild it but every chance we discuss as adults and compromise he goes against his compromise and does what he wants anyways. When I then sit down to have a discussion with him about what happened and explain what he did wasn't right and respectful of me he disagrees and says he did nothing wrong. I feel that if he truly wanted to fix things he would make sacrifices like I have but I'm doubting anything and everything that he says at this point. What else can I do? Any advice?
It would be good to get some kind of advice. Although I think deep down I already know what needs to be done although I don't know if I'm doing the right thing. I have been with my partner for 7 years. A year into our relationship, I found out he had been texting another girl for a few days and texting his ex ex gf (some texts were just genuine where as others said I miss u etc.) For some unknown reason, I decided to stay and work through it. Over the years we have had a great relationship, although little things have cropped up on Facebook etc that I have questioned. 3 months ago, I found out the worst thing I've ever experienced in my life, that he has a gambling addiction and had been lying about it the whole time we have been together, he was using our joint account to borrow money for 3 years to fund his gambling and even sent our statements to his parents house! Ever since this has happened he has been going to regular help meetings, has been open with his statements and I'm sure he hasn't gambled. I found out that he was hiding old debts from me and then a few weeks ago, I also find one of his ex girlfriends numbers on his phone saved as a blokes name! He claims it has been on there since the start of our relationship! Omg right, what the hell am I doing??? But if u knew him u would be absolutely gob smacked that has done all this. He is other than the lies such a nice person, a caring, understanding and kind partner who will do anything for me. We have had an amazing relationship together, he is so laid back, shares my interests, listens to me, wants to spend time with me, my family and friends and has been a best friend. To me he is (without the lies) the perfect partner. All his friends and my friends are shocked by his actions, it's unexpected from him. I'm worried about ending it and regretting it. And of course finding someone a lot worse. As I have been in an abusive, controlling and cheating relationship, so I'm worried about what I could have. I also can't stand the thought of him being with someone else and sharing what was meant to be our future with them! But I also feel like I don't know if I know who he is anymore and scared that he will hurt me again. He is trying so hard. I just don't want to make the wrong decision, I went through an episode of depression last year and I don't feel I'm strong enough to go through it again :(
I'm a mess right now, I have been with the most loving affectionate man for the past 2 years, he was the man of my dreams, but 2 weeks ago after a row with my 12 yr old daughter he decided to leave, he said that he had felt very ill after the fight and thought he would have a heart attack, he then went to stay at his sisters for the weekend, we were still talking over that period, but he has since decided to end our relationship even though we were due to get married in August this year. I had a very stressful job and this made me progressively unwell over the last months which made me become very closed off from everyone including family and friends, I have decided that I am no longer going back to this line of work as it was draining everything in me. He said that my job has drained him and that he just doesn't know how to feel as he feels numb, he can't sleep too, but he is still going to work, I have told him that I adore him and will do whatever it takes to move forward in a more positive way with our relationship, but he is refusing to acknowledge and take ownership of any of his issues that caused problems in the relationship. He states that I will always be independent, and that this is a big problem too, I say to him that I have looked after myself for a very long time and it's hard to depend on anyone, he has a lot of debts and I dont, and I can't cope with this as I have always lived within my means, he buys me anything I want but doesn't really give me what I need which is understanding of what I have endured in my life, I think he thought he could repair all the hurt. He often told me that he would always be ther for me and would never leave me and that I now had a man that I could depend on.. But the first sign of trouble and he runs...!! Can anyone offer me advice on what to do here as I'm really struggling with so much pain and going through every emotion you can imagine..
I met my future husband at 15 - married at 18. On our honeymoon i had an argument with a horse and ended up on crutches - my husband spent the rest of our honeymoon water skiing etc with the waitresses whilst i was marooned on the beach alone. Alcohol was always a big feature in his life which over the years evolved into anger , verbal abuse and violence.
Needless to so i now suffer from severe depression. Wonder why !!
Three years ago i begged him to come to counselling with me and strangely he agreed - great i thought , maybe there is light at the end of the tunnel.
It turned out that he spent every session telling the counsellor that it was me that drank, was abusive and mental etc etc. . One day she called us both in and said - one of you is lying - my response was - how many witnesses do you want ? - he then refused to go anymore. I continued my counselling . During this time i was diagnosed with a heart condition that i had not known about that had obviously been misdiagnosed over the
years. This resulted in me having surgery. As i came back to the ward i asked my husband for a hug - nothing- that was the moment i decided that whatever it took i was going to divorce him. He was not going to control me anymore.
By this time we had been married 41 years . No one knew what he was like at home - to everyone else he was Mr Wonderful.
I had to set about working out how and when this would happen. Putting little bits of money away when i could as a backstop.
A friend that works for a local charity one day just said she thought she knew what was happening and passed me on to the charities lawyer.
The lawyer made me finally see that there was a way out. I came home and told him that i had seen a lawyer and wanted a divorce. He just turned over and went to sleep. No emotion . He has since been diagnosed as a narcissist - no treatment will help him because he believes he has done nothing wrong ever !
That was 4 months ago. He has tried all manner of things to make my life miserable but now I will not let him, he will not give me money. Has stopped paying bills, bad mouths me .
Me - i am looking after me - i no longer have to worry what time he will be home, what mood he will be in, how much he has had to drink, what he will do.
I now walk around with my head held high and a smile on my face.
I know who my true friends are and those that are not afraid that i will steal their husbands - no chance
In a few weeks i shall be 60 - got a new hair do and i am looking forward for the first time in years.
If anyone else is or has been in a similar situation not knowing what to do, my first advice would be to tell a trusted friend what is happening in your life . They will then look at things differently and see the real truth . Above all protect yourself, surround yourself with trusted people that believe in YOU.
Lastly never give up hope xxxx. Good luck
My gf of one year cheated on me with her ex bf . She and I had something beautiful. She's 2 months pregnant and says she doesn't want me to leave , however at this point she cannot get rid of her ex either because he's the father and everything that was supposed to be with me is now with him. She says she needs and wants me in her life . Earlier she was all over me obsessed with me and now I feel that she's changed she snaps , gets frustrated when I ask her things like what about us and our future. She says she wants everything with me but she cannot plan anything at the moment till the baby says she can't take the baby away from its father at the moment. I love her a lot I'm miserable I have stuck by her but idk if I'll be strong enough for little time with her after the baby and the whole package that comes with it . Part of me wants to hate her but a part of me will miss her terribly I cannot live with or without her
Thank you for your article! It helped me be more confident in leaving my husband of 5 years. His combination of multiple illnesses make me worry about his reaction when I leave (making feel like I have to sneak out), but I still worry because I have been his caregiver for the last year. I love him enough to worry about how he will manage without me, but at the same time, he is no longer safe around our toddlers....much like a 6 year old trying to take care of babies.
Good write-up. I certainly love this site. Keep it up!
I am in a loosing relationship. Because I Am Running And Taking Care Of Family Not Having A Lot Of sexual time he is engaging in cyber sex with someone else ... I feel like I am just done ...I am afraid of being alone but won't so this anymore ..my happiness means so much more....
I really don't know where to start. I met my husband 10 years ago online. He was young and I am from a different country. We were talking for 3 1/2 years and then decided to meet up. He visited me twice in a year and spent 2 weeks each time. I know I love him and wanted to spend the rest of my life with him...and at that time, I know he did too. We were happy even with almost no money at all. It was never an issue to us. Then came the fact that we have to relocate and moving back to his hometown after his service. I was pregnant with our 1st child. When our baby was 6 months old I found numerous calls to this date line hotline. Apparently he has been doing it for quite sometime. I forgave him and moved on. Then came the internet searches on "paid services"... forgave him and moved on. But I learned my lessons and became more vigilant with him. Then he lost his job in the beginning of last year, he spent so much time in the computer and we were just about to have another child. He would stay up on wee hours and when I ask he said he cannot sleep. We are happy when we are together. I am moody and sometimes always exhausted at the end of the day. I know he has his needs and I try to fulfill it. But I guess it was never enough. Just yesterday, I found out he has been having an online relationship with a woman in Indonesia for more than a year and it has been getting serious. He said he was inlove with this person and that was the most shocking thing. There was no indication what he has been doing ...or maybe I was too naive to trust him. We are happy..he's there with us. But he has been talking to this person right in front of us every single day. I wanted to leave so bad, but I have no one. My mother passed away in 2012 and so as his...I live here in the United States since being married to him and devoted my life raising our family and took the responsibility to stay home.I could not get a job after 5 years. I have been trying to get back on my feet. And now the situation calls for me to decide what I will do with my marriage. It's obviously does not want to end anything with her except now that I found out. He wanted his family together and told me he wanted another chance. What should I do?
Dating and flirting websites led to my current situation. I've been w/ my BF for almost 3 yrs. We have a 1 yr old and he's been the only father my 4 yr old has ever known. I never doubted his loyalty until I caught him on badoo.com and saw emails answering or advertising himself on Craigslist. I broke up with him after the second time. We went through a miscarriage together. I got pregnant again while were broken up. Eventually we got back together. Things were fine until recently he's been showing a new female friend a lot more attention than me. He gets upset I have trust issues but i never did before until he kept breaking my heart (porn,flirting,FB). So now I've asked him if he's willing to work on fixing and changing our relationship. He says he doesn't know. He barely talked to me the last week even though I've been pouring my heart out but he won't tell me it's over when I've asked what are we doing. He only tells me he's mad at me but I have no idea what for. He's been taking the car & leaving me with the kids. Am I naive to think he isn't cheating? Or wants out just doesn't want to be the bad guy so he's finding ways to push me over the edge. Writing this out I see how STUPID I must look staying with him. I get hit on all the time. Told I'm beautiful by everyone but can't remember the last time he's told me.i don't know. I just know I am in A LOT OF PAIN
After taking my time and reading all the comments on here, I just feel like I'm more confused.
I am only 18 and really shouldn't be feeling this way! I'd rather be with friends and enjoy my time. So I've been with my current boyfriends for 2 years now, but I've known him since I was 14 years old. We started of as friends and since we're in different countries we didn't meet that often, but we started speaking again and it's quite serious between us now. He proposed to me and I said yes, I have introduced him to my family and although they didn't like him they said yes because they saw how much in love I am with him. He has had a bad past with drinking problems and family problems which he didn't tell me about until 7 months into the relationship and even then he wouldn't admit until I showed him proof. He said he's sorry and that he has now moved on, he promised never to do it again. Only 5 months later he went back to drinking and clubbing, when I did ask him about it he got angry with me and started questioning how I could ever believe such a thing about him ( he lied to me as we were talking on the phone keeping in mind it's a long distance relationship) I don't trust him at all and every time he doesn't pick up I think he's up to something bad or that he's cheating. When I ask him about it he gets angry at me. And whenever thins are bad between us it's mostly me who try and put things into place. We are planning to get married this January, but I'm now questioning whether I want to spend the rest of my life with a guy whom I do not trust. I have trust issues, but I have never in my life felt so miserable or sad. There's so many mixed feelings in this and I just don't know what to do.
I left my home and friends to relocate and find myself very unsettled. I'm also with somebody who I've been with for 10 years. We are not married and have no kids. There is a 15 year age gap and in his mid 40s. When we got together we had a laugh but over time I find myself wishing to feel that spark of excitement. Unfortunately I don't think I ever felt it, more at the expense of being comfortable. We have never been overly physical like teenagers wanting 2 rip each other clothes off. I now feel since I left my home city to move 3 hours away we have nothing g in common and I have no desire to plan anything or get excited about spending time together. He is a lovely man but we are more like friends than bf and gf. I know he wants kids and I am doubtful. I think there is a biger world out there. I worry that I will be looking for someone else and if I leave my bf will be heartbroken. I want to end the relationship as kind as possible but I have little courage and get upset when I start to talk. This is wearing me down ad he has said I am not myself at all.
I don't know which one of us is more in the wrong. I forget everything she asks me to do, sometimes I don't look at her when she speaks to me, or don't answer her because I start to do what she has asked me to do. She calls me names, yells at me in front of the kids and is always asking what I am doing now if I try to grab 10 minutes to myself.
She works damn hard but her life is the kids and I often feel relegated to third place. We don't sleep in the same room anymore and as we recently bought a sofa bed it is unlikely that this will change anytime soon. I only laugh when I am with friends or family.
I rarely look forward to Friday.
I have no worries about the breakup conversation with my wife, but I see my little girls' faces in my mind when I tell them what is going on. The eldest has just written "my daddy is my hero" but I just don't feel like one. I feel like what I was has been lessened somehow. I feel selfish for thinking that, when my kids are here, smiling and laughing with me, every day. I just don't know what to do for the best.
Im on the internet googling whether or not I should leave the relationship Im in. If I step outside myself, doing that alone should be enough for me to know that I shouldnt be in this relationship any longer, but Im torn emotionally and physically, and could use some solid advice. Here is some background info...
Me: 34, wanting to find the right woman, get married and have kids. Ive been through the ringer in my lifetime, from an emotionally unsupportive childhood all the way through relationships that failed despite my sacrificing myself beyond the point of being confused at who I was anymore. I like to debate calmly (not argue or shout), I speak my mind about my emotions when I feel comfortable doing so, but I can be a very sensitive, defensive person when it comes to the words that are used between two people. Ive done more than my fair share of drugs, sleeping around, and other dangerous activities, but most of that is in my past. Ive been a cheater and been cheated on, so Im fully aware how someones actions or words can affect someone else's feelings. I dont trust many people, but the one's I do trust I really care for. I was born and raised catholic, but started doubting the methods and mumbo-jumbo bullshit by 3rd grade. Distanced myself from organized religion ever since.
Her: 27, smart when she puts her mind to something, beautiful, wants to get married and have kids as well. She had a broken childhood on a different level than I, growing up with an alcoholic father. She becomes frantically aggravated when debating or arguing, talks in circles whenever I try to explain that she is the one who causes unnecessary drama in the relationship, always spinning the truth to pin something on me or bring up my faults instead of acknowledging her own. She smokes weed on a regular basis, knows very well that I think her actions are childish and emotionally immature, and does nothing to curb them. She considers herself to be religious (christian) but really only relies on it selectively, when it fits her or she wants to avoid facing her own personal-growth challenges head-on. She expects me to read her mind half the time, and the other time she will say something but mean something else.
Im not trying to portray her in a negative light, she is a kind hearted person who I think is just emotionally immature just as much as I can be emotionally insecure at times. What Im trying to figure out is, why the hell do I keep going back to her? Ive broken up with her, she has broken up with me, both a few times in the past 2yrs, yet we inevitably end up in each other's arms days or weeks later, both acknowledging where we were at fault, and hoping it doesnt happen again. It feels like the most emotionally inconsistent, abusive relationship I have ever been in, yet I cant leave it alone. I keep believing that she will "grow up" emotionally, see how her words and actions hurt other people, and it just doesnt happen. Im to the point that I distance myself from her just to try and recover from her insensitive yelling for several hours, if not a day or two, which of course leads to her screaming at me and demanding times and answers to discuss how "I" was wrong for asking a question or not saying something she wanted to hear at the moment. She will literally stare at me and tell me I should say something nice about "us" to her, after she has unnecessarily yelled at me over some bullsh*t thing that couldve been discussed calmly. She will try her hardest to make me feel like less of a person for not comforting her after I lose my patience with her AFTER she berates me for something.
Im quickly losing my patience, with not feeling consistently secure for more than 4 days at a time. Maybe I should be more open amd talk about my feelings more with her, but can anyone blame me for being afraid to? Bringing up my feelings to her feels like throwing lit matches at dynamite...odds are sh*ts gonna blow up, and not in my favor.
My age (34) has me scared that I wont find another woman as young or pretty to marry and have 2-3 kids with. Im ok with examining my actions and seeing where I might have gone wrong with things here and there, its all part of personal growth and maturing, but this girl has me second-guessing who I even am at times. I really dont know what to do anymore. Our good times are good (but Im always wary of when the next sh*tstorm will hit) and our bad times are hell. I want the strength and motivation to move on, but Im just not finding it anywhere other than my anger towards how she treats me, which eventually subsides, and I find myself lonely, and back where I was before.
Does anyone have any sort of insight or words of motivation? I dont want to give up and be single for the rest of my life, and I dont want to settle for an emotionally abusive relationship because Im afraid thats all that is available to me at this point. Do I make further adjustments and sacrifices without reciprocation, or should I just run for the hills? Please feel free to email me n130406@gmail.com
My parnter and i are going on 10yrs. Have 3 children under the agr of 7. The past 2yrs have been very difficult. He started drinking but was nerver been dissrespectful till the last year. He has been pulling away from the family. Going out somtimes not coming home.there is no more trust. Theres always pain.he will say sorry but the next day or three it is the same thing over again. To be honest its killing me. I love this man but im getting to the point that i want to go but cant. I have the fear that durgs are involve. He is the bread winner im house wife (classic and pathic) the one time that i was perpared to to leave him my 7 year old jumped outof the moving car yelling at why was i doing this. The whole time my partner was on the street crying that he would change amke the situation worse....when we all clamed down my parenter asked me what was i going to do. No place to go, no money, how was i going to do anything with the kids. Made me feel at my lowest to realizen, How was I going to do it on my own? The lonlyness. The pain. Most of all realizing that maybe he never really koved me. So i stayed. Here i am 2months after that horrible situtation crying agagain for the 6 time this week in the bathroom so the kids wont see. And he is out with friends cause he has more important things ti do then to spen time with us. My piont to all this is how not when, but how?
So ive been in my marriage now for 7 years. I have to kids with this man, i have been unfaithful, for reasons of uncertainty. I do love my husband but im not sure if im in love with him. I feel like he menipulates me. I have opened up with him and told him the truth about me cheating. He was more rational than i thought he would have been. There is a 26 year age difference between the two of us. I am 25 and he is now 51. I feel like ive married my father. He treats me like a child and controls every aspect of my life. I have told him i want a divorce and ecery time he begs me not to leave him. He works up tears amd then proceeds to tell my son that i dont love his dad and that i want to take my kids from him. So that makes me feel bad and so i stay. Ive went and got divorce papers and he found them and then he snuck my kids birth certificates so he could take my kids from me. I have a full time job ,i dont make much money but i am able to provide my kids with whatever they need. He doesnt trust me which i dont blame him but when it comes to me leaving the house he always has to go with me. Even if its down the street to the store. I cant go grocery shopping or even walmart with out him. Not even to my own mothers house. Im at my wits end and i can't take it anymore. What do i do. I need help.
I'm a 56 y/o man living in CT, and have been married for 25 years (2 previous marriages - I left both). My wife has always been lazy - not wanting to work for her keep. Over the years things have deteriorated to where she no longer cleans and hardly ever cooks (On-Cor is NOT cooking - I can heat a can of beans myself!) We haven't had sex in about 5 years. She blames it on her health, but REFUSES to do anything to improve that. (Diagnosed with COPD 6 years ago - still smokes 1-1/2 packs a day.) However, she NEEDS me to buy all kinds of things for her - cigarettes, medication, personal items, etc. We are now in foreclosure because of her financial dependence. Having walked away from 2 previous marriages that we not satisfactory for me, I'm in no rush to do it again. So the question remains...when is enough enough?
i hope i can apply it to myself. till the day i can say that im ready to fall in love again
Leave a reply