Take a Deep Breath for Your Brain, Mental Health
Here's What's Happening on the HealthyPlace Site This Week: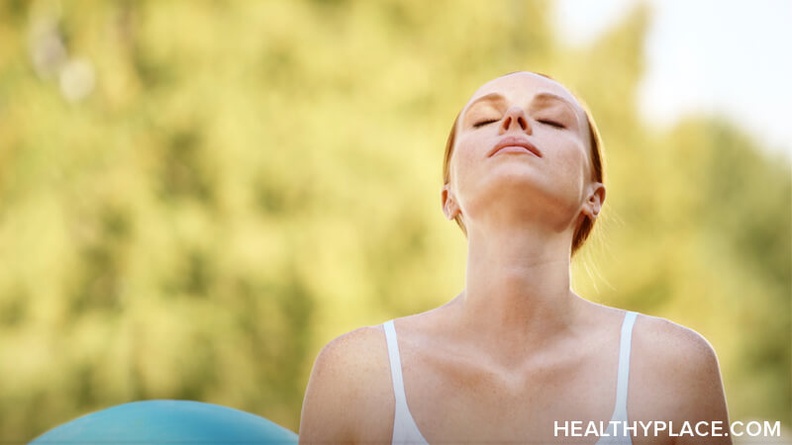 Take a Deep Breath for Your Brain, Mental Health
Have you ever noticed that people tend to advise, "Take a deep breath" when you're stressed or upset? That's for good reason. When you need a mental health reset, pause, and breathe. It may be just what your brain needs.
Benefits of a Breath
Given that the brain is only two percent of our total body weight, it's costly to operate; the brain uses 20 percent of our oxygen (Raichle & Gusnard, 2002). Slow, deep breathing helps your brain function properly. A 2006 study (Jerath, et al.) showed that it helps:
Improve focus and concentration
Decrease the stress response by keeping the brain calm and preventing it from signaling the release of stress hormones cortisol and adrenaline
Increase theta wave production, the type of brain activity associated with relaxation, creativity, and calm
Enhances neural plasticity, the ability of brain cells to adapt to change
Breathe Like This for Your Brain
To maximize your brain health and functioning, simply get intentional about the way you breathe. Throughout the day, pause for breathing breaks
Inhale slowly through your nose and feel the air expand your chest and belly
Hold for a few seconds
Exhale slowly through your mouth
Repeat as desired
To boost your brain health, keep doing what you already do: breathe. Just do it slowly, deeply, and with purpose.
Sources
Jerath, R., Edry, J.W., Barnes, V.A., & Jerath, V. (2006, April). Physiology of Long Pranayamic Breathing: Neural Respiratory Elements May Provide a Mechanism That Explains How Slow Deep Breathing Shifts the Autonomic Nervous System. Medical Hypotheses, 67(3): 566–71. Retrieved from https://doi.org/10.1016/j.mehy.2006.02.042  (Note: The link takes you to the summary. Months ago, I rented the article and read it in its entirety.)
Raichle, M.E. & Gusnard, D.A. (2002, August). Appraising the brain's energy budget. Proceedings of the National Academy of Sciences of the United States of America (PNAS), 99(16): 10237-10239. Retrieved from https://doi.org/10.1016/j.mehy.2006.02.042
Articles Related to Breathwork, Breathing Exercises
Your Thoughts
Today's Question: In what ways has deep breathing helped your mental health? We invite you to participate by sharing your thoughts, knowledge, and experiences on the HealthyPlace Facebook page.
------------------------------------------------------------------
The Torture of Being Stalked-Facebook Live
There was no romantic interest. When they first met at church, Sandra just thought they might be friends. Two months later, he was stalking her day and night. The torture lasted 4 years and left her mentally and emotionally crushed. She'll be sharing her story and the therapies that have helped her heal on Thursday's HealthyPlace Facebook Live. I hope you'll join us.
Thursday, January 21 at 4p ET / 3 CT. We welcome your comments and experiences and our guests always answer your questions.
You can watch last week's Instagram Live on what it's like living with skin-picking disorder here.
------------------------------------------------------------------
From the HealthyPlace Mental Health Blogs
On all our blogs, your comments and observations are welcomed.
Feel free to share your thoughts and comments at the bottom of any blog post. And visit the mental health blogs homepage for the latest posts.
------------------------------------------------------------------
From HealthyPlace YouTube Channel
Parental Burnout Doesn't Mean You're a Bad Mom
Parental burnout hits hard when you're raising a child with mental illness (and even when you are raising a child with no mental health problems). But you aren't a bad mom for feeling it. Get some reminders in this video. Take a peek.
Subscribe to the HealthyPlace YouTube channel
------------------------------------------------------------------
Most Popular HealthyPlace Articles Shared by Facebook Fans
Here are the top 3 mental health articles HealthyPlace Facebook fans are recommending you read:
If you're not already, I hope you'll join us/like us on Facebook too. There are a lot of wonderful, supportive people there.
------------------------------------------------------------------
Quote about Feeling Alone
"Daring to set boundaries is about having the courage to love ourselves, even when we risk disappointing others."
Read more quotes about being alone.
------------------------------------------------------------------
That's it for now. If you know of anyone who can benefit from this newsletter or the HealthyPlace.com site, I hope you'll pass this onto them. You can also share the newsletter on any social network you belong to by clicking the links below. For updates throughout the week, follow us on Twitter, like us on Facebook, subscribe to the HealthyPlace YouTube channel, or follow us on Instagram.
Thank you,
Deborah
Community Partner Team
HealthyPlace.com - America's Mental Health Channel
"When you're at HealthyPlace.com, you're never alone."
http://www.healthyplace.com
APA Reference
Peterson, T. (2021, January 20). Take a Deep Breath for Your Brain, Mental Health, HealthyPlace. Retrieved on 2023, November 30 from https://www.healthyplace.com/other-info/mental-health-newsletter/take-a-deep-breath-for-your-brain-mental-health
Last Updated: January 20, 2021