Stigma of Self-Injury
HealthyPlace Mental Health Newsletter
Here's what's happening on the HealthyPlace site this week:
Stigma of Self-Injury
"My goodness," writes HealthyPlace Twitter follower, Lana. "I don't think there's anything that carries more mental health stigma than self-injury!"
Now, personally, I don't like ranking mental health disorders or symptoms. I mean is depression worse than living with ADHD? or having agoraphobia better than cuddling up with bipolar disorder? Not if you have ADHD or agoraphobia.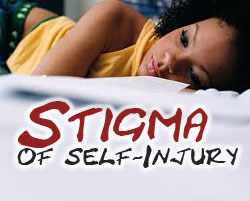 I would say, however, that amongst the general public, in addition to suicide and schizophrenia, there's a great deal of stigma attached to self-injury. Part of self-injury stigma results from the shame surrounding it. Many don't want to share that they're cutting (read "I Cut Myself: The Shame and Secrecy of Self-Harm) or burning themselves or using other methods of self-harm. The second part of that is, generally, people are pretty horified at the thought of somebody engaging in self-injury behaviors.
And maybe this is what Lana was referring to. People may understand (or come to understand) depression, bipolar disorder, an anxiety disorder or schizophrenia because it's been explained as a brain illness; something that may result from genetic issues or faulty brain wiring in utero. Inherently, that translates to "it's not the person's fault that they have bipolar disorder or depression. It was the luck of the draw." And while the causes of self-injury may be a by-product or symptom of mental health disorders, such as bipolar disorder or borderline personality disorder, it may be a long time before the general public "gets" it.
Related Self-Injury Information
------------------------------------------------------------------
Share our Stories
At the top and bottom of all our stories, you'll find social share buttons for Facebook, Google+, Twitter, Pinterest and other social sites. If you find a particular story, video, psychological test or other HealthyPlace feature helpful, there's a good chance others in need will too. Please share.
We also get many inquiries about our linking policy. If you have a website or blog, you can link to any page on the HealthyPlace website without asking us beforehand.
---
---
continue story below
---
Most Popular HealthyPlace Articles Shared by Facebook Fans
Here are the top 3 mental health articles HealthyPlace Facebook fans are recommending you read:
If you're not already, I hope you'll join us/like us on Facebook too. There are a lot of wonderful, supportive people there.
------------------------------------------------------------------
Mental Health Experiences
Share your thoughts/experiences with any mental health subject, or respond to other people's audio posts, by calling our toll-free number (1-888-883-8045).
You can listen to what other people are saying by clicking on the gray title bars inside the widgets located on the "Sharing Your Mental Health Experiences" homepage, the HealthyPlace homepage, and the HealthyPlace Support Network homepage.
If you have any questions, write us at: info AT healthyplace.com
------------------------------------------------------------------
From the HealthyPlace Mental Health Blogs
Your comments and observations are welcomed.
Feel free to share your thoughts and comments at the bottom of any blog post. And visit the mental health blogs homepage for the latest posts.
Life with Bipolar Disorder … and a Spoonful of Sugar on HealthyPlace Radio
Our mental health humor blogger, Alistair McHarg, has been dealing with mental illness, bipolar disorder and addictions, for more than 40 years of his life. No pun intended, but it's been one heck of a roller-coaster ride and he talks about it frankly on the HealthyPlace Mental Health Radio Show. Take a listen to "Life with Bipolar Disorder".
You can pick up Alistair's memoir, Invisible Driving, on Amazon.
That's it for now. If you know of anyone who can benefit from this newsletter or the HealthyPlace.com site, I hope you'll pass this onto them. You can also share the newsletter on any social network (like facebook, stumbleupon, or digg) you belong to by clicking the links below. For updates throughout the week:
APA Reference
Staff, H. (2012, September 20). Stigma of Self-Injury, HealthyPlace. Retrieved on 2023, December 3 from https://www.healthyplace.com/other-info/mental-health-newsletter/stigma-of-self-injury
Last Updated: September 4, 2014