Seeking Mental Health Info Online? Know Benefits, Limits
Here's what's happening on the HealthyPlace site this week:
---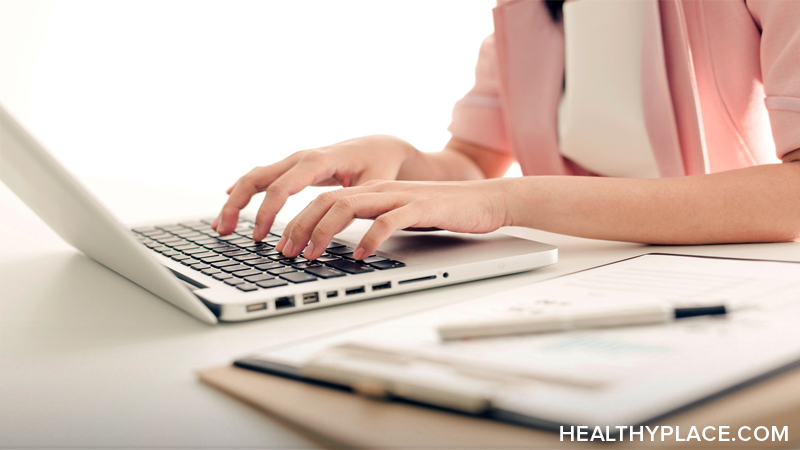 Seeking Mental Health Info Online? Know Benefits, Limits
When you need mental health information, do you hop online? Most people do because they can take charge of their own learning and mental health. There are many benefits to gathering information online. These are a few of them:
Many resources are available, from articles to blogs to suggested books to psychological tests to social media. Sites like HealthyPlace offer a plethora of valuable, trustworthy resources.
You can learn about your mental health symptoms and, if you have a diagnosis, gain insights into your disorder.
Making use of treatment information can help you manage and overcome obstacles.
Interacting with others can keep you connected and help you gain new perspectives.
Nothing is perfect of course, including using the Internet for gathering mental health information. Some caveats:
Avoid trying to diagnose yourself. Symptoms presented online are general; doctors and therapists know about disorders and challenges in greater depth and in your personal context.
Spending countless hours surfing for answers usually end in frustration and confusion. Set time limits.
Watch where you go. Not every website is reputable.
Remember that not everyone tells the truth or gives sound advice. Pick and choose what you accept.
Overall, the Internet can be a useful resource. Just create boundaries and take precautions, and you can reap mental health benefits.
Related Articles Dealing with the Internet and Mental Health
Your Thoughts
Today's Question: In what ways does the Internet help you and your mental health? We invite you to participate by sharing your thoughts, experiences, and knowledge on the HealthyPlace Facebook page.
From the HealthyPlace Mental Health Blogs
On all our blogs, your comments and observations are welcomed.
Feel free to share your thoughts and comments at the bottom of any blog post. And visit the mental health blogs homepage for the latest posts.
------------------------------------------------------------------
From HealthyPlace YouTube Channel
I'm Hannah. I Have Bipolar 2
3 Ways I Manage Bipolar Disorder
When I received a diagnosis of bipolar 2 disorder, no pamphlet listed out the perfect way to maintain my mental health. Those of us with bipolar may live with the same condition, but we define happiness and stability in different ways. That is okay! It is great to have diverse methods of coping. (Watch Hannah and subscribe to the HealthyPlace YouTube channel for more great mental health videos.)
------------------------------------------------------------------
Most Popular HealthyPlace Articles Shared by Facebook Fans
Here are the top 3 mental health articles HealthyPlace Facebook fans are recommending you read:
If you're not already, I hope you'll join us/like us on Facebook too. There are a lot of wonderful, supportive people there.
------------------------------------------------------------------
Mental Health Quote
"I have bipolar. And it may seem like I didn't do much of anything today, but what I have going on mentally has me physically exhausted."
Read more bipolar quotes.
------------------------------------------------------------------
That's it for now. If you know of anyone who can benefit from this newsletter or the HealthyPlace.com site, I hope you'll pass this onto them. You can also share the newsletter on any social network (like facebook or stumbleupon) you belong to by clicking the links below. For updates throughout the week, follow HealthyPlace on Twitter or become a fan of HealthyPlace on Facebook. Also, check out HealthyPlace on Instagram, YouTube and Pinterest, where you can share your mental health pins on our Share Your Mental Health Experiences board.
APA Reference
Peterson, T. (2019, April 22). Seeking Mental Health Info Online? Know Benefits, Limits, HealthyPlace. Retrieved on 2023, December 9 from https://www.healthyplace.com/other-info/mental-health-newsletter/seeking-mental-health-info-online-know-benefits-limits
Last Updated: April 24, 2019