Do You Find It Hard to Love Yourself?
Here's what's happening on the HealthyPlace site this week:
Do You Find It Hard to Love Yourself?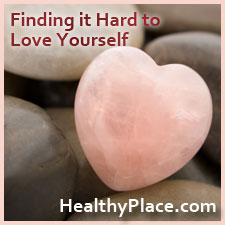 On our social sites this week, we've been talking about "being your own worst critic" and finding it hard to love yourself. As our former blogger, Deltra Coyne says "it's difficult loving yourself when you have a mental illness." For many, the root of being your own worst critic goes back to childhood and hearing negative messages about your abilities and self-worth, says HealthyPlace Medical Director and Board-Certified psychiatrist, Dr. Harry Croft. Dr. Croft notes that when you have a mental illness, it's usually coupled with depression or periods of depression which can feed into your inner critic. Eventually, the constant self-criticism turns into low self-esteem and people sometimes describe that as "finding it hard to love yourself."
So how can you turn low self-esteem and feelings of low self-worth around?
Therapy helps you establish an objective view of yourself.
Associate with people who are "positive" and get as far away as possible from people who are destructive to you.
Set small achievable goals. When they are accomplished, acknowledge that in a way that feels good to you.
All this takes time and practice, so be gentle with yourself along the way.
Your Thoughts
Do you find it hard to love yourself? We invite you to participate by commenting and sharing your feelings, experiences and knowledge on the HealthyPlace Facebook page.
Related Stories
------------------------------------------------------------------
Most Popular HealthyPlace Articles Shared by Facebook Fans
Here are the top 3 mental health articles HealthyPlace Facebook fans are recommending you read:
If you're not already, I hope you'll join us/like us on Facebook too. There are a lot of wonderful, supportive people there.
------------------------------------------------------------------
From the HealthyPlace Mental Health Blogs
On all our blogs, your comments and observations are welcomed.
Feel free to share your thoughts and comments at the bottom of any blog post. And visit the mental health blogs homepage for the latest posts.
That's it for now. If you know of anyone who can benefit from this newsletter or the HealthyPlace.com site, I hope you'll pass this on to them. You can also share the newsletter on any social network you belong to by clicking the links below. For updates throughout the week:
APA Reference
Staff, H. (2013, January 17). Do You Find It Hard to Love Yourself?, HealthyPlace. Retrieved on 2023, December 8 from https://www.healthyplace.com/other-info/mental-health-newsletter/do-you-find-it-hard-to-love-yourself
Last Updated: February 16, 2023