Mental Illness at School
HealthyPlace Mental Health Newsletter
Here's what's happening on the HealthyPlace site this week:
Mental Illness at School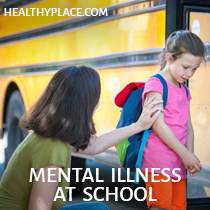 What is school like for children and adolescents living with mental health challenges? For youth who live with mental illness such as mood disorders, anxiety disorders, ADHD, eating disorders or more, school can be a nightmare. For the parents and caregivers of these kids, the school experience can also be dreadful (My Mentally Ill Child and School Refusal).
Mental illness can be frightening in and of itself; throw in a whole new system of classmates, teachers, learning, rules, and routine to navigate, and fear and frustration can skyrocket. This can exacerbate the existing symptoms of mental illness as well as lead to other challenges involving thoughts, emotions, and behaviors.
Improving the School Experience for Kids with Mental Illness
An important ingredient for a successful school year is understanding. When parents and kids work together to understand their specific mental health challenges, not only does the child better understand what he's dealing with, but he feels heard. Learning together, as a team, how to cope with mental illness and school helps give kids the love and connection they need to develop proper tools to handle school (Mental Health in the Classroom). Further, communicating with the school can increase the team effect. Mental illness can make school difficult, but it doesn't have to make it impossible.
Related Articles Dealing with Mental Illness at School
Your Thoughts
Today's Question: How do you deal with mental health challenges in school, either for yourself or your child? We invite you to participate by commenting and sharing your feelings, experiences and knowledge on the HealthyPlace Facebook page and on the HealthyPlace Google+ page.
---
---
Share our Stories
At the top and bottom of all our stories, you'll find social share buttons for Facebook, Google+, Twitter, Pinterest and other social sites. If you find a particular story, video, psychological test or other HealthyPlace feature helpful, there's a good chance others in need will too. Please share.
We also get many inquiries about our linking policy. If you have a website or blog, you can link to any page on the HealthyPlace website without asking us beforehand.
Most Popular HealthyPlace Articles Shared by Facebook Fans
Here are the top 3 mental health articles HealthyPlace Facebook fans are recommending you read:
If you're not already, I hope you'll join us/like us on Facebook too. There are a lot of wonderful, supportive people there.
------------------------------------------------------------------
From the HealthyPlace Mental Health Blogs
On all our blogs, your comments and observations are welcomed.
Feel free to share your thoughts and comments at the bottom of any blog post. And visit the mental health blogs homepage for the latest posts.
------------------------------------------------------------------
Stand Up for Mental Health
Thousands Have Joined the Stand Up for Mental Health Campaign
But we still need you. Let others know there's no shame in having depression, anxiety, bipolar disorder, trichotillomania, OCD, ADHD, schizophrenia or any other mental illness.
Join the Stand Up for Mental Health campaign. Put a button on your website or blog (buttons for family members, parents, mental health professionals and organizations too). We also have covers for Facebook, Twitter and Google+.
------------------------------------------------------------------
Latest Mental Health News
These stories and more are featured on our mental health news page:
Brains Of Abused Teenagers Show 'Encouraging' Ability To Regulate Emotions
People With Autistic Traits May Be More Creative, Study Suggests
Psoriasis Linked To Greater Risk Of Depression
Access To Nature Tied To Better Sleep Quality In Men And Seniors
Sexual-Minority Men More Empathic Towards Fellow Minorities
Beta Blockers May Have Anticancer Properties
Depression, Bipolar May Raise Heart Disease Risk In Teens
That's it for now. If you know of anyone who can benefit from this newsletter or the HealthyPlace.com site, I hope you'll pass this onto them. You can also share the newsletter on any social network (like facebook, stumbleupon, or digg) you belong to by clicking the links below. For updates throughout the week:
APA Reference
Peterson, T. (2015, August 25). Mental Illness at School, HealthyPlace. Retrieved on 2023, December 2 from https://www.healthyplace.com/other-info/mental-health-newsletter/mental-illness-at-school
Last Updated: August 26, 2015