Clean Time in Alcoholics, Narcotics Anonymous: Harmful?
Alcoholics Anonymous (AA) and Narcotics Anonymous (NA) both emphasize clean (or sober) dates and time: but does this focus of addiction recovery programs harm or help group members? This question necessarily wanders into the perennial debate around abstinence versus moderation in addiction recovery. So, is clean time in alcoholics and narcotics anonymous helpful or harmful?
Potential Harm from Clean Time in Alcoholics and Narcotics Anonymous
According to Harvard Medical School Family Health Guide's information on abstinence versus moderation, most research shows that a person's ability to moderate drinking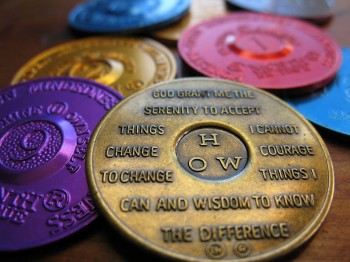 depends on how severe her alcohol abuse is. AA and NA are not programs of moderation; they are programs of abstinence. The emphasis on clean time makes sense in an atmosphere of abstinence. I am, in general, in favor of 12-step programs, and I believe they are more helpful than harmful. However, I can see where AA's and NA's emphasis on birthdays and clean time (or sober time) could increase feelings of guilt, embarrassment and self-loathing when a member does drink or use drugs again. It could make that member too embarrassed to return to meetings. He also may be more prone to engage in a harder, more destructive relapse because he feels he has "lost his time" so what is the point of trying?
How Commemorating Clean Time in AA and NA Helps
On the other hand, celebrating clean and sober time and speaking in terms of clean dates provides accountability. It also provides something to cling to--both conceptually, like a date, and physically, like a coin or a keytag. I have often heard people say they might have relapsed if it weren't for the thought of having to change their sobriety date. Commemorating milestones can serve to help remind us where we used to be and where we are today. They are on opportunity for reflection. In addition, keeping track of clean and sober time can be helpful to newcomers by showing them long-term sobriety is possible.
If a person wants to learn to control his drinking or drugging, AA and NA are not the programs for him. But there are folks who truly want to stop using or drinking and they can't seem to stay on the wagon. Is the emphasis on clean time hurting their chances of lasting recovery? I discuss an idea for addressing this problem below and I welcome your thoughts and opinions on the matter.