My Summer Binge Eating Disorder Challenge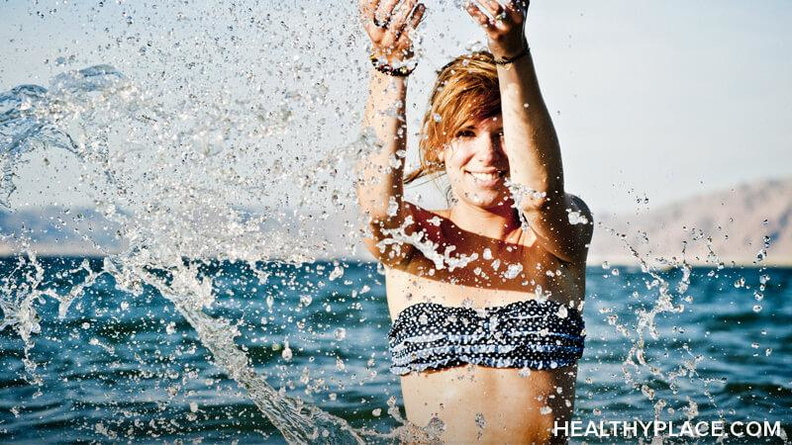 I accept a binge eating disorder challenge each summer because, at times in my recovery journey, I begin to feel like I'm at a standstill. I'm thankfully not going backward, but I am also not really moving forward either. It is in moments like these where I decide to throw an eating disorder challenge or two my way in order to continually test myself and push for growth.
My Yearly Binge Eating Disorder Challenge 
Summer tends to be a difficult time for eating disorder recovery, so sometimes an eating disorder challenge is in order. In summer, we are constantly bombarded with images of the "perfect" beach body, dieting plans, and the message that we need to change ourselves. It seems each year I still fall victim to binge eating disorder's intrusive thoughts with the arrival of each summer.
With this being the case, a few years ago I began to give myself an annual summer binge eating disorder challenge. The challenge I speak of is the bathing suit challenge. My annual challenge is exactly what it sounds like. Each year, wearing a bathing suit has become part of my summer duties. I do this to continually become at peace with my body and to gain acceptance of it.
This is a difficult task but I am finding that each year a layer of self-consciousness lifts from my shoulders. It is because of this growth that I continue to take this challenge each and every year.
It's Important to Challenge Yourself During Recovery
Keeping up with new challenges and explorations during your binge eating disorder recovery journey is important. These things keep us growing, as well as, provide us with insight to which areas we may need some extra work.
There is no need to overwhelm yourself with eating disorder challenges, however. Start small, take it slowly, and move from one to the next at your own speed.
Take a chance. You've got this.  
APA Reference
Bialka, G. (2018, September 2). My Summer Binge Eating Disorder Challenge, HealthyPlace. Retrieved on 2023, October 1 from https://www.healthyplace.com/blogs/bingeeatingrecovery/2018/9/my-summer-binge-eating-disorder-challenge
Author: Grace Bialka