Giving Mental Health Support When Living With Mental Illness
HealthyPlace Mental Health Newsletter
Here's what's happening on the HealthyPlace site this week: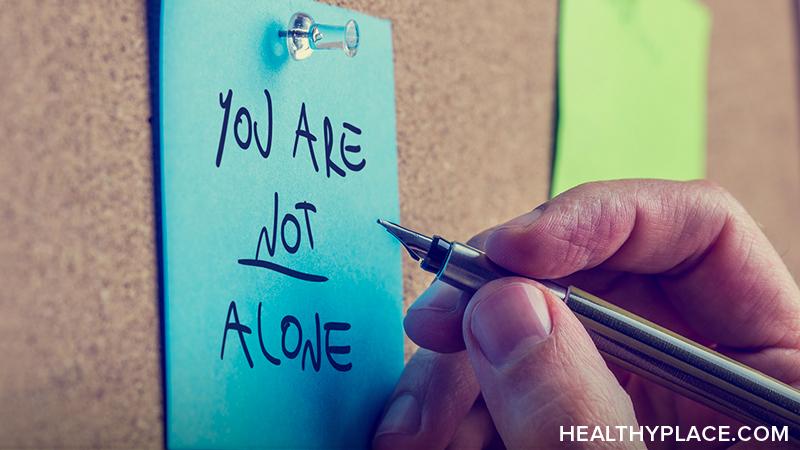 Giving Mental Health Support When Living With Mental Illness
When living with mental illness, should you offer mental health support to another person? Is it wise to help a friend with his/her mental health challenges when you're experiencing similar struggles?
Living with mental illness doesn't diminish someone's ability to be a friend, to care, or to provide mental health support. It can, however, be stressful and leave people fatigued, overwhelmed, and vulnerable to triggers. (Mental Illness and the Caregiver Double Standard) Despite this, there are advantages to reaching out to a friend or family member in need of mental health support:
Shared experiences are powerful; when both people know they're not alone, a healing connection is formed;
A shared toolbox of healing strategies is created;
Helping a friend can keep each person positive through lifting each other's spirits and motivation.
Helping a friend with mental health challenges when you're dealing with your own works as long as you remember some guidelines:
Set healthy boundaries and limits. You want to be a friend and it's okay to expect the other person to be a friend, too.
Practicing self-care is important. You don't have to take calls into the night or be expected to be available constantly.
Nurture yourself as much as you nurture others, then helping a friend when you live with mental illness is wise.
Related Articles Dealing with Decision-Making and Mental Illness
Your Thoughts
Today's Question: When reaching out to help and support others with mental illness, how do you balance supporting them with taking care of yourself? We invite you to participate by commenting and sharing your feelings, experiences and knowledge on the HealthyPlace Facebook page and on the HealthyPlace Google+ page.
---
---
Share our Stories
At the top and bottom of all our stories, you'll find social share buttons for Facebook, Google+, Twitter, Pinterest and other social sites. If you find a particular story, video, psychological test or other HealthyPlace feature helpful, there's a good chance others in need will too. Please share.
We also get many inquiries about our linking policy. If you have a website or blog, you can link to any page on the HealthyPlace website without asking us beforehand.
Most Popular HealthyPlace Articles Shared by Facebook Fans
Here are the top 3 mental health articles HealthyPlace Facebook fans are recommending you read:
If you're not already, I hope you'll join us/like us on Facebook too. There are a lot of wonderful, supportive people there.
------------------------------------------------------------------
From the HealthyPlace Mental Health Blogs
On all our blogs, your comments and observations are welcomed.
Feel free to share your thoughts and comments at the bottom of any blog post. And visit the mental health blogs homepage for the latest posts.
------------------------------------------------------------------
Stand Up for Mental Health
Thousands Have Joined the Stand Up for Mental Health Campaign
But we still need you. Let others know there's no shame in having depression, anxiety, bipolar disorder, trichotillomania, OCD, ADHD, schizophrenia or any other mental illness.
Join the Stand Up for Mental Health campaign. Put a button on your website or blog (buttons for family members, parents, mental health professionals and organizations too). We also have covers for Facebook, Twitter and Google+.
------------------------------------------------------------------
Latest Mental Health News
These stories and more are featured on our mental health news page:
Cognitive Behavioral Therapy And Tai Chi May Reduce Both Insomnia And Inflammation
Children Who Have A Dog At Home Are Less Likely To Have Mental Or Emotional Problems
Posttraumatic Stress Disorder Reveals An Imbalance Between Signalling Systems In The Brain
Magnetic Stimulation Of The Brain May Help Patients With Cocaine Addiction
Lower Survival Rates In Women With Breast Cancer Diagnosed With Depression
Have An Apple-Shaped Body? You May Be More Susceptible To Binge Eating
Stress Worsens Skin Woes For Students
That's it for now. If you know of anyone who can benefit from this newsletter or the HealthyPlace.com site, I hope you'll pass this onto them. You can also share the newsletter on any social network (like facebook, stumbleupon, or digg) you belong to by clicking the links below. For updates throughout the week:
APA Reference
(2015, December 1). Giving Mental Health Support When Living With Mental Illness, HealthyPlace. Retrieved on 2023, December 8 from https://www.healthyplace.com/other-info/mental-health-newsletter/giving-mental-health-support-when-living-with-mental-illness
Last Updated: December 2, 2015