Strong is the New Skinny: An Idea to Follow
Here's what's happening on HealthyPlace this week:
Strong is the New Skinny: An Idea to Follow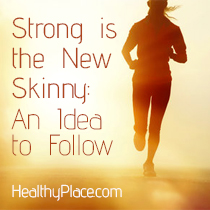 Everyday, people are attacked by the media. Whether it is a television show, a billboard or a picture in a magazine, the world seems to be screaming at everyone to look a certain way. The focus isn't primarily on women either. Men also feel obligated to look a certain way. Even while shopping, clothing seems to fit in strange ways and you rarely see a model that is not photoshopped or proportional.
The idea of "Strong is the New Skinny" has been noticed on social networks and focuses on living a healthy lifestyle rather than looking a certain way. By focusing primarily on weight, eating disorders are more likely to spring up and depression can also become an issue . By eating clean, working out and simply enjoying the life you live, you will become a physically and mentally stronger individual and be able to push past the ads you come across daily.
It is important not to focus on the numbers on the scale and to work on how you feel inside. When you do that, you are less likely to fall into a dark hole where it is difficult to climb out of. Spread the idea of "Strong is the New Skinny" and express the importance of it. By jumping on this train, the unrealistic views of how one should look will slowly disappear behind you.
Related Articles Dealing with Living a Healthy Lifestyle
Your Thoughts
Today's Question: Do unrealistic expectations of body image get to you? If so, what are your thoughts on the concept of "Strong is the New Skinny"? We invite you to participate by commenting and sharing your feelings, experiences and knowledge on the HealthyPlace Facebook page.
------------------------------------------------------------------
Share our Stories
At the top and bottom of all our stories, you'll find social share buttons for Facebook, Google+, Twitter, Pinterest and other social sites. If you find a particular story, video, psychological test or other HealthyPlace feature helpful, there's a good chance others in need will too. Please share.
We also get many inquiries about our linking policy. If you have a website or blog, you can link to any page on the HealthyPlace website without asking us beforehand.
------------------------------------------------------------------
Most Popular HealthyPlace Articles Shared by Facebook Fans
Here are the top 3 mental health articles HealthyPlace Facebook fans are recommending you read:
If you're not already, I hope you'll join us/like us on Facebook too. There are a lot of wonderful, supportive people there.
------------------------------------------------------------------
From the HealthyPlace Mental Health Blogs
On all our blogs, your comments and observations are welcomed.
Feel free to share your thoughts and comments at the bottom of any blog post. And visit the mental health blogs homepage for the latest posts.
------------------------------------------------------------------
That's it for now. If you know of anyone who can benefit from this newsletter or the HealthyPlace.com site, I hope you'll pass this onto them. Please share the newsletter on any social network you belong to. For updates throughout the week, follow us on Twitter, like us on Facebook, subscribe to our YouTube channel, or follow us on Instagram.
Thank you,
Deborah
Community Partner Team
HealthyPlace.com - America's Mental Health Channel
"When you're at HealthyPlace.com, you're never alone."
http://www.healthyplace.com
APA Reference
Avila, R. (2014, September 9). Strong is the New Skinny: An Idea to Follow, HealthyPlace. Retrieved on 2023, December 8 from https://www.healthyplace.com/other-info/mental-health-newsletter/strong-is-the-new-skinny-an-idea-to-follow
Last Updated: July 27, 2022