Irritability and Mental Illness: Just Stop Already!
Here's what's happening on the HealthyPlace site this week:
---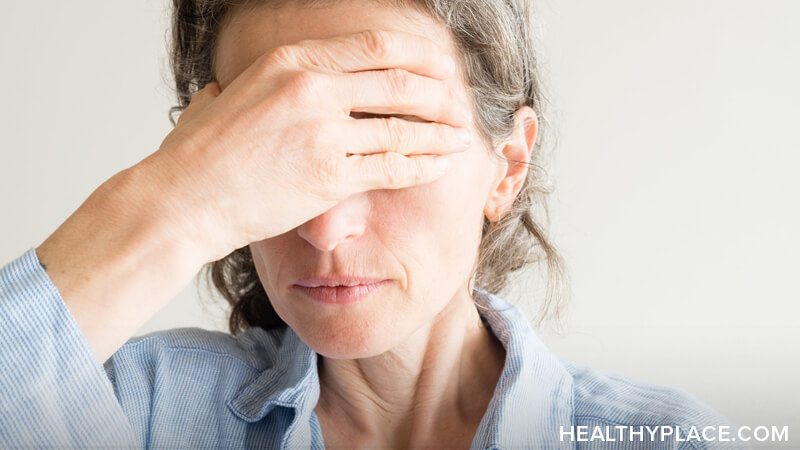 Irritability and Mental Illness: Just Stop Already!
If you find yourself frequently irritable, you're not alone. Everyone gets irritable. Irritability is more extreme, though, in certain types of mental illness. In some cases, irritability is a constant emotion, affecting behavior every day. In other cases, you might be sailing along smoothly when a storm blows in without warning and you find yourself irritable, edgy, and snappy for no apparent reason.
Mental illness impacts our thoughts feelings, and behaviors. Irritability is a triple whammy here because it involves all three. When emotions run high, irritability can flare because we're overwhelmed. When our thoughts race or we overthink, we often make assumptions that are upsetting, making us irritable. When we act on our irritability, we might lash out at others, isolate ourselves, or do other things we might regret.
Some mental illnesses actually have irritability as a symptom or sign, making it quite problematic for those with these disorders. Among them:
The strong connection between mental illness and irritability means that you aren't an irritable person. Irritability is just another symptom of an illness.
Related Articles Dealing with Irritability and Mental Illness
Your Thoughts
Today's Question: : If you live with mental illness, how does irritability impact your life and/or relationships? We invite you to participate by sharing your thoughts, knowledge, and experiences on theHealthyPlace Facebook page and on the HealthyPlace Google+ page.
---
---
From the HealthyPlace Mental Health Blogs
On all our blogs, your comments and observations are welcomed.
Feel free to share your thoughts and comments at the bottom of any blog post. And visit the mental health blogs homepage for the latest posts.
------------------------------------------------------------------
From HealthyPlace YouTube Channel
I'm Hannah. I Have Bipolar 2
Dealing with Bipolar Disorder and Isolation
Is bipolar disorder and isolation a challenge for you? What do you do to deal with bipolar and isolation?. (Watch Hannah)
------------------------------------------------------------------
Most Popular HealthyPlace Articles Shared by Facebook Fans
Here are the top 3 mental health articles HealthyPlace Facebook fans are recommending you read:
If you're not already, I hope you'll join us/like us on Facebook too. There are a lot of wonderful, supportive people there.
------------------------------------------------------------------
Mental Health Quote
"Friendly reminder that "doing your best" does not mean working yourself to the point of a mental breakdown."
Read more mental health quotes.
------------------------------------------------------------------
That's it for now. If you know of anyone who can benefit from this newsletter or the HealthyPlace.com site, I hope you'll pass this onto them. You can also share the newsletter on any social network (like facebook, stumbleupon, or google+) you belong to by clicking the links below. For updates throughout the week, circle HealthyPlace on Google+, follow HealthyPlace on Twitter or become a fan of HealthyPlace on Facebook. Also, check out HealthyPlace on Pinterest and share your mental health pins on our Share Your Mental Health Experiences board.
back to: HealthyPlace.com Mental-Health Newsletter Index
APA Reference
Peterson, T. (2018, January 22). Irritability and Mental Illness: Just Stop Already! , HealthyPlace. Retrieved on 2023, December 11 from https://www.healthyplace.com/other-info/mental-health-newsletter/irritability-and-mental-illness-just-stop-already
Last Updated: January 23, 2018