Bad Relationships: When To Call It Quits
HealthyPlace Mental Health Newsletter
Here's what's happening on the HealthyPlace site this week:
Bad Relationships: When To Call It Quits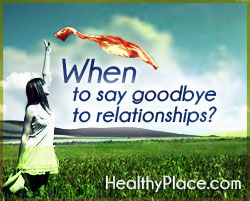 If you have a mental illness, do you find yourself reluctant to end an unhealthy or bad relationship? You're not alone. Even despite being emotionally abused, some with depression, bipolar disorder, severe anxiety and other mental health conditions are afraid to leave. After all, they think, "something is better than nothing" and "who will help take care of me?"
In an article titled "Ending a Relationship: How Do You Know When Enough Is Enough?," our anxiety blogger, Jodi Aman, discusses how staying in unhealthy relationships actually makes your mental health worse. She also shares things you should consider BEFORE making a decision on whether to stay or leave the relationship.
Related Articles
Your Thoughts
Are you hesitant or afraid to leave an unhealthy relationship? Why? And how is it effecting you? We invite you to participate by commenting and sharing your feelings, experiences and knowledge on the HealthyPlace Facebook page.
Help Spread Awareness of Mental Illness
Get Our Mental Health Blog Widget
Nearly 200 sites and blogs are helping spread awareness of mental illness. How about putting our mental health blogs widget on your website, blog or social page? The latest HealthyPlace blog headlines appear as soon as the articles are posted on our site. Just click "Get Widget" at the bottom of the widget, grab the embed code and paste it into your page. You'll also see embed links for Wordpress, Blogger, Linkedin and other social sites there.
As a bonus, put the blogs widget on your site or blog, email us (info AT healthyplace.com) with a page link where it appears, and we'll give a shoutout to your site, blog, or social site on our Facebook and Twitter pages.
-----------------------------------------------------------------
Share our Stories
At the top and bottom of all our stories, you'll find social share buttons for Facebook, Google+, Twitter, Pinterest and other social sites. If you find a particular story, video, psychological test or other HealthyPlace feature helpful, there's a good chance others in need will too. Please share.
We also get many inquiries about our linking policy. If you have a website or blog, you can link to any page on the HealthyPlace website without asking us beforehand.
---
continue story below
---
Most Popular HealthyPlace Articles Shared by Facebook Fans
Here are the top 3 mental health articles HealthyPlace Facebook fans are recommending you read:
If you're not already, I hope you'll join us/like us on Facebook too. There are a lot of wonderful, supportive people there.
------------------------------------------------------------------
Mental Health Experiences
Share your thoughts/experiences with any mental health subject, or respond to other people's audio posts, by calling our toll-free number (1-888-883-8045).
You can listen to what other people are saying by clicking on the gray title bars inside the widgets located on the "Sharing Your Mental Health Experiences" homepage, the HealthyPlace homepage, and the HealthyPlace Support Network homepage.
If you have any questions, write us at: info AT healthyplace.com
------------------------------------------------------------------
From the HealthyPlace Mental Health Blogs
Welcoming our new adult ADHD blogger, Elizabeth Prager. Liz joins Laurie Dupar as the co-author of the "Living with Adult ADHD blog.
On all our blogs, your comments and observations are welcomed.
Feel free to share your thoughts and comments at the bottom of any blog post. And visit the mental health blogs homepage for the latest posts.
No More Hiding. No More Shame.
It's time to put an end to mental health stigma in your life. Join the Stand Up for Mental Health campaign. Put a button on your website or blog. We also have covers for Facebook, Twitter and Google+.
Overcoming Homesickness: Your Child's Fear of Being Homesick
Does your child suffer from extreme homesickness? No way is your child going to a school sleep away or a sleepover at a friend's house. Our parent coach, Dr. Steven Richfield, has some ideas on resolving your child's fear of being homesick.
Latest Mental Health News
These stories and more are featured on our mental health news page:
Dear Valentine: I Hate It When You...
Why Can Some Kids Handle Pressure While Others Fall Apart?
The Power of Secrets
Oops! I'm So Embarrassed. Feeling Self-Conscious When You Make a Mistake
The Language of Love
Happy or Just Content?
Smoking Among U.S. Adults With Mental Illness 70 Percent Higher Than For Adults With No Mental Illness
Millennials: The Most Stressed-Out Generation, USA
Suicide Following Acute Alcohol Intoxication A Greater Risk For American Indians
Manic Symptoms Similar for Children and Adolescents
Substance Use Common in Young Mental Health Patients
Manic Episodes Linked to Memory Recall Deficit in Bipolar Disorder
That's it for now. If you know of anyone who can benefit from this newsletter or the HealthyPlace.com site, I hope you'll pass this onto them. You can also share the newsletter on any social network (like facebook, stumbleupon, or digg) you belong to by clicking the links below. For updates throughout the week:
APA Reference
Staff, H. (2013, February 18). Bad Relationships: When To Call It Quits, HealthyPlace. Retrieved on 2023, September 24 from https://www.healthyplace.com/other-info/mental-health-newsletter/bad-relationships-when-to-call-it-quits
Last Updated: September 4, 2014