Coming Out With Depression and Anxiety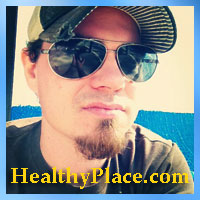 My name: David Burney
Age: 37
Diagnosis: Depression and Generalized Anxiety (GAD)
Symptoms since: Anxiety as a kid; Depression as a teen
I have been actively in mental health treatment for nearly twelve years. I hid from my depression and anxiety for many years, even before the diagnosis. The daily struggle subsided somewhat once the regimen of medication and therapy began. However, I was only fooling myself. I had managed to reach a plateau where I was no worse, but I was not actively recovering. I was stable, but my recovery efforts were stagnant. Cognitive Behavioral Therapy and other coping tools had begun to gradually seep into my thoughts. Here, I sat under the guise of normalcy for over a decade.
In the summer of 2012, I would initiate my sink or swim moment. I had already begun to be more active in my own treatment. But it was not enough to save the 20+ year relationship with my wife. On the precipice of divorce, while contemplating my life, I decided that I would either move forward or end it all. This was not the first time I had thought of suicide. But it was the first time I thought I could move forward. Actually get better - if I tried. I had been bound by the notion that I would die at my own hand, just like my biological father had died by his. I have become determined not to let that happen.
Disclosing Depression and Anxiety Was About Acceptance
For me, moving forward meant more than just actively participating in my recovery. It meant coming out and being honest with myself and others. In the weeks that followed, I had more frank discussions with friends about my past, my emotions and my current situation. I began writing more about my experiences in a blog - not just my personal journal. I started going to depression support and anxiety support groups; not just to connect to others that knew what I felt like, but to provide support, experience and insight.
Ultimately, for me, the choice about being more public was tied closely to my acceptance of my mental illness. It was not only my life line, it soon became another vehicle on my journey to wellness. To educate and advocate has become my mantra. As I become more involved in the vibrant online and social media communities that have developed around mental illness, I feel encouraged. Despite my low moods, my social anxieties, and the other myriad of symptoms that follow me around, I remain hopeful. Hopeful that with enough voices, we'll get noticed. That my children's children will see no difference between a mental illness and a physical illness. That the stigma of mental illness will subside, and at some point, simply fade away. That's why I agreed to participate in the Stand Up For Mental Health Campaign.
David Burney's blog: Live, Love, Mental Illness and Redemption
next: Disclosing My Mental Illness Was A Process
~ all standing up to mental health stigma stories
~ join campaign-campaign buttons
~ all stand up for mental health articles
APA Reference
Staff, H. (2015, January 19). Coming Out With Depression and Anxiety, HealthyPlace. Retrieved on 2023, December 6 from https://www.healthyplace.com/stigma/stories/coming-out-with-depression-and-anxiety
Last Updated: June 1, 2015