Set an Intention to Build Self-Esteem Each Day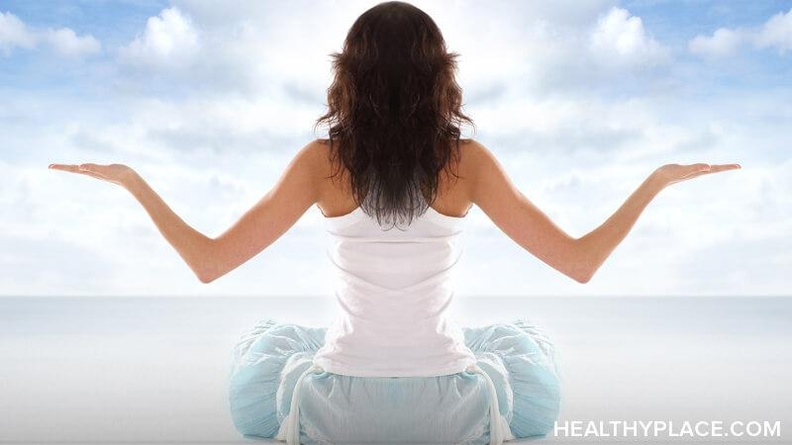 When you are working to build your self-esteem, try setting one intention at a time. Sometimes when we are trying to change things that make us unhappy, we do really well at making a list of grievances but find it difficult to begin the work. We may become stuck feeling negative because of the number of things we wish were different. To avoid becoming overwhelmed, set one intention each day that will help you build self-esteem.
There is a simple beauty in choosing one intention per day that will help you get started on your journey. It relieves you of the anxiety of worrying about choosing the "right" place for you to start. The phrase "analysis paralysis" refers to the problem of never starting because we are overthinking. I spent years paralyzed, trying to create the perfect plan to help me attain the perfect life. Letting go of the need to be perfect and realizing the value of baby steps allowed me to finally make progress.
How do you choose one thing to begin with? Remember that each day you can decide if you want to focus on the same thing as the day before or if you'd rather try something different. There's no long-term commitment to one action. We know that you need to repeat an action consistently to build a habit that sticks, but first you have to find the actions that work best for you because you are ready to give them a shot. The only commitment I'm suggesting today is to the journey to build your self-esteem. Today I want to share a list of actions you can choose from each day to build healthier self-esteem.
Idea to Set an Intention for Today: Choose a Self-Esteem Booster
In my journey, I've learned that there are several areas that can be improved to help build my self-esteem. Here are some you can think about with a short list of actions to try. Set your intention to work on one of these today or choose one of your own.
Practice self-care. Taking good care of yourself shows that you value yourself exactly as you are which is a sign of healthy self-esteem. Treat yourself well now and you will make your journey easier by strengthening your capabilities and stamina. With my own physical and mental illnesses, I find this an important part of my journey. You can focus on improving your nutrition or increasing your physical activity. Make the doctor appointments you have been putting off. Create a nightly routine designed to improve your sleep quality. Talk to a therapist about your mental health concerns. 
Practice self-love. Show yourself the kindness you would show your best friend. Remind yourself that you are doing the best you can each day with the knowledge you have, and that as you learn better, you do better. Tell yourself that you are forgiven for past mistakes and let go of regret. Praise yourself for every baby step in the right direction. Create a practice of gratitude and acknowledge all the good things you enjoy right now. Take a break from struggling to relax by taking a nature walk or giving yourself a foot massage. Personally, learning to live without regret and practicing gratitude have been life-altering.
Practice self-respect. We teach others how to treat us by the way we treat ourselves. Honor your feelings by allowing yourself the time to grieve or celebrate important events in your day. I recently wrote about how accepting my feelings as okay helped me on my journey. Learn to catch yourself when you use self-deprecating language and build the habit of speaking kindly to yourself. Embrace your individuality by trying new things that intrigue you and enjoy the experience without worrying about your performance.
Set the Intention to Commit to the Journey
To learn how to build your self-esteem, you need to be willing to try different things and find what works for you. Remember, what works today may not work tomorrow, and every day presents a new opportunity to grow. This experimentation and learning about yourself is part of your journey, and taking these steps proves you value yourself enough to make the effort and builds self-esteem.
We have different paths based on our personal experiences and situations, but we all have the same goal. Commit to set an intention each day that will strengthen your self-esteem and start your journey right now. Thank you for sharing mine.
Have you tried setting intentons to build your self-esteem before? How did you begin? What did you learn? Share things from your own journey in the comments that will help us all and tell us what you think you are ready to try today.
APA Reference
Kaley, J. (2020, July 22). Set an Intention to Build Self-Esteem Each Day, HealthyPlace. Retrieved on 2023, November 28 from https://www.healthyplace.com/blogs/buildingselfesteem/2020/7/set-an-intention-to-build-self-esteem-each-day
Author: Jessica Kaley
Sitting here at 3am.!!....
Trying to figure myself out.
I.like what you say..and hope this will help improve my deplorable situations.
I have been so discounted thru the yesrs..slapped in the face 5 times all by women..I look back on that with horror. Just one example of my despair.
My husband has taken advantage..and I have been disrespected for decades.
The emotional abuse has done a number on me for sure.
I am.stuck now because of finances. I'm too.old to start over .
I hope your suggestions have a positive effect
Thank you so much.
Thank you for reaching out and sharing your story. I'm pleased you're going to follow our blog and hope you find ideas that help you. I truly believe that it's never too old to start over. I found myself single again at 60 which started my own journey to improve my self-esteem. I know you can do the same, one step at a time. Best wishes and I look forward to hearing from you again
Leave a reply