When Your Teen is Admitted to a Psychiatric Hospital
It took four hours to admit my 15-year-old son, Bob, to the psychiatric hospital for suicidal ideation. It had been a long stressful day since Bob told his therapist he almost killed himself the night before. She had made Bob sign a safety contract then released him to me. I tried to keep him busy and distracted, but by late afternoon he could fight no more. Bob asked me to take him to the hospital.
The admission process was painfully slow. Several people asked Bob the same, endless questions. Each time Bob answered them my heart clenched.
Finally, they gave him a gown and took him away.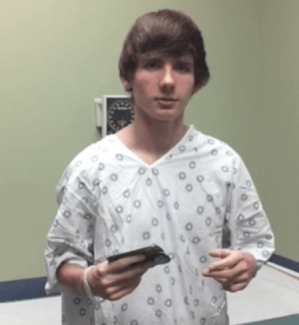 My husband, Bill, and I returned to the hospital with some of Bob's belongings. It was 10:00 p.m. and I felt a small sense of relief. My son was alive and safe for now.
"Why are you crying?" I asked Bill. It had been a horrifying and hectic day, but sadness was not what I was feeling.
"I didn't realize how sick he is."
I did. Bob had showed signs of depression in second grade. He tried antidepressant medication in sixth grade, then was diagnosed with bipolar disorder. At the beginning of ninth grade, I brought Bob to this exact hospital because he became violent, but he was not admitted.
Everything had been leading up to this moment. While my spouse had always been supportive, it took this hospitalization for him to fully understand. Our son has a serious mental illness and it was not going away.
Mental Hospitals Provide Safety and Structure for Patients
The next week was a blur. We were allowed to speak to our son on the phone for 10 minutes, twice a day. We could visit for two hours each evening.
Visiting our son felt like visiting a high security prison:
Only immediate family members were allowed.
No more than two visitors at a time were permitted.
All visitors were searched.
No outside food, unless earned was allowed.
No candy or treats were permitted.
No contraband (straws, staples, drawstrings) were allowed.
Each night we sat with Bob in a large, barren room. He was inattentive and sometimes hostile, mostly towards me. It was excruciating to sit with him.
Hospital Staff Guide Parents of Mentally Ill Children
We met with Dr. Clark mid-week. She blasted information, directions and statistics at us. She explained Bob would be at high risk for suicide after his release from the hospital. Therefore, she ordered eyes-on-supervision 24/7 for 30 days. There would be no electronics and no contact with Bob's girlfriend. She described suicide contagion. She told us 80% of marriages fail after a child's suicide.
As we left the meeting, we saw Bob exercising with a group in the visitation room. He looked like a zombie as he swayed back and forth, arms outstretched, eyes vacant.
My next door neighbor came over to help me make the house safe, a job I couldn't do alone. We started with the obvious harmful objects. Soon I became crazed suggesting every household item could be dangerous. My friend talked me down, but it wasn't easy.
Another friend came by over the weekend to help redecorate Bob's room. She skillfully displayed Bob's memorabilia on the walls. I arranged the many cards and gifts that arrived.
Bob was released after eight days inpatient. When we got to the house, he saw the balloons on the mailbox. We stopped to take pictures with his little sister. When he saw his room and all his personal items on display, he cried. Though the battle wasn't over, my son was home.
APA Reference
Halli, C. (2014, November 23). When Your Teen is Admitted to a Psychiatric Hospital, HealthyPlace. Retrieved on 2019, September 22 from https://www.healthyplace.com/blogs/parentingchildwithmentalillness/2014/11/what-to-expect-when-your-teen-is-admitted-to-the-psychiatric-hospital
Author: Christina Halli