When Your Teen is Admitted to a Psychiatric Hospital
It took four hours to admit my 15-year-old son, Bob, to the psychiatric hospital for suicidal ideation. It had been a long stressful day since Bob told his therapist he almost killed himself the night before. She had made Bob sign a safety contract then released him to me. I tried to keep him busy and distracted, but by late afternoon he could fight no more. Bob asked me to take him to the hospital.
The admission process was painfully slow. Several people asked Bob the same, endless questions. Each time Bob answered them my heart clenched.
Finally, they gave him a gown and took him away.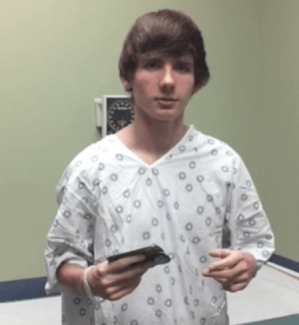 My husband, Bill, and I returned to the hospital with some of Bob's belongings. It was 10:00 p.m. and I felt a small sense of relief. My son was alive and safe for now.
"Why are you crying?" I asked Bill. It had been a horrifying and hectic day, but sadness was not what I was feeling.
"I didn't realize how sick he is."
I did. Bob had showed signs of depression in second grade. He tried antidepressant medication in sixth grade, then was diagnosed with bipolar disorder. At the beginning of ninth grade, I brought Bob to this exact hospital because he became violent, but he was not admitted.
Everything had been leading up to this moment. While my spouse had always been supportive, it took this hospitalization for him to fully understand. Our son has a serious mental illness and it was not going away.
Mental Hospitals Provide Safety and Structure for Patients
The next week was a blur. We were allowed to speak to our son on the phone for 10 minutes, twice a day. We could visit for two hours each evening.
Visiting our son felt like visiting a high security prison:
Only immediate family members were allowed.
No more than two visitors at a time were permitted.
All visitors were searched.
No outside food, unless earned was allowed.
No candy or treats were permitted.
No contraband (straws, staples, drawstrings) were allowed.
Each night we sat with Bob in a large, barren room. He was inattentive and sometimes hostile, mostly towards me. It was excruciating to sit with him.
Hospital Staff Guide Parents of Mentally Ill Children
We met with Dr. Clark mid-week. She blasted information, directions and statistics at us. She explained Bob would be at high risk for suicide after his release from the hospital. Therefore, she ordered eyes-on-supervision 24/7 for 30 days. There would be no electronics and no contact with Bob's girlfriend. She described suicide contagion. She told us 80% of marriages fail after a child's suicide.
As we left the meeting, we saw Bob exercising with a group in the visitation room. He looked like a zombie as he swayed back and forth, arms outstretched, eyes vacant.
My next door neighbor came over to help me make the house safe, a job I couldn't do alone. We started with the obvious harmful objects. Soon I became crazed suggesting every household item could be dangerous. My friend talked me down, but it wasn't easy.
Another friend came by over the weekend to help redecorate Bob's room. She skillfully displayed Bob's memorabilia on the walls. I arranged the many cards and gifts that arrived.
Bob was released after eight days inpatient. When we got to the house, he saw the balloons on the mailbox. We stopped to take pictures with his little sister. When he saw his room and all his personal items on display, he cried. Though the battle wasn't over, my son was home.
APA Reference
Halli, C. (2014, November 23). When Your Teen is Admitted to a Psychiatric Hospital, HealthyPlace. Retrieved on 2021, June 24 from https://www.healthyplace.com/blogs/parentingchildwithmentalillness/2014/11/what-to-expect-when-your-teen-is-admitted-to-the-psychiatric-hospital
Author: Christina Halli
My 16 yr old is currently inpatient and reading your story was like reading my own. The only difference is I can't visit my son due to covid.
I am laying here in complete tears. My 13yr old was admitted to inpatient Thursday night. He was having suicide thoughts and is now hearing voices that are telling him to hurt himself. It is now Saturday night. I can only talk to him for 10 minutes twice a day. They are not allowing visits due to covid. I feel so completely lost. I keep doubting and questioning did I do everything I could before I had to take him for additional help.
I am sitting in the ER with my son 18 right now scared out of mind for him.... I hope I am doing the right thing
Hi my names nikita I've been feeling really suicidal these past few weeks after everything that has happened I just don't want to be here anymore I tell my mum and dad and they don't listen I don't know what else to do is it gonna take me to actually kill myself to get help? Because I can't do this anymore
Um, so I don't really know why I'm here. I've been through a lot, but so has everyone else. There's nothing significant about my struggles whatsoever but here I am. This isn't the first time I've had suicidal feelings and I'm assuming it won't be the last. I'm 15 now but I've lost most of my childhood and had to grow up way to fast and I realize that now. I've cut myself before, in 3 separate "durations" I guess. I've "attempted" suicide twice. I knew it wasn't likely that I would die, but I still did it. I just quit my newest therapist. I had her for a year but nothing she did seemed to make a difference. She started to seem more of a family friend judging me than someone helping. Yeah, I don't know how I got here. I made a list. I guess I tend to do that when I get like this. I made of list of the pros of if I live. It's short but meaningful. Every single one means something to me but I can't bring myself to feel anything positive towards it. I guess I just don't know what to do anymore.
I'm 15 years old and I've been hospitalized once and almost twice for suicide. Once was I tried to overdose and the second time my mom noticed my cuts on my arm and took me to the ER. I was going to be admitted into the psych ward if I had any suicidal thoughts. But I lied so I could go home, I don't know what to do because I want to die so bad but if I live I won't ever be allowed to hang out with anyone and I will only be allowed to leave my house for school or my families events.
What do I do, I almost killed my self last night.
Help
Hi I'm haylee I'm 14 and I've been diagnosed with atipical depression and I'm on meds but I've been very suicidal latley And I talk to my friends about how I've been felling and one of them said I need to tell my parents that I'm suicidal but I don't know how to and I've been thinking I should go to a psychiatric hospital what should I do about me wanting to go to the hospital
Hello, I am a teenager who was admitted to a behavioral hospital 2 times. For depression,anger,homicidal thoughts and such. The hospital I went to [moderated] was not good. It made me more angry where I went to a partial day program at another hospital which helped me so much. But the impatient I went to had 1 hour of school with 3 meals a day but not great instruction and in my opinion I don't think that it helped me with all the stuff they gave me. There were many fights and such and it was an uncomfortable situations. The beds were worse than the rubber covers on school bus seats with not good blankets, leaving me restless all night with the medicine they gave me that makes me go to sleep. I don't like hospitals at all
Hi Susan,
My 13 year old son was admitted to a mental home 2 days ago. He is a very sweet and gentle person. When I visited him yesterday, he was upset because in one of his group therapy, they were tee talking about violence, killing by accident and so on. Things like that makes him very nervous. Also, there were other kids on the hallway crying. It was very depressing being there. I decided to take him there because he was having suicidal thoughts and told me that he was afraid of his own mind. Other than that, he is not violent or anything like that. I really want to revoke my consent to keep him in there because I really feel that facility it's getting him worse. But I don't know what my rights are.
Our grandson is not getting help, suicidal & he has just lost his Dad in Jan
I'd appreciate some help with things to talk about with my 15-year old son during our hour of visitation. I drive 1.5 hours each way to see him and want the visits to be less awkward. Thank you.
17 year old grandson needs help
Hi my name is Ken recently my son was diagnosed about a year and a half ago with a mental illness in about three weeks ago he had a mental break down and when he has these breakdowns he has a mentality of a puppy and a five-year-old what you don't understand what's going on around him and I'm just like a five-year-old would normally would do so I called 911 everything else cause I was going out-of-control need your coffee cup at me and bust my head open which I didn't care he didn't really hurt me that bad because you could see was confused on what was going on around him and I'm gonna place and everything got here he didn't know what was going on with what they wanted them for anything that he didn't understand what they were saying to Madame and I love you have a five-year-old you don't understand what they want to what they're doing to you sorry was fighting a little bit and refused to go with him so he did it a couple cops and I didn't retaliate off of it of them trying to touch him or anything is it understand what was going on at this point so they took him to the emergency room assessed him then I had him arrested thrown in jail and then I had to go to court and play the 5042 incompetent to stand trial and we agreed with the judge let them go ahead up a 30 day evaluation as it was court ordered by the judge so you can get that evaluation and then in the meantime in there we got the lawyer form and everything else and I was part of everything and I left that though and they press charges saying it was me to press charges if they picked up the charges then they made him sign paperwork saying you're no longer to go to your fathers house you're not in a lot of contact with your dad but I meant to leave a five-year-old he don't even know how to use a phone call the facility to take him to say he's obligated to have visitors and talk to you but he's got to pick up the phone and called me to give me a code so I know the code when I go visit them but if you got mentality of a five-year-old how do you pick up the phone and call somebody I have no contact with him for a test five weeks don't even know what they're doing to them and as a parent it's really harmful help
This is so helpful hearing diffrent family. Im a mom and i fill like i havent slept . My sons like a rollercoaster and im on it. Doctors psychiatrist psychologist im always bisy counselor. I have 2 other boys and i fill like super mom. Im trying and wont give up trying to help my son.
PLEASE HELP ME, I was at work when i got a call from my wife statin the cops were are the door because my 13 year old try to comite suicide.
I was so confused what did i miss how could this happen no way, everyone including my wife were talking suicide. mean wile im talking to my daughter and listening trying to understand what happened by the time i realised it was attention and she couldnt be more clearly as why she felt that way. the last 14 months have been real though I have had 3 surgeries 1 hospitalized for a moth almost died and because we are new to Texas we had no were or noone we could drop or daughter of with so she witnnessed all of it. but ever since I have been in n out of the hospital, My oldest boy left to the ARMY and My oldesrt Daughter to school in new york. its clearly why she felt lonely. by the time I was 100% sure she wasnt in dangare It was to late she is in the mental facility and I can get her out.
THEY HAVE OFFERED HER DEPRESION DRUGS
SHE IS NOW SURROUNDED BY KIDS THAT HAVE REAL ISSUES
HOW DO I GET HER OUT KNOW
My son was involuntarily committed on Tuesday when his grief, depression (chronic) and suicidial idealization hit a peak 7 days after the suicide of his close friend.. He made a comment to friend at school that no one would even noticed if he committed suicide and the next thing we new he was in 5150'ed. When he was initially held and committed he was beside himself and begging to go home. It took them 17 hours to find him a bed at an adolcent facility but things where sure different at the children's center.. When I drove out -nearly a 2 hour drive from my home- to the hospital to visit him the next day it was so bizarre it was like a scene from a movie. He said he didn't want to see me-i was embarrassing him in front of his new friends-the other patients. He said, and I nearly fell over when I heard this, that he really liked it there and wanted to stay beyond the 72 hour hold. He mentioned that most people got to stay longer and he could even do another 14 days. What the hell was going on here. I made it clear that the hospital was a short term thing to stablize people and not a place to stay. I told him about all the important things that he would miss, and other things that wouldn't be available to him as a person with a long term hospitalization -for instance it would be reccomend that he not be allowed to drive or use electronics when he got out for a minimum of 45 days and he would miss so much school work he would be likely to fail his classes and spend his whole summer in summer school.. I felt like I was bribing him to get better and to want to leave the hospital. He finally agreed that he probably shouldn't keep trying to stay there. My big fear now is that since he likes going to the hospital so is he just going to try and get send back every time life gets tough? What do I do with this? I have never heard of kids liking being institutionalized.
Hello i am a single mother of 11 year old twin girls one has adhd and other behavioural issues the other has an eatting disorder and tried 2 times to commit suicide aslo has odd as a result i cant leave them home after scholl while i work nor can i get childcare . i have just lost my job soon my housing does anyone know of any programs that can help me financially to keep housing and live while i am home suppourting my kids through this i live in california and cant go on the streeets with them we r in need of immidiate help
Dear RSmith,
I am so sorry that you are in such pain. You ask the $64,000 question: how do we know? Isn't that it? How do we know if we're doing the right thing? How do we know if this is the right treatment? You can second guess yourself until you go crazy.
I think the answer is to trust ourselves. To trust that gut feeling. And, to trust the support system that we build around our children. That's what you're doing right now. Then the good news is that you don't have to answer those questions alone.
Before they admit your daughter, they will do an intake consultation. Tell them your fears. My girls have each been admitted to psychiatric hospitals a number of times. (And when that happens, you know your child is safe and getting the help she needs.) And, sometimes, they haven't. One time I was unsure if my daughter was so ill that she needed to be admitted, but her suicidal thoughts made me error on the side of caution. Yet, when we got to the hospital, she was better. We all talked about how best to treat her and decided not to admit her. Instead, we had her sign a safety contract (or, a written promise that she would not harm herself and what help she would take if she felt like it.) We made an appointment with her psychiatrist for the next day, she called her therapist and we put her into an Intensive Out-Patient program so she could learn coping skills. My point is you don't have to do this all alone. There is a team of professionals who can help you make the decision that feels right.
But, while your daughter is getting the help she needs, who is taking care of you? You need support too, Mama. Whether it is through friends, or a therapist, or NAMI meetings (see the Resources section on HealthyPlace.com for references) or hotlines, make sure you take care of yourself. You're right. You are the glue. And, clearly, every member of your family needs you.
Take care of yourself over these next few days, and I send my best wishes to you and all your family that things will get better.
Hello, I am currently breaking down as typing this...my 15 year old daughter has been diagnosed with depression )her biological father committed suicide and her adoptive father was blown up in a chemical plant explosion, although and by the grace of God he survived our world was turned upside down.) My daughter started getting into trouble only to come out and say she was depressed, she mentioned last night and again today thoughts of cutting herself but that she didn't want to do it. Her psychiatrist says it's pretty much up to us whether to admit or not; at first he thought she was trying to guilt and manipulate me when she got in trouble but he became more concerned that my fear of losing her or her hurting herself is going f to send me into a nervous breakdown; I can barely function now due to the paralyzingly anxiety and fear so he suggested it may be best to admit her in the morning. She is begging not to go (last night she actually agreed to go to the ER after admitting a supposed one time only thought of cutting, we went and were discharged with a "follow up with her psych. she should be ok". I don't know what to do; I am literally having heart complications (I have two heart conditions) from the fear, anxiety, terror, and heartbreak for my child- I cannot lose her; losin her bio dad nearly killed me! But how do I know what is best? Once she calmed down after getting busted doing something she was grounded from she was fine asand saying she never ways to do anything g to hurt us or cause us pain but she feels like a failure because she keeps getting in trouble and doesn't like disappointing us- her 8 year old little sister with PTSD, Anxiety disorder, Panic disorder, adjustment disorder, and separation anxiety had a breakdown tonight and said she could not live without her sister and just cried and held onto and hugged her big sister for dear life. What do I do??! She swears she doesn't want to die at all; she doesn't WANT to hurt herself but she felt the disappointment she caused us was so painful for her she thought maybe she should be punished. She said this one and only time was 3 weeks ago but again, tonight when she got caught she made the comment "I should have just done it, should have just hurt myself". What do I do, how do I keep both my kids healthy and safe, how do I know if she seriously wants (or wanted) to hurt herself on impulse or is she just trying to manipulate me into feeling bad when she gets caught? How do I make the choice to continue medication and therapy for the time being or admit her in the morning? She has been on 10mg Lexapro for approx. 6 weeks and it was increased to 15mg by her psychiatrist today after the ET follow up from last night and then tonight was when the new "event" took place. Is this even enough time for the original dose to be I bher system? I know I am all over the place; I apologize. I am a scared basket case whom doesn't even know where to begin or end with this comment/search for advice; I am a basket saw who has not slept in 48 hours watching every move she makes out of pure fear. I do not want to leave my child with strangers at a hospital; I cannot handle my little girl breaking down on her birthday week because her sister is going bye-bye for who knows how long....is it necessary at this point? Can the meds still help without being admitted? Is it cause to be admitted? If so, how do I do this and not fall apart or break- I am the glue between my disabled hubby and two kids- Help, please
My daughter was admitted to adolescents psychiatrist hospital yesterday. I am scared. She just 13 years old. Look like she is one of a few youngest girl there. The scene where she is at scared me to death. She is diagnosed with sucidal ideation. She is depressed with peer pressure, meet expectations, feeling of wanting to be normal like friends because she has learning disability. She is afraid that her friend know of her LD. She wants to get good grades, go to top high school that her friends planning to go. Unfortunately she can't cope with this pressure. She becomes depress and find way to relieve stress by ccutting (scar) her wrists and took any medication she could find in the house. She was admitted in ER on Saturday but release. When she was home, everything was back to normal like went to school. Do sport but she still wrote to her friends that she still wants to self harm and that she got adicted to do hself-harm.
I am not sure I am pleased with our decision to hospitalize her. I know she is safe there, but I worry the medication (sleeping pills they gave and the kids who have different mental illness in the same unit.
I am scared that she will be there for a long time.
We are waiting for hospital psychiatrist to call to tell us which medication she will take!
I am wondering whether we should agree or disagree with medication they want tp give her.
We have to wait for 6pm to visit her.
I know I have to take care of myself (I have hypertension and now it's very high) but I can't help to worry about her. I can't sleep for 6 days.
I feel guilty not knowing this early to help her. I feel scare to have her at home but worry her well-being when she is in hospital. She is so young! Why she has to go through this! Please help me to understand that the hospital is the good place for her safety and she will be home soon. I will do anything to make her happy, safe. Thamks a lot.
Leave a reply