Is Your Poor Sense of Direction a Symptom of ADHD?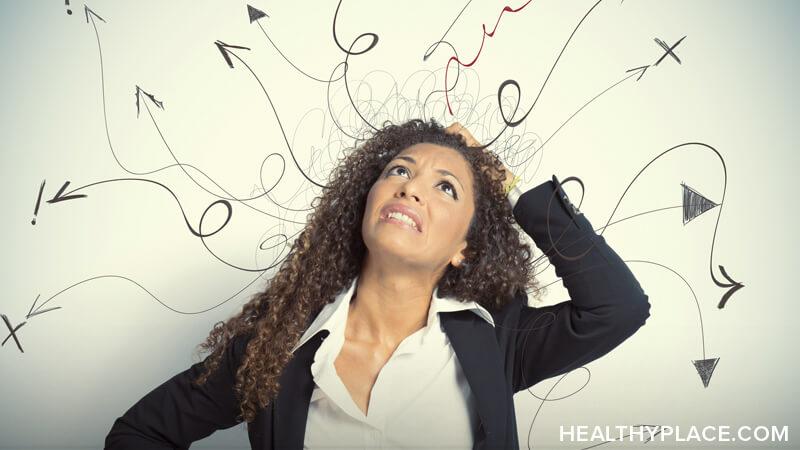 I have wasted so much time trying to orient myself while traveling thanks to my attention-deficit/hyperactivity disorder (ADHD) and my lack of sense of direction. My iPhone battery is a precious resource when I have to constantly check its GPS. I try to inform others that I have a terrible sense of direction, but many still seem surprised at my incompetence (ADHD: Better Late Than Never?). The connection between ADHD and a sense of direction is more complex than I realized.
Sense of Direction and ADHD May Be Connected
Is my experience unique in the ADHD community? According to a number of forums and article comments, no. Quite a few people with the condition note that they easily become lost, and one commenter claims that her ADHD medication improves her sense of direction. However, others say that their sense of direction is average or excellent, showing once again that ADHD is a highly diverse spectrum.
From what I can tell, an underdeveloped sense of direction has to do less with the diagnosis of ADHD and more with the conditions that frequently occur with ADHD. Navigational skills depend on the memory of where you've been and where you are in relation to other objects. People with ADHD can have incredible memories for things that capture their interest, but they can forget what they just did.
Conditions Comorbid with ADHD Impact Your Sense of Direction
Some call the inability to competently navigate "directional dyslexia." A high percentage of people with ADHD have learning disabilities including dyslexia, a disability in which many confuse left and right. Still, dyslexia has to do with reading rather than navigation. But, dyspraxia, a developmental coordination disorder, also often overlaps with ADHD and can include having a poor sense of direction.
The hippocampus is a part of the brain that stores memories, including spatial memory and recognition, and it can create internal maps. One of my theories is that a part of one's brain needs to be aware of the environment in order to record it, a focus that many with ADHD might lack. People with ADHD also struggle with working memory, the ability to not only absorb and retain information but to draw on it when necessary.
You Can Improve Your Sense of Direction, ADHD or Not
The good news is, even though some (including quite a few ADHDers) are born with an incredible sense of direction, navigation skills can be greatly improved with practice. A study shows that the hippocampi of London cabbies, people who frequently navigate maps, are larger than the average person's (see "Why Do You Always Get Lost?" in sources). Using compasses to navigate and studying maps before stepping outside are first steps in improving one's sense of direction.
Please let me know in the comments if you or someone you know has an astounding—or astoundingly terrible—sense of direction and if it occurs with ADHD or another condition. It seems as though there have not been many studies done on this subject, and I would like to know more about others' experiences.
Sources
APA Reference
Matteson, N. (2017, October 3). Is Your Poor Sense of Direction a Symptom of ADHD?, HealthyPlace. Retrieved on 2021, February 27 from https://www.healthyplace.com/blogs/livingwithadultadhd/2017/10/is-your-poor-sense-of-direction-a-symptom-of-adhd
Author: Noelle Matteson
I have been married to the same man for 47years and it has not all been easy. I thought his inability to find his way in a car was because he was not paying attention. If I fell asleep while he was driving he'd go right past the exit or turn the wrong way and we'd get lost. I always had to pay attention and tell him which way to turn. I did not recognize there is a name for his disorder til later in our married life. He also has ADD which was never diagnosed when he was young. I have wanted him to go to a doctor and get medication for it but he always refused. I have lived with him for so long now I just accept that he has these disabilities.
I have no sense of direction. I might know how to get somewhere, but coming back home just doesn't make sense, even in houses or buildings. I've been lost twice on a mountain. I've tried everything to retrace my steps and be aware on my way there, but I haven't had much luck improving my skill. I have trouble concentrating and at times and when I was young was hyper sensitive to noise. The lack of acknowledgement of the directional dyslexia is so frustrating because often people get irritated at me and think I'm just not paying attention. The truth is, I'm counting streets and trying to recognize visual markers to help me. It's almost like when they spin you before you hit a piñata without the dizziness.
my school timetable had the initials of who to follow for each class, I never did learn where the history, english , math, science etc blocks were, i got lost often on the short walk home from school, being lost was scary. I can go off rout in my own village though not entirely lost i end up in the wrong place, I was diagnosed ADHD last year at age 55 I cannot travel alone :(
Oh my gosh! I definitely do not remember where I was going once I step out of a shop. I end up spending an embarrassing amount of time on my phone trying to figure out where on earth I should go.
I would research the term "Developmental Topographical Disorientation" (a term that I just discovered). Interestingly, I am also very good at recognizing faces, though I am probably not as good as you and I do not tend to get lost as much in my own house. I wonder if somehow they go together?? Thank you for commenting!
Yep... this is me all over. Recently found I have ADD, and my sense of direction is so bad that I lose my bearings in my own house. I can drive the same route 100 times and it just doesn't stick. If I have a work meeting at a client's building I dread having to go to the loo because I'll 100% get lost trying to find my way back to the meeting room, even if it's just a couple of corners and shot corridors away. If I walk into a shop off the street and spend only a couple of minutes inside I'll walk back to have no idea which side of the street I was on and in which direction I was walking. It's like a strange fog that won't clear, but it's specific to directions which I find really interesting as I have a creepy memory for other things - I can remember word for word conversations that happened 20 years ago and I recently tested as a 'super recogniser' for facial recognition with a score of 100%... literally never forget a face, can see a stranger once in the street and pick them out again months later. But if I walk up to the landing in my own house and all the doors are closed I sometimes literally can't remember which one is the bathroom. Brains are fascinating...
I got lost last week trying to go to a friends house I've literally been to over 200 times. They live 5 miles from me in my town. My phone broke and I didn't have gps to get me there?
I have ADHD and I have a really good sense of direction. I don't know where my sense of direction came from...whether I inherited it from one of my parents, or whether it is some sort of adaptation or compensation for my ADHD. I also have a really good sense of balance. I suppose my good sense of balance may be related to my directional sense and my ADHD.
My daughter has Add with mild dyslexia and she had problems with sense of direction and thought that London and Birmingham were near each other. She now does a job that takes her all over the country and thanks to technology she manages the job very well. My husband doesn't have a diagnosis of Add but I am sure that he has it. He recently got lost taking the dog for a walk when he was meant to be taking my daughter to hospital!! He takes wrong turns or misses important signs while driving as he isn't always concentrating on where he is going. He also has a poor visual memory and often doesn't remember where he has put things. He finds it difficult to recognise people out of context which can be embarrassing. Thankfully I have a good memory for these things and can get him out of various predicaments. There is never a dull moment in our house!
Thanks this is helpful. My husband has adhd and his lack of direction astounds me. He will think we should go north to a city 3 hours south of us, etc.
I forgot to mention this. My husband has dyslexia, but has no problems with N/S/E/W and can read a map like nobody's business. He thinks it's pretty funny that I like to look at maps, but can't use one to get around.
I just have to laugh. I consider myself to be directionally challenged. I know that if I'm facing north, west is on my left. See what I did there? They kind of rhyme. But I have to know where north is, first. Recently my husband and I were in a strange city. I had to do the driving while he did some navigating. He'd just had a medical procedure and was under the influence of the anesthesia, still. The sun was blinding me so I couldn't see the signs to know where or when to turn and my husband told me, "Right here! Turn east!" I yelled back, "I don't know where east is!" LOL Pretty funny now, but not at the time! I can't read a map, either, to save my life. They also require knowing that whole north/south/east/west thing. Please. Give me directions such as, "Turn left on old county road. At the second stop sign, turn right then go about a 1/4 of a mile until just past a big red barn on the right and make a left at that intersection." So much easier! And I have to actually drive somewhere new to be able to find it again later. My spatial skills suck, too. I admire people who can read a map or diagrams on putting something together. I haven't been diagnosed with ADD or ADHD, but I do have bipolar 2 (heavy on the depression side) and generalized anxiety disorder along with a large dose of social anxiety.
Leave a reply