Is Your Poor Sense of Direction a Symptom of ADHD?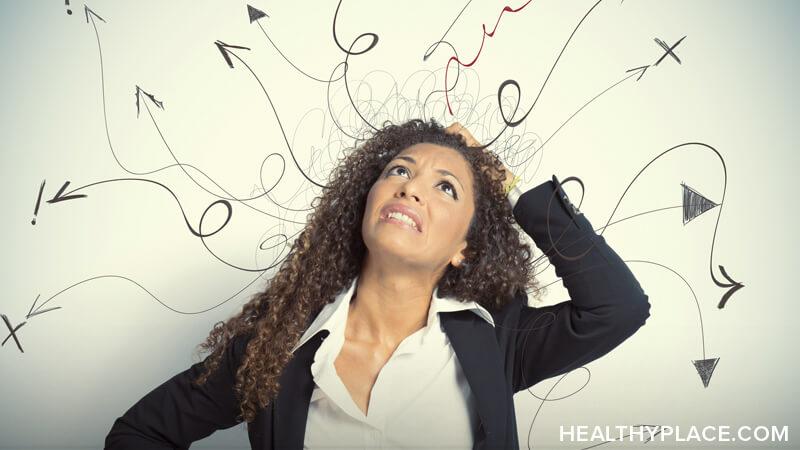 I have wasted so much time trying to orient myself while traveling thanks to my attention-deficit/hyperactivity disorder (ADHD) and my lack of sense of direction. My iPhone battery is a precious resource when I have to constantly check its GPS. I try to inform others that I have a terrible sense of direction, but many still seem surprised at my incompetence (ADHD: Better Late Than Never?). The connection between ADHD and a sense of direction is more complex than I realized.
Sense of Direction and ADHD May Be Connected
Is my experience unique in the ADHD community? According to a number of forums and article comments, no. Quite a few people with the condition note that they easily become lost, and one commenter claims that her ADHD medication improves her sense of direction. However, others say that their sense of direction is average or excellent, showing once again that ADHD is a highly diverse spectrum.
From what I can tell, an underdeveloped sense of direction has to do less with the diagnosis of ADHD and more with the conditions that frequently occur with ADHD. Navigational skills depend on the memory of where you've been and where you are in relation to other objects. People with ADHD can have incredible memories for things that capture their interest, but they can forget what they just did.
Conditions Comorbid with ADHD Impact Your Sense of Direction
Some call the inability to competently navigate "directional dyslexia." A high percentage of people with ADHD have learning disabilities including dyslexia, a disability in which many confuse left and right. Still, dyslexia has to do with reading rather than navigation. But, dyspraxia, a developmental coordination disorder, also often overlaps with ADHD and can include having a poor sense of direction.
The hippocampus is a part of the brain that stores memories, including spatial memory and recognition, and it can create internal maps. One of my theories is that a part of one's brain needs to be aware of the environment in order to record it, a focus that many with ADHD might lack. People with ADHD also struggle with working memory, the ability to not only absorb and retain information but to draw on it when necessary.
You Can Improve Your Sense of Direction, ADHD or Not
The good news is, even though some (including quite a few ADHDers) are born with an incredible sense of direction, navigation skills can be greatly improved with practice. A study shows that the hippocampi of London cabbies, people who frequently navigate maps, are larger than the average person's (see "Why Do You Always Get Lost?" in sources). Using compasses to navigate and studying maps before stepping outside are first steps in improving one's sense of direction.
Please let me know in the comments if you or someone you know has an astounding—or astoundingly terrible—sense of direction and if it occurs with ADHD or another condition. It seems as though there have not been many studies done on this subject, and I would like to know more about others' experiences.
Sources
APA Reference
Matteson, N. (2017, October 3). Is Your Poor Sense of Direction a Symptom of ADHD?, HealthyPlace. Retrieved on 2023, December 11 from https://www.healthyplace.com/blogs/livingwithadultadhd/2017/10/is-your-poor-sense-of-direction-a-symptom-of-adhd
Author: Noelle Matteson
Thanks for your article and the honest responses. I am 53 and don't have ADHD, but my sense of direction is so bad that I sometimes drive the wrong way to my best friends home that is 2 minutes from my home. I often turn the wrong way with Google maps on my phone, even if it's somewhere I have driven multiple times. I know the start and the end of a route, but it's like there's a link missing for the middle part of the drive. I often forget what I'm saying and wonder if there's a memory link to that. Lucky I am very good at laughing at myself …. but it would be great to get some tools to help with these issues.
Oh wow. I never knew it was a thing. I just thought I was stupid. I have never know my left from right, I have to imagine picking up a pen and writing my name in the air to know that's my right hand, sometimes I need to do it twice to make sure.
I can relate to all the previous comments, I have spent 90% of my life being lost.
I moved house two years ago after putting off relocating for years mainly because of my poor sense of direction, I was so worried about finding my way around a new town.
I don't or can't go anywhere without the sat nav, it sounds ridiculous but sometimes the destination I enter into the sat nav is only 1.5 miles away but I still need it otherwise I would be driving around aimlessly getting nowhere fast. When I arrive at my destination I then spend the whole time worrying about how will I get home.
I can't recognise roads (they all look the same) or read maps, if I hold a map in my hand I never know if it's upside down or not. After rotating it 5 times or more it gets thrown to the side crumpled into a ball of frustration. I rely heavily on technology.
I'm no better on foot. I can walk in the wrong direction for 30 minutes before I realise I have gone the wrong way, it's so embarrassing, I can be walking along quite happy and then suddenly realise i must have taken a wrong turn somewhere, I then stand rigid not knowing which way to turn.
If I am in a restaurant and I need the loo I am not able to find my way back to my table. I have asked the waiter before now to escort me back to where my family are seated. It has nothing to do with having drunk too much wine, although I'm happy for the waiter to think that.
Large hotels are a nightmare for me, with all the corridors carpeted exactly the same and the lifts all looking the same. I can never find my way back to my room from reception (especially if it's not well signposted) maybe by the end of my 10 day holiday I may have just cracked it but it's then time to check out.
I don't have a diagnosis of any kind, do you think I should be tested for ADHD?
I've always thought my seeming total lack of a sense of direction was the result of moving so much as a child (my father's international banking career had us moving every two years or so - from Montreal to Toronto to Nassau to London to Toronto to London to Seattle to Calgary...and on and on - I went to 17 schools before university) and I merely assumed that because we travelled so much, I simply stopped noticing where I was going because I knew we'd soon be moving again...so what was the point?
I continued travelling for my career (the US, London, France, Italy, Western Canada) but for many years now, I've lived in Toronto where my work requires me to find my way all around the city, and even though Toronto has an excellent transit system (subway, streetcar and buses) and the internet let's us map our journey with ease, I STILL haven't been able to grasp the basics of navigation.
Even on a streetcar, traveling in a straight line (on tracks!) I refer to my phone to make sure I note all the stops, and not miss my own.
But my biggest problems come when I get off transit and proceed on foot...and have to negotiate streets and turns and side streets, and against all odds, ALWAYS turning in the wrong direction until I'm lost and late and beside myself, sometimes crying with frustration and self-incrimination.
I feel ridiculous! And though I'm genuinely pretty bright, getting lost feels like a huge failure...a potential loss of work...and something little kids can do, but I can't.
BUT...
Even though I was diagnosed with adult ADHD about 15 years ago (a surprise to NO ONE but me!) I'd never heard about the connection between ADHD and being directions-challenged. And even though it's no cure, knowing there's a solid, sensible reason lightens my load.
(Now if it could only get me where I need to go!)
All my life I have felt so stupid for not knowing directions or left and right- my family used to joke my lodestone fell out when I was born- I have got so lost at times which led to extreme panic! Learning to drive was a nightmare- I would sweat so much I had to change all my clothes afterwards- an instructor saying 'turn left at the end of the road' would make me feel unbearably stupid.
Then I became a teacher and started coming into contact with children with ADHD.. and then had a partner who was undiagnosed for years( fortunately is diagnosed now!)- and just as I began to understand my brain menopause hit!
Tge good news is my HRT medication seems to do everything that adhd meds would- I am so much calmer now- and not embarrassed about getting lost- I just have to factor it in or always have gps with me. I do wish I could tell my younger self that I wasn't stupid though..
I am somewhat relieved to hear of others that also have a struggle with direction. I am 71 years old and I was diagnosed with inattentive type aadd at 62 and did not realize there is a connection..I have just felt very stupid and flawed it is extremely embarrassing for me and something I try to hide.Just talking about it brings tears to my eyes right now as we speak.. I usually try to hide this problem. I wish someone could tell me why I have this problem. it has caused me slot of anxiety and makes me feel very down on myself. Can someone please explain why I might be this way??? I think understanding it would help me feel better about myself.
Thank you for this article! I can definitely relate. When l think back l remember struggling at secondary school to find my classes, turning up late simply because l got lost. I sometimes still have nightmares about it :) Also when l am pointing to an area l am frequently told I'm pointing in the completely wrong direction. I just feel if you spin me around once anywhere l will be lost. I am in my 50's now and have often wondered why this has been a problem.
No offense but I skipped reading this one once I saw the words "lost" and "GPS". I thought it was going to be about "direction in life", which is what I need some help with. But I have a compass in my brain so I never get that kind of lost lol
I have been klutzy all of my life with a poor sense of direction. I could not pick up my BF at the airport bc I took the wrong ramp and then got lost trying to go home again and this is WITH a GPS ! I don't believe I have ADHD but dyspraxia. Now I'm afraid to go to p laces. My BF had to call LYFT and I feel a sense of failure.
I am studying Leetcode for software development. I am struggling with keeping previous, present and future data straight enough to write the code. Is there any hack for this buggy software in my head?
I get lost so easily. I get disoriented, even in Costco. I can't find my way back to the registers. It makes me panick! I can follow a map, but if I miss a turn or end up on a one way street going the wrong way I don't know how to correct it. I can't even just drive around the block because it always feels like I've driven around it but it ends up I only went around 3 sides of it & off I go again in the wrong direction. I have no problem telling my left from my right, but I have No sense of direction & always get so disoriented. I wish I knew what is wrong with me.
Hi, I know it's 5 years later, but I see your still checking the comm nets so I thought I would add to the conversation. I have the worst sense of direction possible. Sadly I'm a door dash driver, which I couldn't do without gps. I've managed to get right and left down but NWES is a mystery to me. I get furious when Google tells me to head North! Quite recently I was tested for ADD and aced it. I scored off the charts. I am 52 and a woman, so I wasn't diagnosed in school. I was wondering, do people with ADD often accidentally overdose on medicines? That happened to me and I have been afraid for awhile that it was going to happen. It was a perfect storm of high anxiety and no working memory whatsoever. I had a headache from all the emotional stress so I wanted to take some prescription medicine I had for it. I kept thinking I didn't take it yet. I took it 3 times in a matter of 20 minutes. I ended up having to call 911. Is this common?
Thank you for your articles.
Aside from ADHD my left/right confusion is severe. I can extend that to almost total ignorance of E,W N and S. Reading all of these comments is really enriching. Why do they always draw maps upside down! Oh, and another thing, it doesn't help to grow up in the Southern Hemisphere and then come to live in the Northern
I'm so glad I found this post, I resonate so much with this. I believe I have ADHD (currently undergoing assessment) and have wondered if my non existent sense of direction was related. Like others here, I am extremely reliant on Google Maps, even if I've been to a place before. Sometimes while walking around my own neighbourhood where I've lived for 2 years, I can't remember how to get home and can't retrace my steps. I also often get lost inside buildings like restaurants or offices when trying to get back to my starting point. It makes me feel so stupid and embarrassed when other people witness this. I also get turned around very easily and can't orient myself even when looking at maps. I find it hard to understand some sat nav apps while driving for some reason. The visual layout of the directions can really confuse me.
I also saw another poster comment about their husband's inability to recognise people out of context. I have this issue as well!
I get lost do easily. When we moved to a new neighborhood (before GPS), I wound call my husband out of town and tell him what landmark I could see and ask him to help me get home. I think I remember how to get somewhere and often mess it up and end up late. I hate that anxious feeling, looking at the clock and feeling the panic rise, along with my navigation confusion. I can talk myself out of what is the right direction because I doubt myself so much. It stinks!!! Gotham's you to those who shared. Makes me feel more normal.
These comments resonated so much for me. I am 51 and I think I have ADHD (awaiting a diagnosis) and I have always struggled with my non existent sense of direction. Out on a date once i got lost when I came out of the toilet and had to go out to the car park and come back in again! I hate it when my Sat Nav says things like "head east" as I have no idea where that is. The thing that I find strange is that I am not stupid but I cannot seem to learn how to navigate, I have to put the map in the direction I am driving and even then I get lost. It is extremely frustrating and added to my disorganisation I am usually late anyway so getting lost just adds to the stress. It is kind of comforting to know I am not alone though
My son is 19 years old and has ADHD. I noticed when teaching him to drive that he often still confused left and right and still does to this day. He also had a lot of difficulty learning to park. Recently I also noticed that he has difficulty remembering the routes to various places, even though he has been there many times and can get confused even travelling home from a place he has been to quite often. Of course he is fine to go to work and back, something he does every day and does well most days but definitely learns routes slower than I expected. I attributed it to the fact that he seemed to rely on his GPS but since beginning to teach his brother how to drive, I have begun to realize that his ADHD plays a factor. Thank you for this article. I think it would be a very interesting thing for someone to do a study on.
I can't believe others struggle with this. My husband of 25 years has ADD but I never realized his poor sense of direction was related. I asked him yesterday to go to my neighbor's house right across the street and he went to the wrong house. He points to one direction when something is entirely in the other direction. He has trouble getting out of a gas station if it has more than two entrances. I get so frustrated with him but this helps me understand a little more. Thank you.
Great article! This is an area I have struggled with my entire life. I used to joke I would get lost on an one way road. I have realized that if there is only two ways to go that 99% of the time I will pick the wrong way. Still with practice I have become much better, and GPS is a godsend. I have overcome many learning disabilities, but this is one that is still a challenge. When I referee soccer I have to really focus so I don't point the flag in the opposite direction of what I want.
I am relieved to have stumbled upon this article and see that I am not alone. I was diagnosed in my early 40's, finally after always feeling something was just not right.
I can have troubles with something as simple as the direction to get back to my friends at a restaurant, when coming out of the restroom. I have to mentally take note as I'm walking towards it, in order to not look so dumb coming back. And then, on other occassions, I have no problem at all. It's as if something is clicked on that day, and I always find myself wishing I knew what it was so that I could always flip on that switch!
Going to a friend's house with a lot of turns through neighborhoods, has to be done a few times in order for it to finally stick, and then if I don't do it for a long time, I can sometimes still forget all over.
I'm reading through the comments here, and getting some good ideas on how to manage!
I have a very poor sense of direction and get lost easily. Also, coming back from where I came from. I also forget where I park my car and get lost in unfamiliar buildings. Retracing my steps is very difficult. When there is a lot going on in my visual environment I can not remember things just a few which makes finding places even harder. I was diagnosed with ADHD inattentive type as an adult. I am hoping my ADHD is connected to my trouble finding places. I always feel so stupid! Sometimes I just miss entire party or gatherings to avoid the embarrassment of showing up an hour late because I was lost again.
I've struggled with navigation my whole life and was recently diagnosed with ADHD. Whether it comes to driving or navigating a new building I'm always disoriented. I just wanted to share a tip with those of you who struggle with the same thing. I take pictures of my surroundings especially when I go somewhere new. I take pictures of my care when I park from two angles. I take a picture of the sign on the street corner so I can find it in my GPS. I take a picure of the entrance to the place I'm going to. Seems silly but it's helps me so much and sooths my anxiety to know I can rely on my pictures as a fail safe.
No sense of direction, following directions, remembering directions, knowing I will get lost and the embarrassment of getting lost are as much a part of me as my ADD, chronic depression and anxiety disorder. I have sent my parents, siblings, friends, my husband and my adult children into fits of frustration over my inability to "find and remember". "Pay attention to your surroundings!" I've heard that so many times, I know it's going to come from someone's mouth 5 seconds before they utter the admonition. On more occasions than I can count, I've wanted to scream, "I'm not stupid! I hate this more than you could ever know!" I swallow those words and instead, apologize for my shortcoming and promise to remember the next time. Each time this happens, I tell myself that maybe I am stupid, maybe I don't pay attention, maybe I'm simply not trying hard enough and I hate myself a little bit more. Recently, my husband had to spend a couple of days in the hospital for minor surgery. We had parked in the parking garage at the hospital and made our way to his room on the sixth floor. We'd been there a short while when he realized he had forgotten to bring the book he was reading; he asked if I would mind bringing it back with me when I returned that evening. At that moment, fear and panic went through me like a hot knife, I couldn't remember which elevator we'd used to get up to his floor, the way to lobby or the parking garage if I was lucky enough to get to the lower floor. I smiled and told him I'd be happy to bring his book back with me. I prepared to leave, I looked at him and casually asked if the elevator we came up in was to the left of the nurses station, "yup", he said, and off I went. As I'd feared, when I stepped out of his room, nothing looked familiar to me whatsoever, I was lost before I was really lost. I was asking people for directions at every turn, with panic and anxiety waiting to boil over. When I finally made it to our car, I exploded into tears of anxiety, relief, shame; I hated myself. Upon my return, I went through the same agonizing journey getting back to his room. I shared my experiences with him and asked if he would give me directions for my way back down, not north, east, south or west...I wanted to write them down in list form, using words like "turn left, go right" and I wanted some "landmarks" along the way. For the first time ever, I could see he sensed my fear. I took a notebook and pen from my purse, wrote the number 1. on the paper and finished with number 7. Forgive my prattling, it's part and parcel of my ADD.
I have been married to the same man for 47years and it has not all been easy. I thought his inability to find his way in a car was because he was not paying attention. If I fell asleep while he was driving he'd go right past the exit or turn the wrong way and we'd get lost. I always had to pay attention and tell him which way to turn. I did not recognize there is a name for his disorder til later in our married life. He also has ADD which was never diagnosed when he was young. I have wanted him to go to a doctor and get medication for it but he always refused. I have lived with him for so long now I just accept that he has these disabilities.
I have no sense of direction. I might know how to get somewhere, but coming back home just doesn't make sense, even in houses or buildings. I've been lost twice on a mountain. I've tried everything to retrace my steps and be aware on my way there, but I haven't had much luck improving my skill. I have trouble concentrating and at times and when I was young was hyper sensitive to noise. The lack of acknowledgement of the directional dyslexia is so frustrating because often people get irritated at me and think I'm just not paying attention. The truth is, I'm counting streets and trying to recognize visual markers to help me. It's almost like when they spin you before you hit a piñata without the dizziness.
my school timetable had the initials of who to follow for each class, I never did learn where the history, english , math, science etc blocks were, i got lost often on the short walk home from school, being lost was scary. I can go off rout in my own village though not entirely lost i end up in the wrong place, I was diagnosed ADHD last year at age 55 I cannot travel alone :(
Oh my gosh! I definitely do not remember where I was going once I step out of a shop. I end up spending an embarrassing amount of time on my phone trying to figure out where on earth I should go.
I would research the term "Developmental Topographical Disorientation" (a term that I just discovered). Interestingly, I am also very good at recognizing faces, though I am probably not as good as you and I do not tend to get lost as much in my own house. I wonder if somehow they go together?? Thank you for commenting!
Yep... this is me all over. Recently found I have ADD, and my sense of direction is so bad that I lose my bearings in my own house. I can drive the same route 100 times and it just doesn't stick. If I have a work meeting at a client's building I dread having to go to the loo because I'll 100% get lost trying to find my way back to the meeting room, even if it's just a couple of corners and shot corridors away. If I walk into a shop off the street and spend only a couple of minutes inside I'll walk back to have no idea which side of the street I was on and in which direction I was walking. It's like a strange fog that won't clear, but it's specific to directions which I find really interesting as I have a creepy memory for other things - I can remember word for word conversations that happened 20 years ago and I recently tested as a 'super recogniser' for facial recognition with a score of 100%... literally never forget a face, can see a stranger once in the street and pick them out again months later. But if I walk up to the landing in my own house and all the doors are closed I sometimes literally can't remember which one is the bathroom. Brains are fascinating...
Leave a reply