ADHD Organization Tips: Planners, Calendars and Lists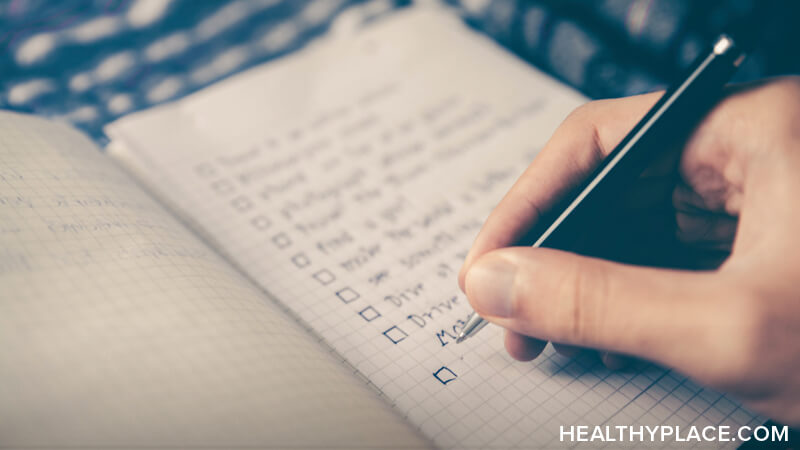 Attention-deficit/hyperactivity disorder (ADHD) organization tips can come in handy since staying organized can be a daily struggle. This is why I try to write almost everything down in planners. Everyone has a unique organization system, so I want to share a taste of how I use planners, calendars, and lists to stay organized. Take a look at these ADHD organization tips that work for me.
Four ADHD Organization Tips to Manage Your Day
1. Organize a Daily Schedule
At night, I create a daily schedule by dividing a page into quadrants: (roughly) morning, early afternoon, late afternoon, and evening. Each quadrant includes a list of tasks, giving me more freedom than an hourly schedule but not too much freedom. Recently, I have been color-coding tasks, partly because I am more likely to actually look at a list that is aesthetically pleasing.
2. Try the Pomodoro Technique as an ADHD Time Management Tool
If I am working an ongoing task, I try to take frequent breaks. The Pomodoro Technique¹ is a system that suggests working for a set chunk of time before taking a break. Usually, that involves 25-minute work sessions and five-minute breaks. Initially, 25 minutes of focused work sounded daunting, and even 20 minutes intimidated me. I settled for 15 minutes; that was better than nothing. If I got on a roll, I simply reset the timer and continue working.
ADHD expert Russell Barkley notes that people with ADHD often need more frequent breaks and shorter work sessions than the traditional 25/5 formula.² He suggests that ADHDers follow 10 minutes of work with three-minute breaks, confirming my personal approximations. He also advises that ADHDers become "addicted" to planners and calendars, which I already am. (It is possible that my reliance on planners masked some of my ADHD symptoms for much of my life.)
3. Organize Lists and Break Down Tasks
Recently, I have started using a bullet journal,³ which is basically a normal journal that you can turn into a planner using rulers and pens (preferably erasable). I use the journal to track medication and menstrual cycles. You can also use it for scheduling and making lists, which can range from yearly goals to gift ideas.
The bullet journal is also where I break projects into smaller tasks. People with ADHD easily feel overwhelmed and fall into the trap of procrastination, so it is helpful to divide jobs into manageable components. For example, writing an article should be done in multiple steps, beginning with brainstorming, researching, and outlining. Being able to check off each step shows progress and keeps the momentum going.
4. Use Calendars to Stay Organized
Some people thrive on chaos, and I never thought I would use a bullet journal because of all the time and organization it requires. However, it is a good way to keep track of multiple projects and to bring some order to the chaos of my mind. The process of creating the journal has been calming and fun, though it took some trial and error to get it right. Thankfully, I can change my system at any time.
For more information about how I manage my calendar system, check out the video below. Let me know if you have any organization tips for ADHD in the comments.
Sources
Cirillo Company. The Pomodoro Technique. (Accessed 12/4/17)
Russell Barkley. ADHD, Self-Regulation and Executive Functioning. (Presented 2012)
Bullet Journal. The analog system for the digital age. (Accessed 12/4/17)
APA Reference
Matteson, N. (2017, December 26). ADHD Organization Tips: Planners, Calendars and Lists, HealthyPlace. Retrieved on 2023, June 4 from https://www.healthyplace.com/blogs/livingwithadultadhd/2017/12/adhd-tips-for-organizing-your-day
Author: Noelle Matteson
I struggle with organization, I've been using Microsoft OneNote and it is amazing.
I've been using my Google calendar for a few years, now. I've color coded so my work schedule is one color, my bills are another color and since I also mystery shop, they are another color. I also buy a planner at Dollar Tree just before school starts. I take it to work with me and I enter my schedule and then, daily I enter my clock in and out times. I can also make notes, since you need to have documentation if any problems arise. I can also add work notes such as item numbers, phone numbers, etc.
The color coding is so helpful. Sounds like you have a really good system. Thanks for sharing!
I just listed to you on ADHD rewired--great episode! And this article is great, I really like your 4 quadrant system. I find that I can look for different lists all day instead of starting one :)
Oh, thank you so much for visiting! Yep, list-making can be fun and fascinating hehe.
Leave a reply