How to Overcome Low Self-Esteem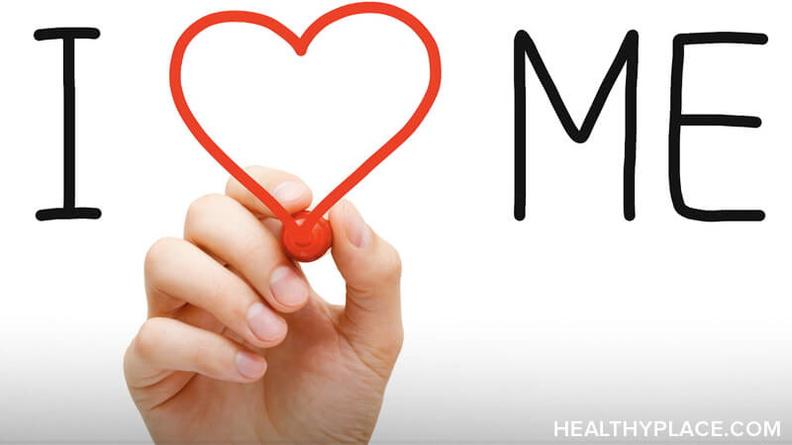 In trying to deal with low self-esteem, focus on the positive. When doing that, we feel more positive, happier and self-assured, right? Our self-esteem is heightened when we are in a positive state of mind.
Let's consider why it's been difficult to overcome low self-esteem. The likelihood is that past events or a current trigger has left your self-esteem low, which contributes to your current state of mind, which for many of us can be negative.
The roots of your low self-esteem are not to be ignored, but for the purpose of moving into a happier mindset, let's focus on the feelings you want to obtain today; happiness and higher self-esteem. By proactively shifting some of your negative behaviors and thoughts in the moment, you can increase your self-esteem tremendously and start to overcome low self-esteem.
Low Self-Esteem Doesn't Have to Overcome You
Here are some things to remember when your low self-esteem is really kicking you around.
Don't "Should" on Yourself
The first step in dealing with low self-esteem is to recognize the negative statements you are telling yourself.
I should have…
If only I would have…
These "-ould statements" are unproductive. They build up and make it difficult to overcome your low self-esteem (we all tend to go to this place on occasion, myself included). My suggestion: don't should on yourself! This is not the way to deal with low self-esteem. This gets you looped into the low self-esteem cycle of thinking. Instead, focus on what you can do and move forward into positive thoughts. When you catch yourself "shoulding," rephrase it to:
"I am going to" or
"Next time I will."
Give yourself a break and focus on what you can do next time, not what happened in the past.
Put Yourself First with Self-Care
It may not seem like it, but self-care is an important step in overcoming low self-esteem. Self-care is a gentle reminder that you deserve to feel good and produces positive feelings inward, which radiates outward.
Going to the gym, eating a healthy meal, watching that show that makes you laugh are examples of self-care. For me, self-care is taking time away from technology, taking a bubble bat or watching Modern Family while enjoying some ice cream. These are ways I support my body and my mind in feeling my best and they allow me to shift my focus into a positive mindset.
Get Out of Your Head
I know this can be difficult, but often times you have to change your surroundings or your current situation to shift your negative self-talk into a more positive conversation. My suggestion: get out of your head. I often times have to leave my desk, go on a walk, listen to music, call a good friend, meditate, or read something, but I don't let my mood take over, I distract with loving, proactive activities.
Find out what activities help to increase your self-esteem and share them in the comments below. By you sharing your tools for dealing with and overcoming low self-esteem, you are helping others to find new methods for increasing their self-esteem.
Emily is the author of Express Yourself: A Teen Girls Guide to Speaking Up and Being Who You Are.You can visit Emily's Guidance Girl website. You can also find her on Facebook, Google+ and Twitter.
APA Reference
LPC, E. (2012, May 30). How to Overcome Low Self-Esteem, HealthyPlace. Retrieved on 2019, July 21 from https://www.healthyplace.com/blogs/buildingselfesteem/2012/05/how-to-deal-with-and-overcome-low-self-esteem
Author: Emily Roberts MA, LPC
Chris, thank you for your comment, so many of us can relate. It's okay to be angry and feel that life has been unfair to you. It sucks that other people don't understand your experience and finding compassion for yourself and others will help you feel freer from these thoughts. I know it seems like everyone has it better but that's another way our ego messes with us. Everyone has a struggle and a story. Many act or appear like "life's perfect" but in my new video I even discuss how self-esteem has been hard for me too. You've inspired me to talk more about my struggles so that others can see that I too am not perfect and that we can overcome the bullies and the BS that life has thrown our way. You are a very strong and important person. Let's see what advice your therapist has for finding more compassion and let me know how I can help you.

Take Good Care,
Emily
Hi Rebecca! Thanks for writing and I love your enthusiasm. Imperfection is the most amazing feeling, when we allow ourselves to realize that no one is perfect. Keep up the good work you're amazing!
Take Good Care,

Emily
Great ideas! Thank you for sharing I appreciate your input! I think socializing with people who make you feel better is extremely important too- thanks for the reminder!

Take Good Care,
Emily
Leave a reply