The Self-Stigma of Having Depression Never Goes Away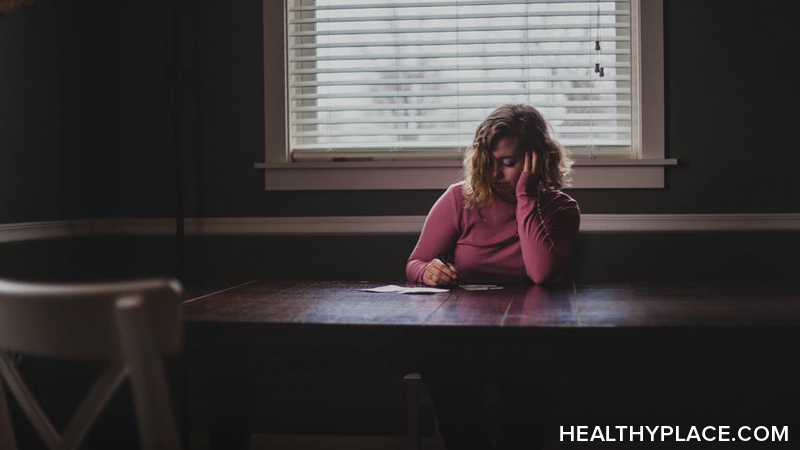 The self-stigma of having depression never really goes away. It is always there, scratching at the back of your mind, a constant reminder that you are weak, incapable, unworthy, fake, undeserving, lazy, ashamed, broken . . . the list goes on. The self-stigma of having depression can present itself whether you're feeling up or down.

I have been feeling pretty healthy lately. On a scale of 1 to 10 (1 being awful and 10 being awesome), I've been hovering between a 6 and an 8, which for me is pretty great considering I don't think I've ever really reached a 10. And while I shouldn't be surprised, I always am surprised when doubt and stigma creeps into my thoughts and then the guilt floats in, like a dense fog, and before I realize it all those awful words and phrases run through my mind.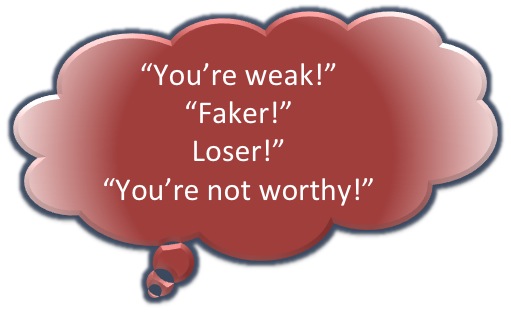 "You're weak."
"Why can't you just snap out of it?"
"Loser!"
"Faker!"
If you've read some of my other blogs, you know that I practice the art of trying to figure out what my depression triggers are. It's no different when self-stigma invades my psyche. Thinking back over the last few days I realized that the self-stigma was ignited when my mother (innocently) asked me, "So, are you still on your medication?"
Self-Stigma for Having Depression Can Be Triggered Any Time, Anywhere
Mom is 87. She's old, she loves me very much and she means well. And, this wasn't the first time that she's asked me that question to which I have always responded, "Yes, Mom. I will be on my depression medication for the rest of my life."
It's words like still (on your medication) and for the rest of my life that got me thinking (again). Not only did I bash myself with the negative self-talk, but I also started wondering if maybe, just maybe, I could go off my meds.
WARNING! WARNING!! STUPIDITY ALERT! ABORT... ABORT!
The last time I had thoughts like this, I actually DID quit my depression medications and it lead to a major depressive episode that lasted 4 months. You'd think that would be compelling enough for me to stop having such thoughts but it isn't. The thoughts are there, treacherously undermining my wellness.
Exhausting.
The self-stigma of having depression never really goes away. In fact, this week it is having its way with me. I need to keep reminding myself, and be convincing about it, that depression is a sickness, not a weakness.
APA Reference
Scott, L. (2013, November 24). The Self-Stigma of Having Depression Never Goes Away, HealthyPlace. Retrieved on 2023, December 10 from https://www.healthyplace.com/blogs/copingwithdepression/2013/11/the-self-stigma-of-having-depression-never-goes-away
Author: Liana M. Scott
I completely related to this as we all probably do. Thanks for writing this up as it's to hear from someone else what you can see yourself. I'll definitely be looking out for this and try to stop it when possible.
Also love your blog will keep reading and watching it to hear your issues and advice. I've also started a blog with the address above about 2 weeks ago and I'm dealing very well, which is what everyone keeps telling me and I'm trying to believe.
Keep up the good work.
Hey Dave. I'm so glad when I hear that someone... anyone... in the great, big "out-there" can related to what I have experienced. Blogging and sharing are great outlets. Thanks.
Oh, yes. Me too. The self-stigma is far harder to subdue than the outside stigma. And it's deadlier.
My mother asks me the same thing, but the subtext is not like your mother's. My mother, 92, disapproves of taking medication and actually doesn't fully believe mental illness is real illness. Instead, she thinks I was doing it "to get attention" when I became ill at 11 -- am am apparently still trying to get that attention 43 years later.
I have internalized her voice, the voice of self-hatred and self-stigma, and it seems I will never stop hearing it. Perhaps I will be able to stop listening to it one day however.
Thanks, Liana. This is the second post of yours I've read. We have a lot in common.
Hi Kathleen. My parents are both advocates of my well being so I am tremendously blessed. I really hope that voice in your head can be quieted. Thanks for taking the time to comment.
I can totally relate to this article. Thank you for sharing it.
Thank you for taking the time to provide your feedback, Ericka.
Leave a reply