My Friend Abuses His Wife! How Can I Help?
Recently I received an email from a man who asked a very good question. He said,
"A friend's wife opened up to me about what I think is verbal abuse. She is talking about leaving him if things don't change, but she's afraid her kids will hate her for leaving their father and their million dollar home. His wife has such a big heart. She's really a wonderful person. I want her to be happy. I am very surprised to know that my friend, such a nice guy when he's with me, abuses his wife this way. What can I do to guide his wife down the right path?"
She put you in a tough spot, eh? The wife of a good friend opens up to you about her marriage. I'm sure you're glad that she reached out, but perhaps you wonder why she reached out to you of all people.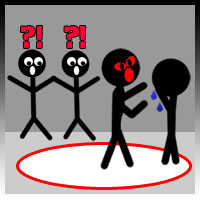 Perhaps she thinks that you may be able to influence her husband to stop abusing her. Maybe she's asked you to keep the conversation private, but doing so makes it tough to bring up the subject to your friend. How the heck are you supposed to help her when her husband acts like such a great guy around you? There doesn't seem to be an in to the conversation with him.
You'll probably never see your friend aggressively abusing his wife, but you may see him ogle other women or perhaps his attitude will come out in jokes. If you see him doing something that shows a dominant attitude toward women or if he speaks disrespectfully about any woman, you could say something like, "Do you think that about your wife, too?"
Until that opportunity presents itself, look for examples of subtle abuse that occurs while you're in both of their company so you can mention it when he answers, "No!" and looks at you like you're crazy.
In reality, your friend and you both may make comments or tell stories that you didn't even think about until your recent contact with his wife. Before you pay attention to his attitudes, pay attention to yours. I say that with loving kindness, as a gentle reminder - not as an accusation.
This is a bad position to put you in, but keep in mind that although it may not look like it, she is isolated from speaking to her own family & friends (if she still has them). She could be severely limited in her ability to reach out by who comes to her house and is available when her husband isn't there.
However, there is another scenario that makes this situation more dangerous for you. It is highly likely that your friend's wife's emotional needs are unmet (verbal abusers use their words to emotionally abuse, too). She could sense a way to meet her emotional needs through you. It is important for you to avoid an emotional affair or any other type of affair with her.
I'm sorry if the idea of an affair insults you; I'm sure you have no intention to have an affair with her. But when you create an attachment to someone, unexpected things happen. If she emotionally attaches to you, it is likely that she will imagine you to be her knight in shining armor. As much as some men wish they could be this for women, the knight is a dream person, not a real one. The reality won't hit either of you until it's too late.
Keep your cool, remember she's vulnerable, and learn how to detach.
Three things you can do right away:
Read the page How to Help An Abuse Victim to take steps that will help you and her.
Tell her about the National Domestic Violence Hotline. The hotline helps anyone (you can call it too!), and it would be a great first call for her.
I wrote a 6-part series of posts called How Do I Stop Verbal Abuse that she may find helpful. Send the link and let her decide what to do with it. It might help you, too.
This should get you off to a good start. Thank you for caring for her, but be careful!
Read part 2 of My Friend Abuses His Wife! Now She's Not Talking to Me
You can also find Kellie Jo Holly on her website, Google+, Facebook and Twitter.
APA Reference
Holly, K. (2012, August 9). My Friend Abuses His Wife! How Can I Help?, HealthyPlace. Retrieved on 2019, July 21 from https://www.healthyplace.com/blogs/verbalabuseinrelationships/2012/08/friend-abuses-wife-1
Author: Kellie Jo Holly