Symptoms of Domestic Abuse and Depression Are the Same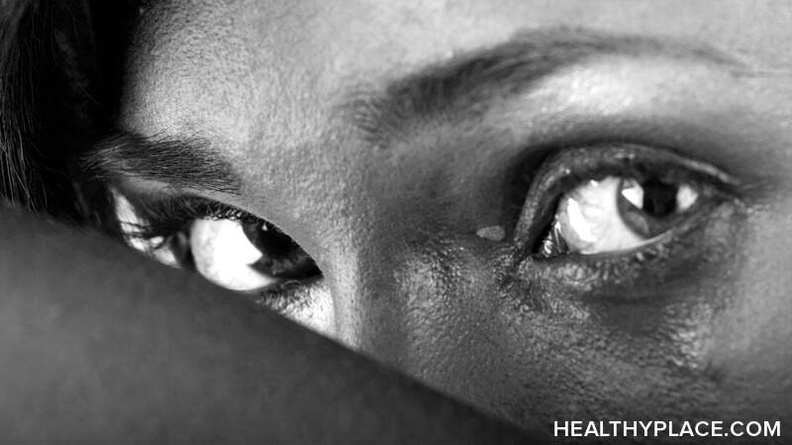 Domestic abuse and depression share many symptoms. A long time ago, I told my doctor how I felt and he instantly diagnosed me with depression. Unfortunately, way back then, I don't think I had depression yet. I think the symptoms of domestic abuse were my problem. Unfortunately, the doctor didn't ask about domestic abuse, just depression. Maybe now, 20 years later, doctors do ask about domestic abuse and depression during the same visit.
I believe my diagnosis of depression was both a God-send and a curse. On the good side, the diagnosis opened up helpful treatments like medications and counseling. The medicines helped, but I didn't attend counseling. My ex-husband does not "believe in therapy," and I wanted on his good side as much as possible. Maybe the truth of both the domestic abuse and depression would have come out in therapy.
So the curse of the diagnosis was that it hid the domestic abuse, even from me. And doubly unfortunately, receiving the diagnosis caused me to believe that maybe my abusive ex-husband had been right all along. Maybe I was the cause of all our marital problems.
Domestic Abuse and Depression Symptoms Compared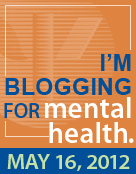 The symptoms for both depression and domestic abuse are eerily similar. Following are several symptoms of depression (D) and then my interpretation as symptoms of domestic abuse.
difficulty concentrating (D) coincides with the abuser's use of repeated interruptions during conversations and when the victim tries to do something for anyone other than the controller.
difficulty remembering details (D) coincides with the abuser's continual remaking of history and insistence that their memories are correct and the victim's are wrong.
difficulty making decisions (D) coincides with the abuse victim's knowledge that nothing they do will be "right" so decision-making becomes tough and anxiety provoking.
fatigue and decreased energy (D) coincides with the unending stress caused by living with an abusive person.
feelings of guilt, worthlessness, and/or helplessness (D) are also ideas a controlling person reinforces in the victim so control is easier to maintain.
feelings of hopelessness and/or pessimism (D) are the resulting feelings an abuse victim undergoes due to the abuser's control of them.
insomnia, early-morning wakefulness, or excessive sleeping (D) are also signs of stress abuse victims experience.
irritability, restlessness (D) can evolve after sleep disruption, anxiety, and other symptoms of domestic abuse.
loss of interest in activities or hobbies once pleasurable, including sex (D) are usually present in abuse victims because the controller limits their pleasurable activities, and sex with an abusive person is not "fun".
overeating or appetite loss (D) along with substance abuse or addictions of any kind can become coping mechanisms used by victims.
persistent aches or pains, headaches, cramps, or digestive problems that do not ease with treatment (D) are physical symptoms of anxiety and stress stress caused by abusive relationships.
persistent sad, anxious, or "empty" feelings (D) are hallmark signs that a victim feels "with no reason" since the abusive partner denies those feelings should exist in the victim because they "have it so good."
thoughts of suicide, suicide attempts (D) also plague many victims of domestic abuse who are ever-increasingly hopeless as to find a solution to their relationship problems and may hear their abuser say "We'd be better off without you. You're a terrible mother!" or similar statements.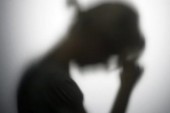 I believe the abuse I suffered at home triggered my depression. The domestic abuse would have happened because of who I married. But maybe the depression didn't have to happen. I probably would have been diagnosed earlier if I didn't go along with my husband's idea that the only thing wrong with me was that I was a spoiled brat.
Treating Depression and Domestic Abuse
Getting out of an abusive relationship was the best way to treat its symptoms. When I lived with someone who exhibited disordered behaviors (abused me), I was destined to fall into his unreal world defined by his control and my confusion. No one can live with the dis-ease abuse causes without developing a disease for his or herself.
To treat depression, I've opted for anti-depressants and therapy when I could get it. I didn't make therapy a priority; I wish I had. I've visited a few therapists at different times, and I've been on and off anti-depressants for many years. I thought that I shouldn't need the medication to be normal, but every time I stopped the meds, I fell into depression. I felt that having this mood disorder was something to hide - a shameful secret that I could overcome if I were stronger, smarter, or a better person (feelings reinforced my my ex-husband who scornfully called my medications "happy pills").
Now I realize that depression and its symptoms are not my fault. Depression is my brain's misguided chemical reaction within the unique confines of my genetics and environment. Try as I might, I can't control what my brain chemicals do (or neglect to do), but I can work with my brain to ease the pain of depression.
Domestic abuse and depression wove a tight knot around my thinking. My abuser's disdain for my "imaginary disease" and refusal to talk about it helped cement the stigma of depression in my thoughts. Now, without the domestic abuse, I feel I can heal from depression like I never would have if I'd stayed in my abusive marriage.
Although I've been on my own for two years, I continue to struggle with depression. I had hoped that the depression would disappear with the abuse, but it seems here to stay. With medication and by taking care of my body, I can ease my depression symptoms. Neither the symptoms of depression nor the symptoms of abuse are enough to keep me down.
You can also find Kellie Jo Holly on her website, Google+, Facebook and Twitter.