Reacting to Insinuations in the Verbally Abusive Relationship
His comment came out of the blue as he readied himself for work. "Some people don't think," he stated calmly. My mind raced to figure out what he was talking about. If I were in a normal relationship, I would have simply asked, "What do you mean, honey?" But I wasn't in a normal relationship.
During the few seconds it took me to connect the dots between his statement and what he really meant, he didn't say another word. He gave me the courtesy of remaining silent as my mind raced to find a way to avoid a fight that evening upon his return.
Once I figured out what he meant, I felt compelled to discuss it with him (defend myself). I said, "That isn't true. I am not irrational, my thinking is clear."
The second I opened my mouth, he became upset and very angry. He yelled at me and blamed me for wanting to start an argument as he was leaving for work. I didn't recall starting an argument; he was the one yelling.
In his deep thundering voice raged that this was just one more way in which I showed my lack of appreciation for what he did for our family - upsetting him on his way out the door was my sick way of manipulating him, wanting him to have a bad day, distracting him for nothing, seeking to make myself more important than his job...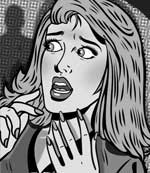 "You don't think, Kellie - for someone so smart you sure are stupid!" The door slammed, truck started, and he was gone.
He was physically gone, but he actually lingered in my mind for the rest of the day. I wished I would have or wouldn't have said this or done that. I replayed the scene time and again because it kept forcing its way into my consciousness, uninvited. The tears I didn't have time to let loose that morning flooded out of me at odd times during the day - doing dishes, dressing, waiting on my boys return from school...
I knew he was wrong. I knew something was wrong when his simple statement could arouse my mind to search for meaning, feeling and response all at once.
I decided on the same answer as always - I am crazy for allowing this to happen in my mind. It was my job to control my actions and thoughts. This was my fault.
Unhealthy Response to Verbal Abuse
As a victim of his abuse, I exhibited unhealthy responses to his loaded comment.
I assumed that the initial comment was about me (probably right, but I assumed it).
I assumed that I could connect the dots between his words and his thought process (again, possibly right, but I assumed).
I assumed that he would listen to reason and acquiesce to my plea that he stop telling me I didn't know how to think.
I assumed that this morning would be different.
In the aftermath, I didn't take into consideration the idea that I was abused, the stress I was under or the anxiety I experienced. I didn't know about intrusive thoughts and the mental/emotional havoc they wreak, and I certainly didn't know how to control them. I wasn't aware of the dynamics of abuse, and I mistakenly believed I was in a normal relationship. I didn't know what I didn't know, and that was my greatest adversary.
For those things, I now forgive myself of my ignorance.I also forgive myself of my inability to react healthfully to his insinuating forms of verbal abuse.
If I Could Do It Again
Sometimes it helps me to revisit mornings like the one described and re-do it in a more healthy way. Imagining myself as powerful then as I am now enables me to answer the question "What if this happens to me again?" Instead of panicking and feeling helpless, I gain the security of knowing I would react differently.
Abuser says: Some people don't think.
I say: What do you mean?
Abuser says: (The abusive person may hedge and divert, not admitting to what they really MEAN because s/he's trying to get you to think poorly of yourself without them having to say a word.) Oh, you know, some people are so irrational that they shouldn't trust their thinking. They need a babysitter.
I say: Oh. I suppose there are some people in the world like that. I try not to spend time thinking of things I cannot control. It must be very frustrating to consider that fact this morning.
Abuser says: (We're going to skip the wordplay and go straight to the blow-up, the tension release, which is what the abuser is after anyway) Oh my GOD! You are so stupid you don't even realize I am talking about YOU! I don't know how I got into a relationship with someone so DENSE. Thanks for sending me off to work worrying about the safety of my children and my home while you're in charge here all day! (And continues the verbal abuse until slamming the door behind him, that action shaking the walls.)
I say to myself: Oh my God. That was freaking scary! He thinks I am irrational and a danger to our kids and home. He thinks I am stupid. This isn't the first time he's said these lies to me. I think he does not care about my feelings and wishes to harm me emotionally and mentally. And was that door slamming a sign of worse things to come? I do not want to be a party to his abuses any longer. I'm going to call the hotline, then my mom, and begin planning the safest way to get out of this relationship. (Knowing myself, I'd probably cry right now to relieve some of my fear and tension.)
And then I would forgive myself for falling into the abusive trap in the first place because I cannot control what another person thinks or does. All I can do is control which people I spend my time loving, and remember the person I protect the most should be myself.
APA Reference
Holly, K. (2012, March 7). Reacting to Insinuations in the Verbally Abusive Relationship, HealthyPlace. Retrieved on 2019, September 22 from https://www.healthyplace.com/blogs/verbalabuseinrelationships/2012/03/react-insinuations-verbally-abusive-relationship
Author: Kellie Jo Holly