Domestic Abuse Victims Think They Are The Abuser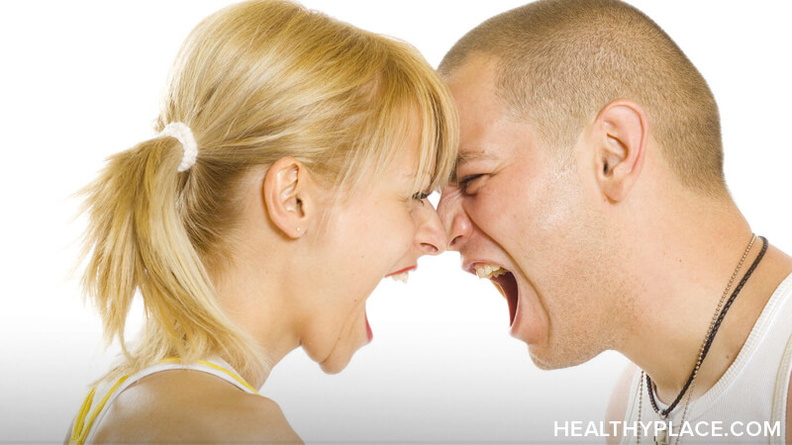 Once upon a time, I didn't realize my ex was abusive. There were many reasons and excuses for deluding myself into thinking the problem was a relationship issue, and that we were equally at fault for the trouble in the marriage.
By the time I came to terms with the fact that my ex was abusing me, that he was an abuser, I also realized that I had abused him, too. I had called him names, allowed my temper to overcome my sense, even slapped his face once and thrown keys at his head hoping my aim would, for once, be perfect.
There are also many reasons and excuses I could give for my abusive behavior. I'm not going to do that though. Instead, I've decided that my actions are my own. No one can make me behave abusively. I've spent many days berating myself for my behavior, and decided, in the end, to forgive myself and learn and do everything I can to create a mentally and emotionally healthy life for myself.
Am I, a Domestic Abuse Victim, the Abuser?
The last thing I wanted to do was hurt another person in any way, but I knew that I had hurt my husband. I recognized that I could become enraged when I felt backed into a corner, and I wanted to know if I was imagining the corner.
Beverly Engel wrote The Emotionally Abusive Relationship: How to Stop Being Abused and how to Stop Abusing to help both victims and abusers change their behaviors. I rarely embodied the role of "the abuser" in my relationship, yet the fear that I was the one causing the problem prompted me to take a hard look at Ms. Engel's ideas about who could become abusive.
Indications That I May Be Abusive
Beverly Engel wrote "...abusive people tend to have certain characteristics that can predispose them to becoming abusive" and they are:
You feel you must control others, the situation, et cetera,
You blame other people for your problems,
You find empathizing with other people is difficult or impossible,
You feel possessiveness and/or jealous,
You tend to be emotionally needy and/or have low self-esteem,
You have poor impulse control,
You fear being abandoned by those you love,
You feel angry or suppress your anger,
You stereotype or objectify others,
You have high levels of stress and arousal.
On that list, I identified with numbers 5, 6, 7, 8 and 10. Low self-esteem resulted from being unable to trust my own judgment. My lack of impulse control while shopping caused me to visit the returns desk as often as the checkout lanes. I worried that my husband would abandon me, suppressed my anger, and, of course, felt extreme stress to the point of exhibiting most symptoms of posttraumatic stress disorder.
I felt alarmed to find that half of the characteristics of an abuser described me! Immediately I embarked on a self-improvement strategy to address those issues. I set SMART goals, and over the course of just a few months, I actually reigned in my spending and made significant headway in learning to trust myself, manage my temper, and come to terms with the abandonment I felt as a child. The stress level, strangely enough, did not decrease no matter how I tried.
I knew I was becoming a better person. Unfortunately, the same old situations and arguments kept popping up. I excused myself from more conversations than I engaged in with my husband and the gulf between us widened.
The Other Side of Being an Abuser Is Being a Victim
One day, I picked up Ms. Engel's book again and found her list of "Personality Traits That Set One Up for Abuse." In my alarm (I was half an abuser for goodness sake!), I didn't pay close attention to that list because I'd convinced myself that I was responsible for the abuse.
Amazingly, the character traits Ms. Engel listed came eerily close to the issues I'd been working on the past few months. Come to find out, I may have set myself up for abuse because I had a tendency to:
avoid confrontation at almost any cost (resulting in my suppressed anger)
believe things are better than they are (it was actually better for me to be the abuser because I could eliminate the problem! Denial...)
feel responsible for others (sacrificing my dreams for his career goals, lifestyle, etc.)
blame yourself for relationship problems (all my fault!)
be afraid of being alone (abandonment: how could I live without him?!)
doubt your perceptions and intuitions (true - I wanted a protector in the beginning because I didn't trust myself anymore)
make excuses for other people's behaviors (to the point of casting myself as abuser and him as victim)
believe that love automatically makes you a better person (I hoped my love for him would make him want to be nicer to me)
There is no doubt in my mind that playing the role of victim in my marriage resulted in my abusive reactions. I also believe that admitting I was abusive set me on the road to eliminating my relationship-manufactured behaviors.
In my mind, my abusive behaviors were a false presentation of who I was. I had learned, created, and used those false behaviors as protection. When I eliminated my "protective shield" and revealed my true self again, I was able to see more clearly the solution to our relationship problems.
For me, solving the problem meant I had to leave the marriage. If I was the only one willing to change, then there would be no change for the two-way street called "our relationship".
-----
Connect with Kellie Jo Holly on facebook or twitter and read more at Verbal Abuse Journals
APA Reference
Holly, K. (2012, January 9). Domestic Abuse Victims Think They Are The Abuser, HealthyPlace. Retrieved on 2019, July 23 from https://www.healthyplace.com/blogs/verbalabuseinrelationships/2012/01/victims-think-they-may-be-the-abuser
Author: Kellie Jo Holly