Verbal Abuse Disguised as Love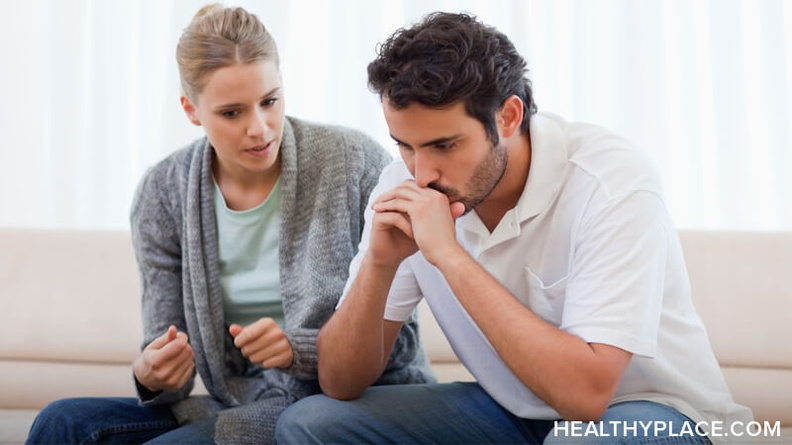 Verbal abuse is confusing. I sometimes blame myself for not hearing our conversations for what they were. Conversations is not the right word. A conversation is a flow of words and thoughts, back and forth, between two people - a dialogue. But my ex-husband and I didn't have dialogues, we filled our communications with monologues in which we looked at one another, directed our sometimes screaming voices at one another, but definitely did not converse.
Verbal Abuse Is Confusing
Of course, none of these monologues solved any of the issues we wanted to solve, so we both left the monologue feeling . . . what did he feel? I don't know what he felt, but I felt defeated.
He told me what I was doing, what I was thinking, who I was being. He defined me.
I felt attacked. I defensively argued my position that I wasn't being, thinking or doing any of what he said I was. All I could think was: no, I wasn't being selfish; no, I wasn't remembering wrong; no, I wasn't doing that to intentionally make him angry. I felt he misunderstood me 95% of the time. I felt he didn't know me at all.
Verbal Abuse Results In "If Only I..." Thinking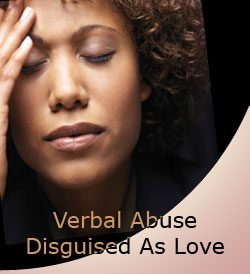 I felt that his low opinion of me, that his analysis of who I was, was off mark. I made it my mission to make him understand that I was his greatest supporter, his best friend, the one person in this world who would do anything for him.
I thought that after he knew I loved him, then maybe, just maybe, he would see that I wasn't a drama-queen, a liar, a man-hater, a naive little woman who didn't ever quite comprehend the reality of the big bad world. If I could only make him see ME . . . then maybe he could love me. Maybe we could stop the fights and get to the love. Maybe we could be a team.
But that was not to be. The only time he seemed to feel close to me was when I completely agreed with him in thought, emotion, and action. If I appeared to be agreeing with him, then I was relatively safe from his anger and rage.
So, over time, I learned that I had to be him in order to please him. The problem with being him is that I could not ever be someone I am not. Try as I might, my own personality and beliefs seeped into our monologues at the worst possible moments. It was horrific to watch his face change to disgust at something I said or did. I had forgotten to be him. I let myself slip out.
Verbal Abuse Isn't Just About Name-Calling
If this feeling seems familiar to you, then I hope you begin researching verbal abuse. You'll notice that not once in my description of my marriage did he call me a particular name. He didn't usually throw around words like fat cow, stupid, lazy, or any of their obscene synonyms that are somehow more than a monosyllabic slap.
I don't mean to imply that his style is more or less hurtful than a name-caller's style of abuse. I mean that verbal abuse is composed of a symphony of put-downs and assumptions and even "I care about you so I'm telling you this" statements that flow so smoothly from the abuser that the victim cannot always tell they are abusive.
Especially when the abuser is your lover, your friend, your mother, your child . . . the idea that your loved one could be abusing you is so far-fetched from your perception of reality that the horribleness is disguised by your own mind as love.
See Also:
You can also find Kellie Jo Holly on her website, Facebook and Twitter.
*Both women and men could be abusers or victims, so do not mistake my pronoun choices as an implication that one gender abuses and the other is victimized.
APA Reference
Holly, K. (2011, January 20). Verbal Abuse Disguised as Love, HealthyPlace. Retrieved on 2019, August 25 from https://www.healthyplace.com/blogs/verbalabuseinrelationships/2011/01/verbal-abuse-disguised-as-love
Author: Kellie Jo Holly