My Ex Physically Abused Our Son
Last Friday, my oldest son experienced verbal and physical abuse at the hands of his father (my soon to be ex husband). The father with whom the court sent him to live, the father he thought he could trust above everyone else - that father cornered him, jerked him, poked his forehead and chest, then put him to the ground and choked him.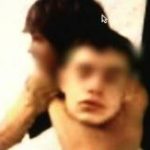 I received the call from my ex about 20 minutes before my pick-up time. He said, "You'd better get here now. Marc says he's leaving and never coming back." I assumed he and Marc had argued and Marc decided to "run away" to my house. I told my ex, "I'll pick him up because it's my weekend, but we're not going to let him run from you over this. He'll be back to you on Sunday."
Abuser Has a Sob Story
I hurried over to the house to find my ex crying on the front porch. He began telling me the story as Marc carried his things to my car...but when my ex said, "I put him on the ground and put my forearm across his neck - He said I was choking him but I wasn't choking him 'cause he could talk" ... well, that statement changed it all.
I stayed calm, thinking that if he would tell me that, then he would tell me more. There was really nothing more. I told my ex that he was wrong, that he never should have put his hands on our son, no matter what the boy said.
Both of our children were safely in my car. I didn't act angry; I merely walked away, spoke to my ex's father for a minute, and left with our boys.
Verbal and Physical Violence
The event occurred (according to his father) because Marc said, "At least I go to school, at least I TRY!" To this, his father yelled, "If you're going to compare yourself to those other pieces of s-it, then you may as well be one too!"
Among the verbal abuses thrown at my son was "If you were a soldier, you'd be dishonorably discharged" and "you little motherf-er".
During the verbal abuse, Dad physically confined Marc to the kitchen and poked him on the forehead and chest. Marc felt he was being provoked; he tried to leave. Dad told Marc if he went through that door he would put Marc on his face in the yard.
Instead, after Marc shut the door, Dad put him on his face in the kitchen.
While Dad pressed Marc's his neck into the floor, Marc saw his grandfather walk past the glass door. He banged on the glass until his father restrained his arm. His grandfather kept walking.
Marc couldn't breathe for a time when he was "not" being choked. When he could breathe, he said, "Dad you're choking me!" and Dad said, "You're talking now, aren't you? You've never been choked!"
My son was able to get up when he promised to stand there and listen "like a man." He had to say a statement verbatim before Dad let him up. He got it wrong the first time. When standing, Marc tried to phone me for help and his father grabbed the phone and threw it against the wall.
Marc's younger brother heard it all from outside the glass door, but was too afraid to poke his past the frame to watch.
Marc attempted to walk away from the situation four times (twice before and twice after "not" being choked), but Dad wouldn't allow it.
Child Protective Services
That night at my house, I knew I had to tell someone. The cops were out of the picture - Marc didn't want to be involved in a police report. I didn't want to call Child Protective Services (they hadn't been able to help before!), but I felt they were my only option. I gave the woman my name and told her I hadn't been present, but I believed my son. She didn't know if they would take up an investigation or not due to Marc's age (he's 17).
They did take the case up for investigation. The boys were interviewed at school. This morning we met at my ex's house for a family sit-down with our case worker. My ex acted like himself. The case worker seems to be a smart cookie.
Tonight, our boys are safe and laughing. They're having a good time together. I am enjoying their company. I don't know exactly what tomorrow will bring, and I wish this hadn't happened to Marc. Yesterday, Marc said that although he saw it happen to me, he didn't really comprehend it.
He told me, "If it hadn't happened to me, I don't think I would ever have believed you, Mama."
APA Reference
Holly, K. (2011, April 14). My Ex Physically Abused Our Son, HealthyPlace. Retrieved on 2019, September 15 from https://www.healthyplace.com/blogs/verbalabuseinrelationships/2011/04/it-happened-to-him
Author: Kellie Jo Holly
But not a good choking.

And the father did what he thought was best for himself. He lost control over the boy and hoped to rein him in. Insolent or not, 17 year old boys should be able to hold an opinion that differs from their father's opinion without being choked out.
Honestly, I am appalled by your response and hope to God that you dont have children of your own!!! Ya, I think we all can remember times when we needed a good ars chewing, absolutely or even a swift crack on the ars! But for you to defend some [moderated] for choking out his son, is digusting! Is that how you want your grandchildren raised? What is off putting is you defending that man, who if you read the whole thing, abused his wife.. so way to go you to defend the abuser.. it is no wonder women are so in fear of reporting abuse, when [moderated] like you justify it!
Leave a reply