PTSD Rates in Veterans High, But Not in All Groups
There is a prevalent, and false, assumption that all veterans have posttraumatic stress disorder (PTSD), or, perhaps, all veterans who have experienced combat suffer from combat PTSD. This, though, is not the case. A recent study of United States veterans now shows quite clearly that while the rate of PTSD in veterans is high, the PTSD rate in veterans is not nearly as high in all populations.
A New Study on PTSD Rates in Veterans
In the recent study, Posttraumatic Stress Disorder in the US Veteran Population: Results From the National Health and Resilience in Veterans Study, the probable rates of PTSD among US veterans was determined. This study is important because while rates of PTSD in veterans has been studied before, this new study is likely more accurate as it was made up of a large representative sample of US veterans.
PTSD Rates in Different Veteran Groups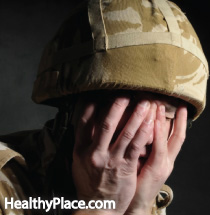 Overall, the lifetime rate of probable PTSD in veterans was found to be 8% with current PTSD found to be at 4.8%. This is compared to the general US population lifetime rate of PTSD of between 6.4-6.8%. As we have always known, PTSD occurs more frequently in veterans than in the general population. But, perhaps, the more educational part is how probable lifetime PTSD rates in veterans is broken down by sex and age:
Probable PTSD was found in the lifetime of 19.4% of female veterans.
6.8% of male veterans had probable lifetime PTSD.
The highest lifetime rates of PTSD were found among veterans age 21-29 (23.8%).
Rates of lifetime PTSD among veterans age 30-59 were about even at approximately 12.8%.
Rates of lifetime PTSD among older veterans (age 60+) was the lowest at 3.5%.
While the overall number of 8% is not particularly remarkable, certainly, the numbers in some of the above populations are almost shocking. And among those with PTSD, suicide is a real concern (Suicide Rates Among Veterans Alarming -- What Can We Do?).
What Protects Some People Against the High Rates of PTSD in Veterans?
In the study, it was found that social connectedness and secure attachment were protective factors against PTSD. In contrast, rates of PTSD were heightened among veterans who had experienced multiple traumas or combat, or were drafted into the military. It's important to note that some of the veterans with PTSD did not experience combat meaning noncombat-related traumas also play into the PTSD rates in veterans. The study suggests, and I would tend to agree, that US veterans may benefit from interventions designed to bolster social connectedness, resilience, and community integration. This conclusion is very helpful when looking at creating policy to combat this mental illness in the military population.
You can also connect with Dr. Harry Croft on his website, Google+, Facebook, Linkedin and Twitter.
APA Reference
Croft, H. (2015, January 28). PTSD Rates in Veterans High, But Not in All Groups, HealthyPlace. Retrieved on 2023, December 6 from https://www.healthyplace.com/blogs/understandingcombatptsd/2015/01/ptsd-rates-in-veterans-high-but-not-in-all-groups
Author: Harry Croft, M.D.