Treating Anxiety Author Bids A Happy New Year And Fond Farewell
As 2015 winds down, let me start by wishing all of you a Happy New Year in 2016 from the Treating Anxiety Blog. 2015 was difficult for me, and I can't say I'm sorry to see it go. But, I also end it on a hopeful note due to all I've learned about myself, living with anxiety, and simply being human. Which, sadly, leads me to my second wish. I also wish you all a fond farewell. This will be my last post from Treating Anxiety.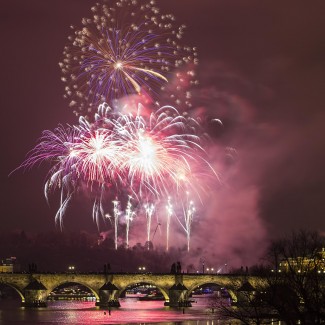 Blogging here has been an honor and a privilege. Thank you to all my readers, all the awesome people at HealthyPlace, and, most especially, a heartfelt thank you to Natasha Tracy from the Breaking Bipolar Blog. Thanks for giving me a chance to prove I could be a blogger, and for making me a better writer in the bargain.
Some Posts I Wish I Could Write for Treating Anxiety in the New Year
Due to my "real job," time constraints, and also the fact that I'm motivated to procrastinate, there are some blog posts I never got around to. Here's some stuff I would write if I were going to still be around:
5 Useful Tips for Managing Anxiety During Midlife
What Love Life?: The Impact of Social Anxiety on Romance
3 Realities You Wish You Could Tell Your Younger Self About Anxiety
Man, those would've been some great posts. I'm bummed out that I'll probably never actually write them.
Some Helpful Anxiety Resources for the New Year
Here are links to some anxiety resources that I've found helpful. They include material from HealthyPlace as well as other websites. I hope they also prove useful to you in the coming year:
Even though it makes me sad, I know it's time for me to move on. So, I wish you all a fond farewell and a very Happy New Year from Treating Anxiety.
You can find Greg on his website, Twitter, Google+, Pinterest, and Facebook.
APA Reference
Weber, G. (2015, December 31). Treating Anxiety Author Bids A Happy New Year And Fond Farewell, HealthyPlace. Retrieved on 2023, November 28 from https://www.healthyplace.com/blogs/treatinganxiety/2015/12/a-fond-farewell-and-happy-new-year-from-treating-anxiety
Author: Greg Weber
Good luck, I'm working on saying goodbye to my past, I have worked on my PTSD for the last 4 years. You can't live in the past, I lost a relationship, I worked on our almost every day. Hopefully that to will change .
Best wishes on your next journey you will be missed by me cause I've learned a lot from you dealing with my anxiety
MEKhappyface
Leave a reply