Use the Power of Compassion in Tough Times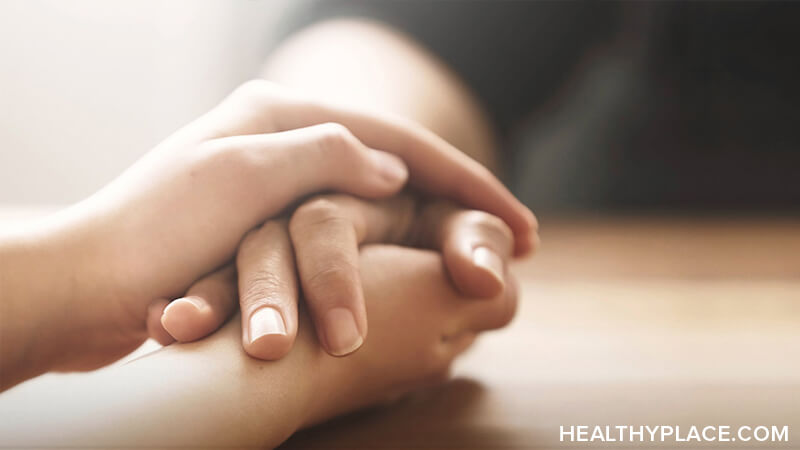 People underestimate the power of compassion for getting through tough times. Sure, facing hard realities is a necessary part of recovery and tough love can be helpful. But, ultimately, I believe it's the power of compassion that'll help us through the hardest moments and that it's the most beneficial to those with mental illness and their loved ones.
People Understand the Power of Compassion
When I was driving home from work last week, I noticed police cars blocking a local bridge and rerouting traffic from the highway below. Immediately, I thought the worst — that someone had died by suicide. Sadly, that's what happened. Six days later, another person died by suspected suicide from that same bridge.1
I expected a wave of stigmatized response, especially in online news posts. I anticipated accusations of cowardice, weakness, and attention-seeking. After all, these are the typical responses to mental health-related tragedies, especially suicide.
Rather, I've seen the opposite. Instead of stigma, people have been showing a wealth of love and support to the family and others who are struggling with mental illness. Signs and notes now adorn that bridge, demonstrating to others they are loved while offering words of encouragement and phone numbers for local suicide resources.2,3 That's the power of compassion at work.
Small Gestures Show the Power of Compassion
When I was first beginning to plan my suicide, I came across a note in my university's bathroom. It was just a hand-written sticker on the toilet paper dispenser, but at that moment, it was something I needed. I peeled it off and took it home; I still have it to this day. I wouldn't call it my salvation, but it helped.
All it takes is a single moment of compassion to change the trajectory of someone's path, and I believe those notes left on the bridge can be that for someone. If someone finds a resource they didn't know existed before or feels heard in a way they haven't before, then that's wonderful ("What to Say to Someone with Depression").
Compassion Is Powerful
Stigma doesn't help people. Shaming people for their illnesses and pretending they can control whether or not the illness exists does nothing more than foster silence. It's compassion that really makes an impact in people's lives. Hearing or reading that, despite the brokenness we feel, there is still something to hang onto can be the difference between life and death.
I encourage you to practice compassion not only in the wake of suicide but in your everyday lives. Even a small note left behind for someone to find can have a powerful impact.
If you feel you may hurt yourself or someone else, call 9-1-1 immediately. 
If you need help with distressing thoughts (including suicidal thoughts), call the National Suicide Prevention Lifeline at 1-800-273-8255 
For more information on suicide, please see our suicide resources here.
Sources
Benner, Allan, "2 deaths at Burgoyne Bridge in 6 days". St. Catharines Standard. Oct. 11, 2018.
Clock, Cheryl, "This Isn't the End of Your Story". St. Catharines Standard. Oct. 07, 2018.
Facebook, Bridges of Hope. Accessed Oct. 09, 2018.
APA Reference
Barton, L. (2018, October 12). Use the Power of Compassion in Tough Times, HealthyPlace. Retrieved on 2023, November 30 from https://www.healthyplace.com/blogs/survivingmentalhealthstigma/2018/10/use-the-power-of-compassion-in-tough-times
Author: Laura A. Barton
Compassion is truly one of the most important skills we can all use and cultivate more of. As care givers, as friends, parents, co-workers etc. we can truly all benefit from more compassion. Often times one of the most effective forms of compassion is sitting and truly listening -- not listening to respond or to fix, but simply listening and holding space.
Leave a reply