Romanticizing Mental Illnesses Feeds Mental Health Stigma
Sometimes it feels like romanticization of mental illness is everywhere these days and this feeds mental health stigma. Whether it's some trendy post about what mental health "is" or how people with mental health illnesses "actually" are, it's pretty likely to be somewhere in the social media sphere. One of the ones that bothers me the most is the one about "being strong for too long." I'll elaborate on how it romanticizes mental illness and feeds mental health stigma.
What Does Romanticizing Mental Illness Look Like?
Quite simply, romanticizing mental illness is the creation of some fanciful or glamorous portrayal of mental illness. The media has been cited as being particularly awful in creating this distorted image of mental health that sometimes is somehow appealing to people and makes people covet a mental health disorder because of its apparent trendiness (Mental Illness and Crazy: Creativity and Medication). On websites like Tumblr, in particular, mental illness has seemingly become more of an aesthetic than anything else.
True, many people are just trying to find an outlet to finally get out how they feel inside. For them, that could be taking quotations that mean something to them and putting them on a black and white photo or drawing an image the shows the chaos in their minds.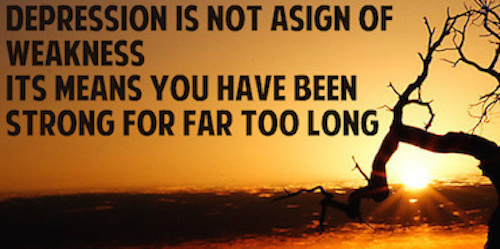 As I said at the beginning of my post, one post that I have seen that I'm not fond of is the one that goes on about depression not being a sign of weakness (this part I agree with 100%) but a sign of being too strong for too long. Presenting depression in this overly generalized way is, to be blunt, wrong and completely ignores the way depression actually works and ignores the brain chemistries and whatever else is going on within our brains to cause depression (What Are The Symptoms of Depression?).
Romanticizing Mental Illness Perpetuates Mental Health Stigma
What posts like the "strong for too long" one do is create this fallen hero image. It creates a story of someone who has continuously fought and in a way lost because the depression won in this scenario. Other mental illness romanticizing creates the same sorts of images and stories and even ideals.
Ultimately, it is not how mental health works, which adds to more confusion and misconstrued ideas that lead to mental illness stigma. When we latch onto these images and these stories, we deny ourselves and others the opportunity to see the disorder, and, more importantly, the person who is struggling with it, for what and who they really are. When we create stories, we kind of detach ourselves from reality, which I would suggest puts us in line to ignore the actual issues that we face (Mental Illness Myths And The Damage They Cause).
What to Do Instead of Romanticizing Mental Illness
What we should do is look at mental illnesses for what they are. We should look at the people who have them for who they are. For those of us trying to express our mental health struggles, we should also try to recognize our disorders and our symptoms for what they actually are. In doing so, we can come to better understand our disorders, which could lead to proper treatment. Instead of being lost in a sea of stories and fancy, we can get the actual help that we need.
You can find Laura on Twitter, Google+, Linkedin, Facebook and her blog; also see her book, Project Dermatillomania: The Stories Behind Our Scars.
APA Reference
Barton, L. (2015, November 12). Romanticizing Mental Illnesses Feeds Mental Health Stigma, HealthyPlace. Retrieved on 2019, August 25 from https://www.healthyplace.com/blogs/survivingmentalhealthstigma/2015/11/romanticizing-mental-illnesses-feeds-mental-health-stigma
Author: Laura Barton
Hello Anya,

Thanks so much for your comment. I really appreciate the time you took and that you shared a part of your story. This is exactly the kind of thing that I was getting at with my post -- about the danger of portraying a "beautiful struggle" and all that kind of thing -- so it's good to see that it's not completely fallen short of that. I've worried that I didn't word this blog quite right considering some of the backlash I've gotten from it.

Thank you again.

Laura
Hi Wesley,

Thanks for taking the time to comment. My condolences for the loss of your mother and the struggles she faced. I'm glad that you're educating yourself about mental illness and breaking down some of the stigma, and as you can probably guess, I completely agree. Mental illnesses need to be recognized for what they are and have proper treatment administered. Mental health definitely needs more honest conversation and looking at things factually can help to break through the glamour and stigma.

Thanks again for commenting. I really appreciate it!

-Laura
Hello Diana,

I wasn't trying to insinuate that writing about what you're feeling is bad. Nor that people shouldn't be creative and find an outlet. That would be completely hypocritical of me considering writing is my life and the fact that I have very often used a journal to help me sort through my own chaotic thoughts.

What I was trying to get at with this post is some of the little posts that people share seem to miss the mark on what mental health is like and instead creates this kind of fanciful image. I am speaking directly about these kinds of posts that get shared everywhere and was trying to offer a different perspective on them. As I say in this post, the "strong for too long" quote in particular bothers me because depression doesn't necessarily work on those standards and these messages ignore the inner workings of the brain that go into what's happening.

I'm not meaning to say that <em>all</em> of those posts are bad and that people shouldn't express themselves, but when these posts are used for an overarching view of mental health as opposed to a personalized view or experience, I feel like it becomes a potential gateway for people outside of mental health understanding to perceive what we're going through as something not to be taken seriously.

I hope that helps explain my blog a little more.

Thanks for the feedback, I appreciate it.

-Laura
Leave a reply