When Friends Don't Accept Your Mental Illness
If you told one of your friends that you had cancer, there is almost no chance that they would respond with 'oh, it's probably all in your head.' But for some reason, that is a common sentiment when it comes to mental illness. Especially the less 'in-your-face' ones such as depression and anxiety.
You've told them about your mental illness but they deny that it's real. If they do accept that it's real, they deny just how serious it is. Or even worse, they mock others with a mental illness, all the while not realizing that they are in fact mocking you as well.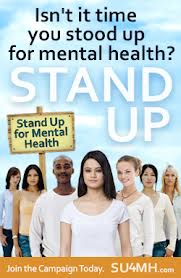 Are They Really My Friends?
There comes a point in a relationship such as this where you have to ask yourself 'are they really my friends?' Only you can answer this question. And it's a tough one to answer.
When I got my mental health conditions under control, I noticed that a lot of friends sort of disappeared. They were no longer interested in hanging out with me if I wasn't going to be doing all the ridiculous things I used to do. If I wasn't living on the edge, they had no use for me.
But when I started to meet new people, who accepted me for who I was, I knew that I had found my real friends. They are people who knew my past and believed in my future. People that I guarantee would come visit me if I should ever be admitted to a psychiatric hospital again. They are people that would challenge someone who was mocking a person with a mental illness.
Have You Stood Up?
If you have recently 'stood up' and disclosed your mental illness and lost a friend, then that is enough proof that they were never your friend to begin with. No one would abandon a friend for having cancer and a true friend would never abandon someone for having a mental illness.
If you have faced a lost friendship due to disclosing your mental illness, please do not despair. It says a lot more about them than it does about you.
You are a strong, caring, passionate and loving person. And there are many people in the world who would count their lucky stars to call you a friend.
Go and find these people. You deserve to be treated with compassion, respect and understanding.
After all, you have a mental illness.
You're not crazy.
Chris Curry's website is here. Chris is also on Google+, Twitter and Facebook.
APA Reference
Curry, C. (2013, March 4). When Friends Don't Accept Your Mental Illness, HealthyPlace. Retrieved on 2019, September 23 from https://www.healthyplace.com/blogs/survivingmentalhealthstigma/2013/03/when-friends-dont-accept-your-mental-illness
Author: Chris Curry