The Other Side of Psychosis
I've survived episodes of major depression, mania and anxiety, but none of them changed my perception of the world as much as my three month battle with psychosis at the age of 18.
All mental illness carries its own difficulties and stigmas, but I feel that there is a special sort of stigma that is created by psychosis. Whereas most mental illnesses are hidden, psychosis is in your face, impossible to overlook, unpredictable. It changes you and changes the people around you.
A Special Sense of Purpose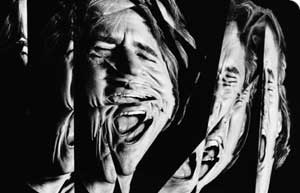 Every person experiences psychosis in their own unique fashion but some of symptoms I experienced during my drug induced psychosis were feeling as though my thoughts were not my own, that I had supernatural powers, that I was communicating on a higher level than others, that I was chosen and had a special purpose in the world, auditory hallucinations, visual hallucinations, extreme arrogance and self-importance, intensely argumentative, flight of ideas, intense anxiety and panic attacks, extreme paranoia and quite simply feeling as though my mind was literally breaking into pieces.
The most difficult thing for me about overcoming psychosis was admitting to myself that all those things I saw and felt were not actually real. The world wasn't actually as bright and colourful as I thought it was. I didn't actually have supernatural powers. I could not simply make a phone call and have a helicopter pick me up. I was not actually a famous rock star with legions of fans who would drop everything to fight on my behalf. I wasn't the most intelligent person on Earth or the best writer the world had ever seen.
The Walls Start Closing In
When the smoke finally started to clear, I was violent, out of control and locked in a highly secured psychiatric hospital. I had no money, I had no job and most of my friends were terrified of me. I was lost, confused and alone.
Psychosis is mental illness in its most extreme form. And it is heavily stigmatized against for people in general do not understand it.
Part of this reason is the linguistics of it all. Psychosis, psycho and psychopath are very similar words and I feel that many in the general public use these terms interchangeably. People also seem to think that once you 'lose your mind' that you can never get it back.
Living in Linguistics
Over the years, I've often got the impression when I tell someone I suffered from psychosis that they felt as though I could again just lose my mind at a moment's notice. That I was a ticking time bomb, just waiting to go off. But this could also be due to our natural tendencies to mind read, and self-stigmatize.
I'm happy that I experienced psychosis. I believe that I understand the world and myself just a little bit more as a result of it. I feel that I've experienced what the human mind is truly capable of.
The more people who have suffered psychosis come out of the shadows with their stories, the better we can fight the stigma of psychosis. Yes, it can be a terrifying prognosis, but recovery is entirely possible.
Even though the world isn't quite as bright and shiny as I thought it was, reality is a great place to live in.
The Completely in Blue website is here. Chris is also on Google+, Twitter and Facebook.
APA Reference
Curry, C. (2012, November 12). The Other Side of Psychosis, HealthyPlace. Retrieved on 2019, May 24 from https://www.healthyplace.com/blogs/survivingmentalhealthstigma/2012/11/the-other-side-of-psychosis
Author: Chris Curry
Hi Brenda,

I understand your frustration, but unfortunately I cannot speak about medication issues as I am not a doctor. I urge you to get a second opinion if you believe he is experiencing side-effects from the medication. Apologies that I cannot go into more depth.

Chris
Hi Caroline,

Thank you so much for sharing. I can't even begin to imagine your suffering. I do hope that you get another horse, but of course, it will only happen when you are ready. Thank you, again, for sharing this deep and personal experience. I wish I had some monumental advice for you, but I do not. Just keep on, keepin' on. And remember what made you happy . . .
Thank you for the comment Dr. Ferati. I appreciate your passion for the field!
Leave a reply