Let's Talk About Suicide and Save Lives (Trigger Warning)
We need to stop the stigma of suicide to save lives. Otherwise, more people could buy a gun, put the barrel in their mouths and pull the trigger. Wrap a noose around their neck and push out the stool. Jump off a bridge into frigid water. Jump off of a building. Lay down on a train track. Purposefully inject themselves with a lethal dose of heroin. Take an entire bottle of certain prescription medications. There are tens of ways that people succeed at suicide every day. But how often do you hear about the awful truth? We must talk about the suicide, suicidal ideation and ways to end them to save lives.
If you are considering suicide, please call The National Suicide Prevention Line at 1-800-273-8255.
Talking About Suicide Scares Us, But It's No Excuse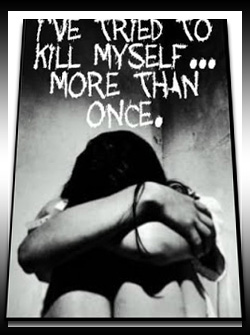 Suicide. The word itself sends shivers down our spines. Suicide. Nearly everyone is uncomfortable saying it, and nearly everyone is terrified of hearing it. Suicide.
But maybe if we weren't so scared of talking about suicide, it wouldn't happen at a rate of over one million suicides in the world per year, according to the World Health Organization. That means that every 40 seconds, someone dies by suicide. The number of suicide attempts is incalculable, but one can assume, is astronomically high.
By the time you finish reading this article, at least two people in the world will have made the ultimate decision: the most definitive decision that anyone could ever make. You'd think that this would be something that we would be able to talk about openly now. But, we don't. Or can't, due to mental illness stigma.
I Want My Suicide Attempt to Help End Stigma, So I Talk About It
I attempted suicide when I was 15 (Reasons for Suicide: When Your Brain Lies to You). I didn't start talking openly about it until a year ago, another fifteen years later. Still, a part of me squirms and screams from the inside out when I actually say it out loud or even type the words on my laptop. But why?
When I attempted suicide, I was hospitalized in a medical hospital to treat the overdose and then hospitalized in a youth psychiatric hospital to assess my mental state. Therefore, I missed quite a lot of time in school. But I had a story. My parents had a story. My brother probably had a story. I wouldn't doubt that my dog even had a story.
Almost everyone has a story when it comes to suicide. Why don't we tell it more often?
Have you ever read an honest obituary about someone who succeeded at suicide? I haven't. No one wants to admit that someone they knew killed themselves. Everyone is ashamed. Everyone is embarrassed. The stigma surrounding suicide, and mental illness as a whole, must end. We must tell what we know about suicides. We must tell our suicide stories to end the secrecy and shame about discussing the thought of ending our lives, let alone the sad truth about the suicides of people we've loved.
Suicide Happens, Every 40 Seconds, And There's A Lot We Can Do
It's time to step up and speak out. People commit suicide every forty seconds of every single day and there are likely thousands contemplating it at this very second. And we need to stop pushing it under the rug.
We need to start talking about each and every single case. We need to get better at noticing the warning signs of suicide. We need to better protect those who display suicidal ideation. We need trained mental health counselors in schools who can better spot the warning signs. We need to more carefully monitor the elderly for signs of major depression. We need public education campaigns about depression and suicide. We need more access to emergency psychiatric care. We need to lessen the fear of asking for help.
We have a lot of work to do.
But before we can do any of these things, we have to get over our fear of the word.
Suicide.
Talk about suicide today with someone you know. And in a few days, talk about it again. A few days after that, talk about it to someone else. Those people will be more willing to talk about suicide in the future merely because you were brave enough to do it. Eventually, we will eliminate the stigma of suicide so we can begin to work on the solution - the wonderful alternatives to pulling a trigger.
If you are considering suicide, please call The National Suicide Prevention Line at 1-800-273-8255.
The Completely in Blue website is here. Chris is also on Google+, Twitter and Facebook.
APA Reference
Curry, C. (2012, September 10). Let's Talk About Suicide and Save Lives (Trigger Warning), HealthyPlace. Retrieved on 2019, August 21 from https://www.healthyplace.com/blogs/survivingmentalhealthstigma/2012/09/the-stigma-of-suicide
Author: Chris Curry