Suicide and the Selfishness Stigma
There is a stigma around suicide that says suicide is selfish. Despite all the conversations everyone has started about mental illness, despite any awareness campaigns and openness from people who have struggled, suicide is still a touchy subject (#SU4MH). It's avoided and it's looked down upon. Most commonly, suicide is called selfish. How can someone kill themselves and not think about the people left behind? How can someone only think of their own pain? But the idea that suicide is selfish is a product of stigma.
Suicide Is Not a Selfish Act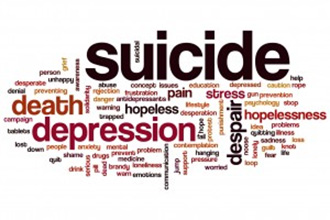 Anyone following my posts here on HealthyPlace might have noticed that I don't like a lot of "meaningful" phrases. I'm sure for some people they're wonderful, but for me, what I see is a shiny cover to a flawed saying.
Today I'm picking on "suicide doesn't take away the pain, it gives it to someone else." The number one reason it bothers me is because it is a guilt trip. The number two reason is because it indicates a lack of understanding of how suicide works.
I was suicidal from my late teens into my early 20s. There were various reasons I didn't end up taking my life, the final one being that I started to find hope and realized that I didn't have to live in the whirlwind of my struggles. I began to understand that my mental illnesses were lying to me about how broken I was, and I worked to quiet the voice in my head that constantly drummed out suicide, suicide, suicide, suicide. It went from literally being the only consistent thought in my head, to a whisper, to only an occasional appearance that had no guts to it.
The struggle and complete disorientation we feel with our minds when we're suicidal is what makes it nearly impossible for it to be a selfish act. Yes, I was thinking about ending my own pain, but I was also thinking about how my death would completely change the lives of the people I loved -- for the better (Going From Suicidal Thoughts To A Suicide Attempt).
A Google search lists the definition of selfishness as, "being concerned, sometimes excessively or exclusively, for oneself or one's own advantage, pleasure, or welfare, regardless of others."
All of the stories of suicide attempt survivors or from people who have dealt with suicidal ideation, that last part of the definition doesn't fit. It's never "regardless of others."
How Suicidal Thoughts Are Not Selfish and Mess with Your Mind
What people need to realize is that our mental illnesses, including suicidal ideation, have incredibly strong voices within our minds. They are ever-present and when they become all encompassing it is so difficult to see beyond what they're telling us, even if it logically doesn't make sense. Suicide tells us everything would be better off without us and that repetition is both damaging and a struggle (Reasons for Suicide: When Your Brain Lies to You).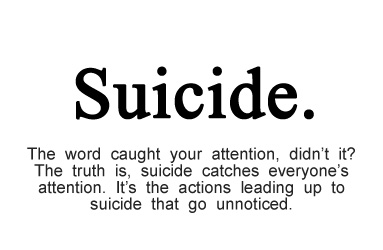 I can understand why people think suicide is selfish. There is an "all about us" air to it, but selfishness has an implication of choice. Mental illnesses do a very good job of taking choice away from us and most of the time we don't even realize it. Our brain chemistry literally is out of whack and we don't think the same way everyone else does, sometimes to the detriment of ourselves.
I also understand that suicide and death hurt a whole lot, but, understand, if you have lost someone to suicide, it is not an affront to you. It isn't that they didn't love you or didn't take you into consideration. Speaking from experience, a lot of thought goes into ending your own life and I thought about the people around me every single day.
We weigh our options. Unfortunately, the scale doesn't always come back to the side of living.
If you or someone you know is struggling with mental illness or thoughts of suicide, please read these valuable resources and reach out (Reasons People Call a Suicide Crisis Hotline).
You can find Laura on Twitter, Google+, Linkedin, Facebook and her blog; also see her book, Project Dermatillomania: The Stories Behind Our Scars.
APA Reference
Barton, L. (2016, April 28). Suicide and the Selfishness Stigma, HealthyPlace. Retrieved on 2019, July 20 from https://www.healthyplace.com/blogs/survivingmentalhealthstigma/2016/04/suicide-and-the-selfishness-stigma
Author: Laura Barton