Why We Need Eating Disorders Awareness Week
National Eating Disorders Week 2015 officially runs from February 22-28. I think that sometimes it is easy to blow this week off every year, because the reality is that we are at a point (at least in the United States), where most people are fairly "aware" of eating disorders. For the most part, people are familiar with anorexia, bulimia, or binge eating and may even know someone who suffers but we still need Eating Disorders Awareness Week.
This Eating Disorder Awareness Week's theme is "I Had No Idea." In this video, I talk a bit about how my own experience is reflected in that as well as some bigger issues that we can be bringing awareness to this week. It's not just about making sure people know eating disorders exist, it's about making sure they have a real understanding.
Here's Why We Need Eating Disorders Awareness Week
http://youtu.be/kjDmYvLo_kc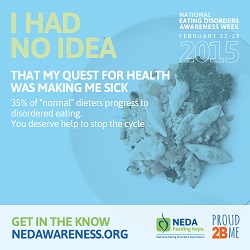 National Eating Disorders Association (NEDA) has a great page of resources for use on social media. You can find banners and images for use on your media pages, as well as the list of this week's tweet chats. And be sure to check out HealthyPlace's Eating Disorder Community for more information, screening tests, and message boards.
Sharing our stories is also a great way to combat stigma about mental illness. If you'd like more information about how you can be a part of the movement to stop the stigma associated with eating disorders and other mental illnesses, check out the Stand Up For Mental Health Campaign.
(Just got alerted by a Canadian reader that you guys had your National Eating Disorder Awareness Week Feb. 1-7. Oops! Feel free to join us Americans this week, too.)
APA Reference
Hudgens, J. (2015, February 24). Why We Need Eating Disorders Awareness Week, HealthyPlace. Retrieved on 2023, December 3 from https://www.healthyplace.com/blogs/survivinged/2015/02/why-we-need-eating-disorders-awareness-week
Author: Jessica Hudgens