Bulimia Recovery: Admitting You Have Bulimia
Admitting I had a problem was my first step to bulimia recovery. With time, wisdom, and experience, I've come to terms with my diagnosis and accepted that bulimia did not define me. My acceptance of the diagnosis was a starting point, a breath of fresh air, much like walking out of a room in college when you decide this party's over, I'm heading home. As uncomfortable as that experience was, being diagnosed, for me, felt like coming home.
Bulimia Recovery Requires Insight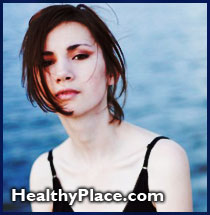 In 2007, I had my gallbladder removed after developing gallstones due to endless episodes of starvation followed by large consumption of high fat foods and purging over a period of about 4 years prior. It was just one of several eating disorder health problems and complications that I came up against. This coincided, in my life, with the stress of going through law school and realizing, with each passing year, that I had no interest in becoming a lawyer. Eventually, this lead me to a gurney, doubled up in pain, feverish and holding my father's hand while being told I needed emergency gallbladder surgery or else my pancreas could be damaged.
Cut to me, summer of 2008, sitting in my therapist's office while she read through my file, quietly. I started my eating disorders therapy many months post-surgery because, at first, I thought I could white-knuckle my way into bulimia recovery. That didn't work and I ended up way over my head. My doctor, who I kept in the dark, had blamed the gallbladder attacks on stress and family history, but deep down I knew I had been playing Russian roulette with my health for those last few years. Strangely, the doctor didn't think to ask anything about my eating habits. Had he asked, to this day, I'm not sure what I would have answered. Today, with hindsight, I know though, had I continued on that path, I probably wouldn't be writing this blog today.
Afraid to Admit I Had Bulimia
The operation made me come to terms with the fact that I, at the very least, had some serious food issues. I feared admitting to having anything more than that, because admitting it would mean admitting to the world that I was suffering from a mental illness. I was petrified of being called an attention seeker, a nut job, or any of the other insults that are usually used to label those with any type of mental illness…and worse, I was afraid of being called shallow and made fun of for letting my self-image matter enough to manifest my "issues" into serious physical damage.
---
(Surviving ED author, Jess Hudgens, shares her story of overcoming stigma and coming out about her eating disorder. If you feel it's time to quit hiding,
join the Stand Up for Mental Health Campaign
.)
APA Reference
Lemoine, P. (2013, May 13). Bulimia Recovery: Admitting You Have Bulimia, HealthyPlace. Retrieved on 2019, September 23 from https://www.healthyplace.com/blogs/survivinged/2013/05/bulimia-recovery-admitting-you-have-bulimia
Author: Patricia Lemoine
Hi Louise. To begin, I'm glad that you are clear that you'd like to not throw up everyday and be able to be honest with your mom and dad. About your question about how to get help without telling anyone . . . some of that depends on your age. If you're a legal adult you can seek out a therapist on your own at anytime and what you say is bound by certain laws of confidentiality. My guess, however, is that you may be a little younger. Two things come to mind for me to share with you. First, the reason it took me so long to recovery is because I was terrified of anyone finding out and I refused to seek out the help I needed. Looking back on it, I wish I would have told someone safe WAY earlier so that they could have helped me get the treatment I needed. The longer the eating disorder goes on, it can make us feel more and more helpless against it (which you are not.) My advice is to get help even if it means you have to tell people. With that being said please continue to this next part. Second, you never have to say (to your parents or anyone else the words "I have an eating disorder." Rather, you can say that you're in an unhealthy place with food or body image, and that you want to see someone to be at a healthier place again. YOU get to choose what you tell people. With your therapist however, please be as honest as you can so they can best help you on your road to health and happiness. I hope this helps. Thank you for reaching out and please let me know if you have further questions.
Hi Taylor. Thank you for sharing. You are loved and supported by this community no matter what part of recovery you're in and no matter if you have good days or bad days. Are you currently seeing a therapist or have healthy support in your life?
Leave a reply