Recovering from Your Eating Disorder When You Want to Quit
My anorexic brain is positively screaming at me not to write the next sentence of this because it is so shameful. I have gained weight. Don't be mistaken – I have been maintaining a healthy weight for my body for almost a year so this weight is extra, unnecessary, too much. My brain is shouting, "Fat!" at me almost 24 hours a day. Right now, more than anything, I'd love to scrap my recovery and throw myself headlong into eating disorder behaviors. But I have to focus on recovering from my eating disorder even when I want to quit.
That is, of course, an always an option, but the bigger, more rational, part of my mind knows that the eating disorder offers only more pain and suffering. So I am left with the uncomfortable task of continuing to choose my recovery from anorexia when I would really, really like to quit. This is certainly not the first time this has come up, so I have some idea what to do at this point.
There Will Be Days You Want To Quit Recovering from Your Eating Disorder
When I was early in my recovery, I came to this "I want to quit!" point quite often, and one time, having hit my breaking point at around 10:00 a.m., I texted a friend. She was, herself, in recovery and had been for a good number of years longer than I had. Her response? Take the day off. If at all possible, take the day off from work or school and treat yourself to a movie (at the theatres), then relax with a cup of tea and a bubble bath (or however you might relax at home). Recovering from anorexia, bulimia, binge eating, or any other eating disorder can be exhausting, even without the extra stress of life. Give yourself a day where all you have to do is work on eating disorder recovery. It's a bit like putting blinders on for me – when it seems impossible to do work, school, meals, snacks, friendships and whatever else, focusing just on the eating disorder recovery tasks for one day makes things seem manageable.
[caption id="attachment_3544" align="alignright" width="295"]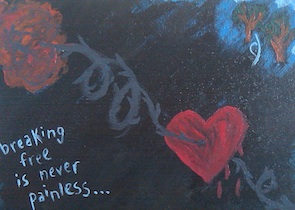 While the sentiment is abundantly true, it may also be true that my art borders (at times) on the melodramatic.[/caption]
(Note: I am far enough in my recovery that sitting alone in my apartment with a book is generally low stress, but this was not always the case. Earlier in my eating disorder recovery, hours alone by myself was a recipe for disaster which is, no doubt, why my friend suggested I go to the movies. Be smart with how you choose to spend your day off and make sure it is done in a way that is safe and conducive to your own recovery.)
In the event that a "day off" isn't enough to get you back in a good groove, here are some other things I do to recover from my eating disorder even when I want to quit:
Remind yourself of why you chose recovery in the first place. – For me, it is reasons like having energy, laughing, going on hikes with friends, and watching my friends' children grow up and staying in school. That's not to say I couldn't do some of these things while engaging in my anorexia, but the reality is that life is far more enjoyable when I'm healthy. Furthermore, I have no desire to go through the early stages of recovery (such as weight gain and fighting constant urges) all over again.
Have coping skills ready. – Make sure you know what you have available to cope. If going to 12-step meetings works for you, write down where and when the meetings are each day. If you need something to keep your hands busy, carry around play-doh or a pack of crayons for coloring. Whatever your eating disorder recovery coping skills are, make sure they are easy to find and easily accessible. You'll be needing them.
Reach out for encouragement. – Depending on how much your eating disorder recovery support system knows about your struggles, this can be as simple as, "I'm having a rough day," to, "I really want to engage in x, y, or z behavior right now. Help!" I was lucky enough to get a text message last week from a friend who shared that I was the topic of the short essay she had to write for her Spanish class about someone who has inspired them. That certainly cheered me up enough to talk back to my eating disorder when it was whispering in my ear.
Tie yourself to the mast and hang on. – The urge to return to your eating disorder will dissipate eventually. In the meantime, I have this image of Odysseus in my head, who was so determined to hear the beautiful siren call but not be shipwrecked like all the rest who came before him. He had his crew tie him to the mast while they plugged their own ears with wax – they stayed the course, even when he begged them to follow the beautiful songs. What does this look like in real life? It might bes etting up dates to have meals and snacks with people and not allowing yourself to use behaviors before, during or after. Or it might be having someone text you when you should be eating and not listening to your excuses about why you "can't." Or it could be going to the gym with someone who will drag you out when your prescribed 20 minutes are up. Stay the course, any way you can. And if you can't, have people around who will.
What about you? Have you ever reached an "I want to quit!" moment in your eating disorder recovery? If so, how did you keep moving forward?
APA Reference
Hudgens, J. (2015, February 10). Recovering from Your Eating Disorder When You Want to Quit, HealthyPlace. Retrieved on 2019, July 23 from https://www.healthyplace.com/blogs/survivinged/2015/02/recovering-from-your-eating-disorder-when-you-want-to-quit
Author: Jessica Hudgens
Hi there, Bonnie. Thank you for reaching out. I am so sorry that you feel discontent in your own body, and that you are struggling to much physically. My heart goes out to you, but I can guarantee that weight loss through laxative use—or any form of purging—is not a healthy or sustainable solution for regaining your confidence. You are not "disgustingly fat," as you typed in your comment. Your body is the weight it needs to be in order to sustain your life. I am saddened to hear you sound so miserable and hopeless, but backsliding into ED behaviors will not offer the comfort you're seeking. I recommend visiting the HealthyPlace Eating Disorder resource page as a reference point for finding support and community (https://www.healthyplace.com/eating-disorders). Be courageous and dare to love yourself—I promise, you are worth it!
i AM STRUGGLING BIG TIME W/GAINING WEIGHT AND MORE INCHES THAN I SHOULD BE FOR THE WEIGHT I AM AT. I LOOK SUPER FAT AND MY CHI CHIS R AS BIG AS WHEN I WEIGHED 140 LBS. I'M 5'5" AND I WEIGH ABOUT 103 LBS. MY WAIST IS ABOUT 271/2 IN. FROM MY KNEES UP I'M MUCH BIGGER THAN I SHOULD BE 4 THIS WEIGHT. WHEN I THINK ABOUT WEIGHTING 80 TO 90 LBS AGAIN, I WISH I WAS THERE. I NEVER LOST ANY OF MY HAIR EVEN AT 61 LBS. WHEN MY WEIGHT DROPPED BELOW 70 LBS I WAS SCARED. AND AT 61LBS I WENT TO HOSPITAL. THAT IS WHEN I WAS VERY AFRAID. I KNEW I WAS PROBABLY GONNA BE DEAD THE NEXT DAY. I COULDN'T EAT FOR A WEEK. I HATED HOW THIN I LOOKED. I CRIED SO MUCH WHEN THEY TOLD ME HOW MUCH I WEIGHED. IT WAS VERY SCARY 4 ME. BUT GOD BLESSED ME W/A BIG APPETITE. I OVER USED LAXATIVES. THAT WAS MY MAIN PROBLEM. SO I WAS VERY CONSTIPATED MOST OF THE TIME ESPECIALLY IN REHAB. BUT GOD STILL BLESSED ME W/AN APPETITIE. I GAINED 34 LBS IN 17 DAYS. I FOUND OUT THAT WAS TOO FAST. I'VE SLOWED DOWN SOME SINCE I'VE BEEN HOME. BUT STILL GAINING A LITTLE TOO FAST. I'M GRATEFUL 4 PROGRESS I'VE MADE, BUT AT SAME TIME I WISH I WOLD HAVE MUCH SMALLER CHIS CHIS AND MUCH THINNER LOOKING. I'M UNABLE TO EXERCISE MUCH DO TO SEVERE RHEAUMATOID ARTHRITIS AND DUE TO AN INJURY I GOT DURING EXERCISE W/IN HOME P.T. IT HAS AFFECTED MY FRONT AND SIDE HIP JOINTS, WRISTS, HANDS, SHOULDER AND LOTS OF UPPER MUSCLES AND IT'S BEEN ABOUT 7 WEEKS SINCE THIS HAPPENED. I DON'T KNOW WHY IT IS TAKING SO LONG TO HEAL. ANY WAY I'M VERY DISCOURAGED. BUT VERY THANKFUL 4 THIS BLOG OR INFO. IT HELPS.
Maha,

Thanks so much for your comment! I am sure there are a lot of issues that come up around the Muslim faith when it comes to recovery (as they do with most religions/spiritual practices) and I am not a Muslim, so unable to speak to any of that. I'm so glad there is a resource out there for Muslim men and women with EDs.

Jess
Leave a reply