Self-Harm and Body Image in a "Fit-Focused" World
Everywhere you turn, you see or hear about CrossFit, Zumba or Mud Runs. Within minutes of scrolling down your Facebook feed, you may see people on diets or cleanses or posting "before and after" photographs. It's terrific that people are working on bettering themselves in healthy, up-and-coming ways, but it also takes a toll on those dealing with body image issues.
By having photographs and messages thrown from every angle, some people may see this not as being helpful, but as a reminder that they continue to struggle. For those who do not have the motivation or interest in getting healthy or fit, these constant reminders can become overwhelming. We know that feeling overwhelmed often leads to anxiety or anger and when you're at that point -- you must find a safe outlet for those emotions.
Being a Zumba instructor, I will often post messages about my classes and incorporate some kind of positivity in hopes that other people will try it out. Of course, I'm not the only person who supports unique ways of staying fit. I constantly see people posting about CrossFit, PiYo and Shakeology and, when you stop and think about it, the amount of up-and-coming ways to stay fit is astounding.
With all of these new ways of staying in shape, how do you choose?
Finding Your "Fit Focus" Can Help Find Your Confidence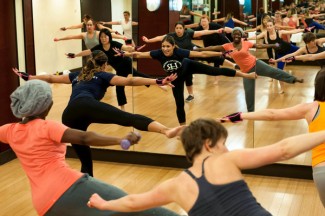 Just by looking quickly through the social media, it shows how focused we are on our looks – especially now that it is bathing suit and wedding season. Even though we post photographs of us at the gym, or messages about the exercise classes we take, we really are focusing primarily on how we look and not on how we feel.
Sometimes we forget that how we feel about ourselves is more important than how we look on the outside.
If you want to stop self-harming and lead a healthier lifestyle, it is important to figure out what your focus is regarding fitness. Being that there obviously are a lot of new, "trendy" ways to stay in shape, you need to get to know yourself and your interests. Being I danced for most of my childhood and teenage years, I knew Zumba was the right path for me. By knowing where your strengths and motivations lie, you may find it easier when looking for the best outlet to choose.
It takes many, many steps in becoming a confident person and, as we know, it is not an easy adventure. However, once you start feeling and seeing results, you will realize how unneeded your old coping skills were – such as self-harm. Instead of worrying about how to cover a fresh cut, you will worry about where to stand in the exercise class you take. You will start walking with confidence instead of walking with your eyes at the ground.
Feeling better about who you are is the first step forward in fighting the body image battle and once you have decided on that first step, you will start leading a much healthier life.
You can also find Jennifer Aline Graham on Google+, Facebook, Twitter and her website is here. Find out more about Noon through Amazon.com.
APA Reference
Aline, J. (2014, July 9). Self-Harm and Body Image in a "Fit-Focused" World, HealthyPlace. Retrieved on 2023, September 30 from https://www.healthyplace.com/blogs/speakingoutaboutselfinjury/2014/07/self-harm-body-image-fit-focused-world
Author: Jennifer Aline Graham