Speaking About Self-Harm is a Great Coping Skill
This past year, I've spoken to numerous Syracuse high schools about my novel, Noon, and the self-injury topics discussed in the book. Like I've said in my past blogs, one character struggles with self-harm and suicide. A lot of my past experiences go into her scenes and, sometimes, I feel bad that I threw all of my baggage into that character's life. However, it does work as quite the positive self-injury coping skill.
Recently, I spoke to a high school about the book and realized, again, how useful it is to talk about the struggles you've gone through. It allows you to really open up and show your braver side. This blog was a huge step forward in my opening up about self-harm.
When you have the confidence to talk about your past, it shows how much you've grown.
Finding the Strength to Speak About Self-Injury
It took me over five years to finally begin speaking about my past with self-harm. I started opening up about it when writing Noon. Like all authors, I intertwined my experiences into the character and the struggles she goes through. After that, I began speaking to schools, to strangers I really didn't know. After I spoke to schools, I put my first HealthyPlace blog on my Facebook page.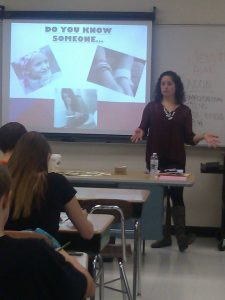 Just putting this blog on Facebook made me sick to my stomach. Why? Because people from my high school, college and family now knew about my self-harm if they never had before.
Still, the only time I really talk about my cutting is on this blog. By talking, or writing, about it, it helps me cope. I realize how far I've come and how, now, I want to help others move forward. Everyone should have the chance to speak about his or her struggles and about how they survived those struggles.
Take Your Time and Find Your Moment to Shine
It's not easy talking about your self-harm. I still don't talk about it unless I'm speaking to a class or writing a blog. I still have a long way to go when it comes to accepting my past. Like I've said before, everyday is a struggle and self-harmers understand that.
Start small. Journal about your past and compare it to your present. Write a fictional story and put some of your past experiences into that character – like what I did in Noon. Start a personal blog and write about your experiences there. From there, find classes or organizations that are interested in speakers. There are more opportunities out there than you think.
Be someone's inspiration so that they can follow in your successful footsteps.
You can also find Jennifer Aline Graham on Google+, Facebook, Twitter and her website is here. Find out more about Noon through Amazon.com.
APA Reference
Aline, J. (2013, December 13). Speaking About Self-Harm is a Great Coping Skill, HealthyPlace. Retrieved on 2021, April 15 from https://www.healthyplace.com/blogs/speakingoutaboutselfinjury/2013/12/speaking-about-self-harm-is-a-great-coping-skill
Author: Jennifer Aline Graham
Do you have any video of that? I'd care
to find out more details.
Leave a reply