Self-Harm and Shoveling Away Those Winter Blues
It's cold. There's snow. Ice is covering the roads. Heat is on full blast.
For those living in the snowy states, this is what you see everyday. Lately, when I wake up and look out my window, I ask myself, "Why didn't I wake up an hour earlier to brush off my car?" Usually, because the roads aren't plowed to perfection, my coffee gets cold by the time I get to work.
These are stressors that some people experience on a daily basis in the winter. Without the correct coping skills, self-harmers may see these obstacles as reasons to hurt themselves.
Don't Stress the Small Stuff – Cliché, But True
Lately, everything has been bothering me. Because of holiday spending, my bank account is at an all-time low. My co-workers, supervisors and my client all seem to be teaming up against me for some reason or another. Even my dog seems to be barking more than usual.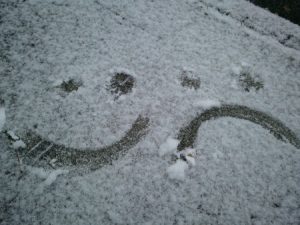 Maybe it's the weather making me feel this way, but I know it's just my brain on overload.
It's normal to feel stressed during the holiday season, but those stressors can't take over your life. Yes, it's easier said than done, but it's definitely a truth worth focusing on.
During my years struggling with self-harm, winter was the most difficult time of year. Waking up to darkened skies filled with snow, made me want to go back to sleep. If I fought my parents to stay home and didn't get my way, I'd see that as a reason to cut. When frustrated at school, I'd cut. If there was too much snow to walk in, I'd cut.
Self-harmers know that every little thing creates stress, which may lead to negative behaviors.
Don't Snow Plow Your Skin
It's important to find coping skills that will help move your mind in safe direction. No matter what the weather is, we know this is a crucial step in overcoming the self-harm struggle.
Lately, before I go to sleep, I've been drinking Chamomile Tea. I've never been a tea drinker, but it seems to be calming my nerves before I fall asleep. No matter what time of year it is, bubble baths are also relaxing. Almost every night, I turn on music and fill up a hot bath to soak in.
During the day, relaxing is a little bit harder. I make sure to take breaks during office time at work to re-focus. I look up funny videos on YouTube and update myself on entertainment news because, well, it's my weakness. When in the car, I'm constantly using self-talk strategies. For drivers passing by, it just looks like you're singing to the radio.
That's another great way to feel more at ease. As long as you focus on those wintery roads!
You can also find Jennifer Aline Graham on Google+, Facebook, Twitter and her website is here. Find out more about Noon through Amazon.com.
APA Reference
Aline, J. (2013, December 17). Self-Harm and Shoveling Away Those Winter Blues, HealthyPlace. Retrieved on 2022, December 1 from https://www.healthyplace.com/blogs/speakingoutaboutselfinjury/2013/12/self-harm-and-shoveling-away-those-winter-blues
Author: Jennifer Aline Graham