Self-Harm and Finding Support: Places You Can Go
For those who self-harm, it is important to feel supported. It is important not feel alone during a time of struggle and to be surrounded by people who care and want what is best for you. Sometimes, people aren't that lucky. Sometimes, people are pushed away or leave a friendship because they are confused about the person's behaviors or scared for them. Sometimes, feeling alone is all people have.
No matter what, there are places to go where a self-injury support system is waiting. You just have to open your eyes, take a deep breath and look for it.
A Place Where You Can Feel Normal
In my hometown of Syracuse, NY, there is a place where students can go to after school. It is a little building with bright colored walls, comfortable furniture and lots and lots of space. There is a media room where teenagers can play Wii or watch movies. There are pool tables, ping-pong tables and a basketball court outside. There is even a kitchen where the teens make snacks after school (usually macaroni and cheese).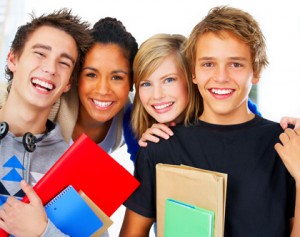 I've started bringing my client to this place so he can work on his socialization skills. Like I've said in the past, I work with a teenage boy who has Autism, is Hard-of-Hearing and has some mental health issues. When he walks into the room, he is treated as if he is a normal, teenage boy. Yes, there are some behaviors he has that show he needs a little assistance, but he is looked at as just another peer.
When my client was playing pool with some boys, I noticed that a few of the kids there had bracelets on their arms. When looking closer, I noticed some scars. Instantly, I realized that I would have benefited from a place like this during my years of cutting. These kids were laughing with those around them and instead of focusing on their self-harm, they were focusing on their supportive peers. Instead of cutting their arms, they were helping make snack after school or flirting with their crush in the media room. They were being ordinary, happy teenagers and everyone around them seemed to respond with such positivity.
This place would have been a safe haven for me during my teenage years. It would have been a place I could go to and forget about my insecurities and anxiety. I could watch a movie or read a book in a comfortable atmosphere instead of going home to a house I did not feel safe in.
This place was the ultimate definition of a support system.
Find Your Safe Haven
If there isn't a place around you like the one I bring my client to, don't worry. There are places that can be just as helpful as the place I discussed. There are after school programs at almost every school that have activities, sports and trips into the community. There are activities that libraries or recreational facilities throw that often are aimed at the teenage population.
There are places and events at your school and in your community that give you the ability to find a support system. Find these places and use them as a coping skill instead of cutting or burning or bruising. The effort to look will definitely be worth it.
You can also find Jennifer Aline Graham on Google+, Facebook, Twitter and her website is here.