Self-Harm and Sticking with Therapy
When it comes to counseling and therapy, almost everyone feels anxiety. Before stepping into an office for the first time, you feel unsure and stressed. Some people don't think they need to be going to therapy and feel forced. Some people don't believe that therapy will help and that it is simply a waste of time. Sometimes, it takes numerous sessions before any kind of opening up happens.
One thing that is concrete about therapy is that it never hurts to try.
The self-harming population is usually filled with stubborn, independent people. Of course, this is just my view from what I've noticed over the years. Like anyone struggling with a mental illness, self-harmers tend to believe that counseling will not help stop their behaviors because, in reality, they don't want to stop. However, once a self-harmer decides it is time to seek out help, rehabilitation really begins.
Therapy is One Heck of an Adventure
As you could imagine, my days of counseling started as trial runs. I went because I knew I needed to, more than I wanted to. My mom and I went to numerous therapists and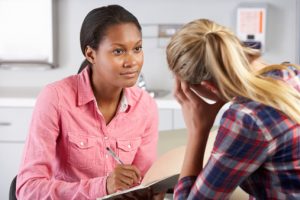 psychiatrists before I finally was able to find someone I felt comfortable trusting. Those trips were more than stressful and I know that after many of those visits, I went right into my bedroom, found a paper clip or bobby pin and cut myself.
However, like anything strange to you, it took time to get comfortable. After forcing myself to re-tell my story numerous times to different counselors, I found someone I could really talk to. I stayed with her throughout my years at Monroe Community College. After a while, I felt as it if I didn't need to talk to her as often and after some time, I stopped going to sessions. I did stop and talk to random counselors and began seeing a new psychiatrist when as Keuka College, but I always thought about how lucky I'd been to find the one counselor I'd had in high school.
When you find someone you feel comfortable with, all your stressors and struggles pour out like butter. It feels good to talk to someone who is completely neutral and safe. Yet, as your struggles grow a little easier, it becomes more and more difficult to stick with appointments and therapy. It's a cycle and even if you know you should keep meeting with your therapist or psychiatrist, it gets more difficult to stick with it over time.
Don't Make Excuses and Stick with Therapy
Lately, since my motivation has been on a rollercoaster, I find it more and more difficult to get up and actually get to therapy. I tend to call in or cancel or reschedule just so I don't have to drive to see my psychiatrist. Maybe it's the distance, since I have to drive twenty-five minutes to get there, or maybe it's because I just don't want to wake up to go.
Whatever it is, I know I need to keep my appointments and I know I need to start going to a separate therapist than a psychiatrist who does both. I miss the vibe of a separate therapist and how personal it can be. However, if I had to start scheduling two appointments, would I go?
Yes. Why? Because if it helped me in the past, I know it will help me in the future.
You can also find Jennifer Aline Graham on Google+, Facebook, Twitter and her website is here.
APA Reference
Aline, J. (2013, October 12). Self-Harm and Sticking with Therapy, HealthyPlace. Retrieved on 2021, June 18 from https://www.healthyplace.com/blogs/speakingoutaboutselfinjury/2013/10/self-harm-and-sticking-with-therapy
Author: Jennifer Aline Graham
I was lucky, my first therapist and I bonded quickly. After a year she decided to move back to her previous clinic. I was devastated because that was 206 miles away from me and in a big city. I had never driven in a big city before. I took the whole month to decide what to do and no matter which direction I came at the problem, my heart said to stay with her. I had to learn how to drive in that much traffic and round trip, including therapy, took me almost 8 hours. I did this every other week. Most people would think that's "crazy" but I could not give up the bonding we had and I was healing with her help. I saw her for another four years and I never regretted it. Then she retired. I had to say goodbye and I had to find another therapist. I knew the first one I tried was not a good fit. Next, I saw her partner in the same office and this one was a better fit so I decided to give it a fair trial. The first year found me almost at a stand still in my healing. But time healed my grief to a point where I could hear what she was saying and I began to heal again. We just had our second year together and I have come a long way since that first trial session. You owe it to yourself to find the best fit in therapists or it doesn't work. Don't be afraid of saying I need a different therapist, but only after you have given yourself time to come together in what works best for both of you. You are a team.
Leave a reply