The Stigma of Self-Harm: How Can it Disappear?
"All Self-Harmers are Suicidal and Seek Attention"
That statement is, sadly, the ultimate stigma of self-harm. The media has played a small part with this stigma, portraying self-injurers as being the ones who sit quietly in the corner, cutting their arms and crying. (read: Self-Injurers and Their Common Personality Traits)
Wrong.
Sadly, this is how many people see self-harmers when, in reality, many self-harmers do not fit into a particular clique. In high school, I was a typical music geek. I was a serious ballet dancer, performed in musicals, and did Colorguard in the marching band. I laughed along with friends and pushed out a smile when teachers walked by.
However, leather bracelets covered the self-harm scars I was trying to hide and bathrooms were where I hid when I couldn't stop the thoughts in my head from yelling at me – telling me to hurt myself. I did not feel as talented as those around me and put on a charade day after day. I was not cutting myself to kill myself every time I made a mark.
I was cutting for reasons that those around me couldn't understand.
The Stigma of Self-Harm is Not Easy to Get Rid Of
It is so hard to try to make the stigma of self-harm disappear – or any stigma for that matter. How hard is it to stop the sayings that all blondes are dumb or that all nerds do not have fun? We have grown up in a world where people throw judgments at people and no matter how hard you may try to rip off those labels, they seem to stick like super-glue. That's the effect of stigma but, thankfully, not all people listen and follow these stigmas, but sadly more than enough people do.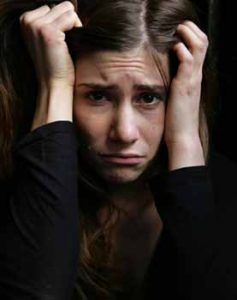 It really is up to you to make a stigma disappear and it is not easy. You cannot just wake up one day and tell yourself that the world is going to see everyone clearly. That would be one heck of a wake-up call. You have to work with others, as a team of sorts. By spreading awareness and becoming knowledgeable about self-harm, those who are struggling may feel more supported. They won't be looked at as if they are monsters; they will be looked at as if they are typical human beings.
That's the first step in erasing a stigma – realizing that everyone has baggage because everyone is human.
How Can This Stigma Disappear?
If you really want to try to get rid of the stigma that goes with self-harm, here are a few baby-steps:
- Find speakers who can come to health classes and talk about self-harm. By gaining truthful knowledge, some of those crazy rumors and stories can slowly be wiped away.
- Do not mock self-harm by saying things such as, "I could have slit my wrists over the homework last night." Those little statements hit close to home to those who self-harm even when being overheard.
- Read up on the subject – Noon discusses self-harm and may open the reader's eyes to the subject.
- Spread the awareness beyond just your group of friends and your family – take part in an awareness walk or create a fundraiser. For example, take part in the Stand Up For Mental Health Campaign.