Three Ways to Stay Sober During the Holidays
Staying sober during the holidays can prove difficult thanks to all the merrymaking aided by large quantities of alcohol. For example, my family drinks like fish, and one year Dad gave my two brothers alcohol for Christmas. But I stayed sober even though I have a substance abuse problem, and I plan on doing it again. Here are some ways to stay sober during the holidays.
Stay Sober During the Holidays by Beefing Up on Meetings
The good news about staying sober during the holidays is that you don't have to do it alone. There are countless Alcoholics Anonymous (A.A.) and Narcotics Anonymous (N.A.) meetings out there (What are Addiction Recovery Programs and Do They Work?). If you can't get to one in person, there are meetings online and over the phone. Take advantage of this and beef up on meetings--the program works if you work it.
At my A.A. meeting, there's a guy who always concludes with, "Don't drink and go to meetings." While I despise cliches, there's a great deal of helpful advice in that statement. Don't drink. You don't have to pick up today. You just have not to use today. Don't think of being sober for life--focus on just today. Don't drink. Tell yourself, "I can make it through today." Prove it by going to meetings--the fellowship can help you when you get tempted to relapse. All you have to do is not drink and go to meetings.
Call your sponsor. Call your therapist. Don't put yourself in situations where you might be tempted to relapse. The best places in the world for you to be right now are at therapy and in meetings. No one has to go at it alone, and chances are someone in A.A. or N.A. has been where you are. Talk to everyone until you find someone who can help you.
Carry Alcohol-Free Drinks to Stay Sober During the Holidays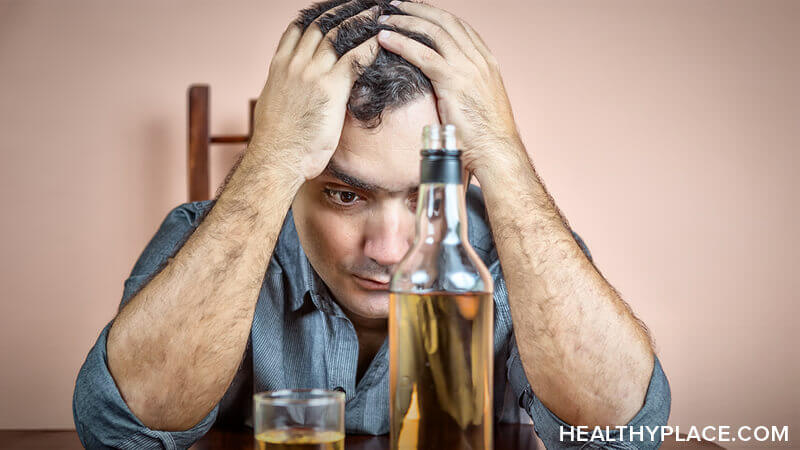 If you absolutely have to be at an event where alcohol is served, such as a company Christmas party, order an alcohol-free drink and carry it with you. I highly recommend something sweet since most alcoholics have a sweet tooth--alcohol is, after all, a sugar. Sip it slowly and make it last for the entire function. Carrying an alcohol-free drink will help you stay sober because you'll be drinking something, just like everyone else (Many Americans Don't Drink Alcohol).
When I was in college, the university was a dry campus (in theory). The student health department frequently hosted events that taught us how to make mocktails. If you absolutely have to have something that tastes like alcohol (beware; that's a danger sign), try a mocktail (Signs and Symptoms of Alcoholic Relapse). There are several great recipes out there, and chances are the bartender knows a few. Here are some examples from MixThatDrink.com (28 Mocktails and non-alcoholic drinks to love).
Mockmosa--two parts orange juice plus three parts sparkling white grape juice (if the grape juice is too sweet, add lemon juice or rice vinegar to taste)
Nojito--12 to 15 small mint leaves or six to eight big mint leaves plus one ounce fresh lime juice plus two tablespoons brown sugar plus four ounces club soda. Put leaves, juice, and sugar into a glass, muddle the leaves, add club soda.
Hurricane Mocktail--one ounce orange juice plus one ounce grapefruit juice plus six ounces V-8 Tropical Blend plus half ounce amaretto syrup. Shake with ice and chill.
You shouldn't tempt yourself, but if confrontation by alcohol is unavoidable, stick with mocktails.
Be Accountable to Others and Stay Sober During the Holidays
Part of the reason A.A. works is because we're accountable to each other. Go with what works--be accountable to somebody for staying sober during the holidays. Have them check in with you frequently, and preferably randomly. Tell people what you're doing and ask them to hold you accountable. Then use their support to stay sober. Avoid people who don't support your struggle for sobriety and stick with those who do. Your sponsor is just one such person who can hold you accountable and your therapist is another. Use them and seek out other people to support you--you don't have to go at it alone.
My immediate family knows I am in recovery from alcoholism. As a result, they don't push alcohol on me. They also say something if I start to drink. I need that kind of support even after almost four years sober. Take advantage of every opportunity to get help.
So that's how I'm planning to stay sober during the holidays. What are your plans? Leave a message in the comments.
You can also find Becky Oberg on Google+, Facebook and Twitter and Linkedin.
APA Reference
Oberg, B. (2016, December 19). Three Ways to Stay Sober During the Holidays, HealthyPlace. Retrieved on 2023, December 4 from https://www.healthyplace.com/blogs/recoveringfrommentalillness/2016/12/staying-sober-during-the-holidays
Author: Becky Oberg